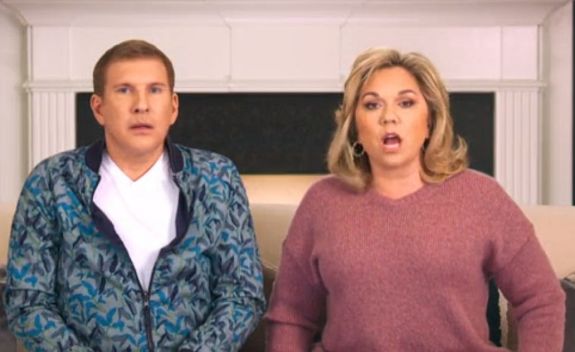 Chrisley Knows Best stars Julie and Todd Chrisley are both going to prison.
The reality TV stars were sentenced on Monday in an Atlanta courtroom for tax evasion and bank fraud crimes that they were found guilty of in June.
As The Ashley previously reported, both Todd and Julie asked the court for leinency in their sentencing, something the federal judge gave them.
According to Insider, Julie was sentenced to seven years in prison, while Todd received a 12-year sentence. Both sentences are below what was estimated based on federal sentencing guidelines. (Todd was facing 17-22 years for his crimes, while Julie was facing 10-13.)
Both Julie and Todd were also sentenced to 16 months of probation following their incarceration.
Here are the sketches of Todd and Julie Chrisley in federal court as the reality TV stars await their sentencing on tax evasion. https://t.co/6BUlhSI6B9

— WSB-TV (@wsbtv) November 22, 2022
Although Julie had previously asked the Court to allow her and Todd's prison sentences to be staggered so that she would enter prison after Todd completes his sentence, in order for someone to be there to care for their minor children, U.S. District Judge Eleanor Ross denied the request, pointing out that many defendants are also in this situation and are not accommodated.
"It is heartbreaking, but it has to be burdened by the defendants," Judge Ross said, according to Insider.
Both Todd and Julie are due to surrender themselves on January 15, 2023.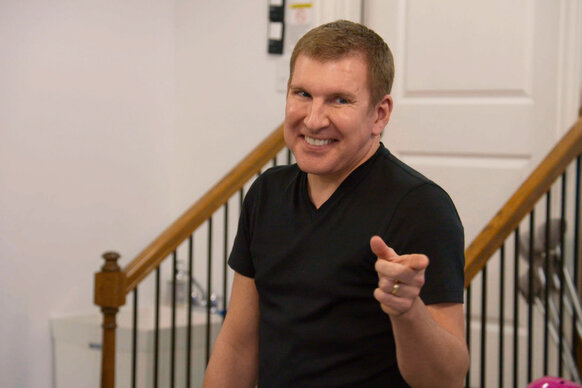 According to Insider, footage of Todd and Julie bragging about how much money they spend was shown in court on Monday. However, both Chrisleys were emotional during the hearing.
The site reports that Todd became choked up when speaking about Julie being the caregiver for son Grayson and granddaughter Chloe.
"My wife Julie should not be punished" he told the court.
Julie also reportedly broke down during Monday's hearing, stating that Chloe had told her that she "doesn't want to live" if Julie is put in prison.
"To hear your 10-year-old say she doesn't want to live if their mom goes away, no child should feel that way," she said.
Judge Ross reportedly told the Chrisleys that their refusal to admit responsibility in the crimes played a part in the sentences they received.
"I've never heard any acceptance of any crime," the Judge stated. "I've never really heard any admission to any wrongdoing or any remorse."
She added that the Chrisleys' tendency to flaunt their wealth was also considered.
"I have no reason to doubt that both Chrisleys have good hearts [but] I cannot ignore the greed and flamboyance in this case."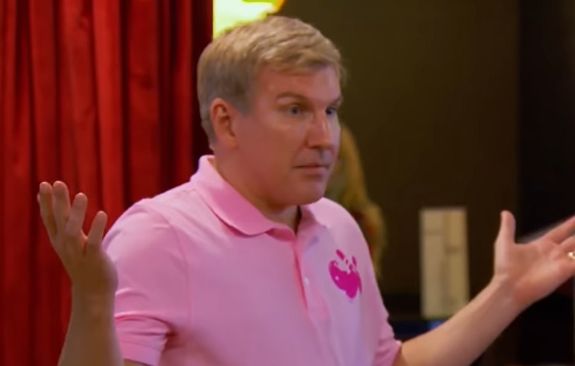 As for where the Chrisleys will be serving their sentences, Judge Ross has recommended that Julie go to the Federal Correctional Institute in Tallahassee, Florida, while Todd be sent to FCI Pensacola. FCI Tallahassee is about eight hours away from the Chrisleys' Nashville home, while FCI Pensacola is about seven hours away.
Ross recommended that Julie Chrisley be allowed to serve her sentence at FCI Tallahassee and Todd Chrisley be allowed to serve at FCI Pensacola, as they asked.
Earlier on Monday, Peter Tarantino— the accountant who helped the Chrisleys in their schemes— was sentenced to 36 months in prison for his role.
The Chrisley Family has yet to release any statements following the sentencing announcement. According to WSB-TV newscast on Monday night, members of the Chrisley family were in the courtroom for the sentencing and were "visibly upset" when they were leaving after the sentences were handed down. They have not made any comments to the media as of press time.
The prosecutors in this case did, however, release statements to the media on Monday.
"Over the course of a decade, the defendants defrauded banks out of tens of millions of dollars while evading payment of their federal income taxes," U.S. Attorney Ryan K. Buchanan said. "Their lengthy sentences reflect the magnitude of their criminal scheme and should serve as a warning to others tempted to exploit our nation's community banking system for unlawful personal gain."
"As this sentencing proves, when you lie, cheat, and steal, justice is blind to your fame, fortune, and position," FBI Special Agent Keri Farley added.
To read about what else happened in court on Monday and beforehand, click here!
(Photo: USA Network)