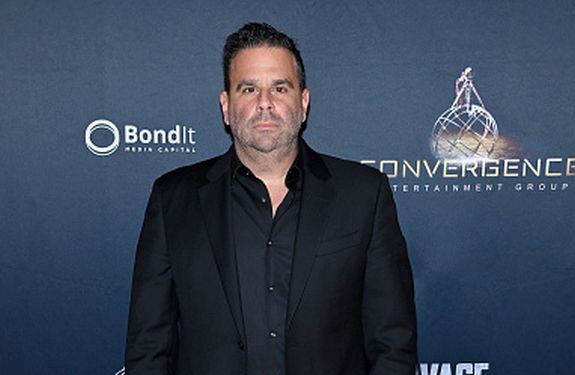 Randall Emmett is speaking out after claims that his ex-wife Ambyr Childers made in a restraining order request last month have been leaked.
The former Vanderpump Rules star and ex-fiancé of Lala Kent took to Instagram this weekend to deny Ambyr's claims that the FBI is investigating him, possibly for crimes against children.
Ambyr was granted the temporary restraining order she requested against Randall last month, the Los Angeles Times reported. Per The Times, Randall must stay 100 yards away from Ambyr and not contact her unless having a "brief and peaceful" interaction regarding visitation of their two daughters, London and Rylee. This is the second time in recent months that Ambyr requested a domestic violence restraining order against Randall. (The first one was denied by a judge who cited a lack of proof.)
In the protective order petition she filed in December, Ambyr made the claims that Randall is now denying, particularly that she was contacted by an FBI special agent on December 6 and asked about "suspected activities with child exploitation and pedophilia," according to The Times.
"This call caused me extreme destruction and disturbance of my emotional calm and peace of mind in that London and Rylee are often alone with [Randall] while he may be engaging in acts of child exploitation and/or pedophilia," Ambyr wrote in her restraining order request.
While the FBI would not confirm or deny to The Times if Randall is under investigation, Randall released a statement to the media saying he was "not being investigated by the FBI nor anyone else, and the notion that I am is beyond absurd."
"There is zero evidence that I'm being investigated for anything. As the father of three children, I am shocked and in utter disbelief that Ambyr would even hint at something so disgusting and untrue," Randall stated. "As for her other claims, they are all categorically false. Anyone can say whatever they want in a pleading; that doesn't make it true. And it's also important to note we still share 50/50 custody of our children. This is yet another attack and set of lies from Ambyr designed to hurt my career without any evidence whatsoever."
Fans may remember that The Los Angeles Times published a blockbuster investigation into Randall last year that included claims he offered women acting jobs in exchange for sex. The newspaper also reported that it had spoken with three other people who said they'd been contacted by FBI agents about Randall.
Despite this, Randall insists that he is not under investigation. He took to Instagram yesterday to address the allegations in a reel.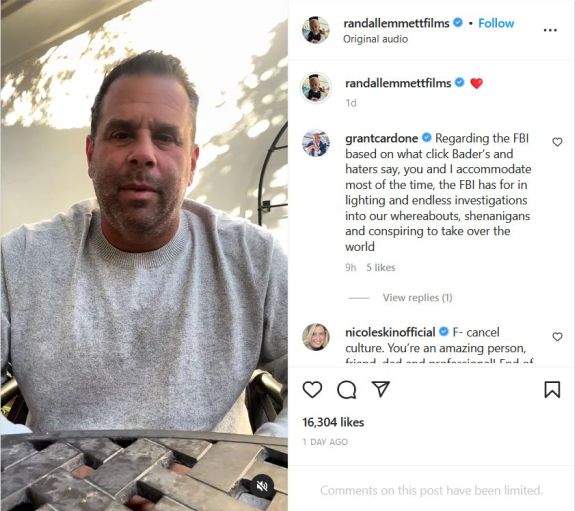 "I am at a place where I felt I had to come on here and say something that actually was the truth versus the last 11, 12, 14 months that the things have been said about me," Randall told his Instagram followers. "Everything under the sun [has been said about me], you know, [that I'm a] narcissist, cheater, but at the end of the day, you know, I took the high road because I have three beautiful girls that I didn't want to be out there.
"I didn't want to have to do this, but at this point, you know, the lies have been stretched so far."
Randall insisted that he hasn't done anything to warrant an investigation into him by anyone, despite his ex-wife's claims in her protective order petition.
"We spent today getting confirmation, because we knew there was no truthfulness to any of this, that the FBI has never been investigating me and isn't investigating me because there's nothing to investigate," he said. "But, unfortunately, in this culture, you can just say whatever you want and then it gets written about and then that's considered truth in this cancel culture."
In addition to the two daughters he shares with Ambyr, Randall is also the father of daughter Ocean, whom he shares with Lala.
View this post on Instagram
"I've been a dad for a long time, I have custody of all my children, and I have custody of all my children because I'm a good father and I'm a good person," Randall said on Instagram. "At the end of the day, you know, that is what's the most important thing. At the end of my life, no matter what happens, I'm going to look my three daughters in the face and they're going to know their dad was a great father."
Lala posted her own response via Instagram Stories yesterday, writing, "Keep telling yourself whatever you need to to help you sleep at night. You're seen."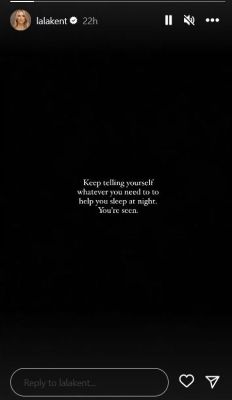 Both Ambyr and Lala allege Randall was abusive during their relationships.
A hearing regarding Ambyr's request for a domestic violence restraining order is set for January 12. In light of the new allegations against her ex-husband, Ambyr is also seeking full custody of their daughters.
Lala and Randall have been in an ongoing custody fight over their young daughter. In an Instagram exchange captured by @theholybravo and shared by Page Six, Lala responded to a commenter who wondered how Randall could maintain custody with the latest allegations, writing, "If you haven't dealt with the family court system you wouldn't understand."
The Ashley will update this story when more info is available. Stay tuned…
RELATED STORY: Lala Kent's Ex Randall Emmett Is Accused of Offering Acting Jobs For Sex & Allegedly Facing Substantial Debt, Lawsuits & More
(Photos: Instagram)