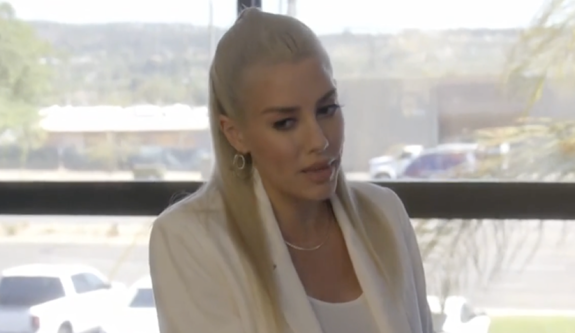 It seems that the sun may have set on Heather Rae Young's Selling Sunset days.
The 35-year-old real estate agent, who has appeared on the Netflix reality series since Season 1, told E! News this week that the cast of 'Selling Sunset' has started filming Season 7, but as of now, she hasn't been asked to join them.
While Heather is currently appearing on HGTV's The Flipping El Moussas with her husband Tarek El Moussa, she admitted "it's been a little frustrating" not being asked to film for Season 7 of 'Selling Sunset,' adding that she's "not sure what's been going on."
"I'm an OG," Heather said of her 'Selling Sunset' gig. "I've been there from the beginning."
"Season 6 is coming out soon," she said. "I don't think they've announced the airdate, but soon you guys will find out [when it's airing]. Season 7 is filming right now, but I've been off [on] maternity leave and I've been excited to get back to work and so far I have not been called back."
Heather and Tarek welcomed son Tristan in January and just eight weeks later, she resumed filming Season 6 of 'Selling Sunset.'
Heather marked her return to the workplace in March with a social media post featuring a photo of herself and 'Selling Sunset' newbie (and Nick Cannon baby mama) Bre Tiesi, in which she revealed she was "kinda off maternity leave."
"This was the longest I've been away from Tristan & it was really freakin tough," she wrote. "But I was excited to see my ['Selling Sunset'] girls and get back into the swing of things & dress up & get glammed. Rushing back to my baby boy and to my happy place."
When Heather was asked if her "busy" schedule–- specifically her HGTV obligations–- may have something to do with why she hasn't been asked to film for Season 7, Tarek interjected, insisting his and Heather's HGTV show is unlike other shows they've both appeared on.
"Well, you know, 'The Flipping El Moussas' is our family show on HGTV, and Heather, she filmed with me quite a bit in Season 1," Tarek said. "It was a very fun and exciting season. A lot different than shows we've done in the past."
Tarek, who previous hosted Flip or Flop on HGTV with his ex-wife Christine Haack, added "there's just a lot more Tarek and Heather" on 'The Flipping El Moussas.'
Though it hasn't been confirmed that Heather will not appear on Season 7 of 'Selling Sunset,' OG cast member Christine Quinn announced in 2022 that she would not be returning to the reality series for Season 6 or Season 7.
RELATED STORY: It's a Boy! 'Flip or Flop' Star Tarek El Moussa & 'Selling Sunset' Star Heather Rae Young Welcome First Child Together
(Photos: HGTV; Netflix; Instagram)