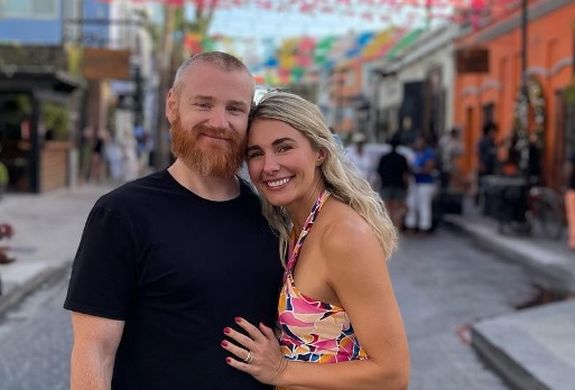 Wes Bergmann is about to tackle a new challenge: fatherhood.
The Challenge star shared the exciting news that he and his wife Amanda Hornick will soon be welcoming their first child.
"Baby Bergmann, coming this September," he announced on Instagram while sharing a carousel of pics of his wife and their fur-baby, Penny. In the first pic, Amanda is holding up her ultrasound pics of their baby. The last image shows Wes cradling his wife's growing bump.
"We would like to take a second to thank all of our friends, family, and supporters who continue to help us become the best versions of ourselves. We aim to pour all of that love into this child in an effort to make him/her the next great, ginger, genius," Wes continued.
View this post on Instagram
"While we are entering into this new stage of life with immense gratitude, we know the season of waiting too and send love & strength to anyone else hoping to one day become parents themselves," 'The Challenge' champ wrote. "Dare we say, future Challenge champion?" he concluded.
Wes earned his 'Challenge' champion title when he won "The Duel" in 2006. He went on to win "Rivals II" in 2013 and most recently, "All Stars 3" in 2022. He is currently on 'The Challenge: World Championship" but got sent home early after he failed to complete the eating challenge and get sent into the elimination.
Baby ginger genius; coming in September. 🌋 pic.twitter.com/W4OgQ1wqSX

— Wes Bergmann (@WestonBergmann) April 5, 2023
Wes' fellow 'Challenge' friends were quick to share their excitement over his news.
"Soooo excited for you two!" Veronica Portillo wrote. "You can finally have a dad bod!"
Cory Wharton, who is a proud dad of three, shared, "WOWWW about time! Happy for you. Welcome to the club! My guy is going to love being a dad."
Amber Borzotra, who announced her own pregnancy on 'The Challenge: Ride or Dies' reunion replied, "Omg yayyyy CONGRATS y'all! So happy for you."
Even Wes' frenemy Johnny Bananas offered, "Congrats Bergy."
Wes and Amanda tied the knot in June 2018 after a two-year engagement. 'The Challenge' vets Nehemiah Clark, Melinda Stolp, and Devin Walker were all in attendance.
The expecting couple's dog, Penny, also shared the happy news on her own Instagram account. "BIG SISTER STATUS: COMING SEPTEMBER!!" was the caption, while Penny posed with the ultrasound picture.
View this post on Instagram
Amanda— who currently works as a yoga instructor and a brand ambassador for Lululemon—is due in September.
On March 14, she shared, "Today, I choose to live in celebration & appreciation for what my body can do & how it supports me, rather than in criticism of how it looks or how it compares to others around me."
Wes and Amanda have yet to reveal the baby's gender.
RELATED STORY: GoFundMe Set Up to Help 'The Challenge' Star Nelson Thomas with Medical Costs After Horrific Car Crash; His MTV Co-Stars Donate Thousands of Dollars
(Photos: Instagram; Twitter)