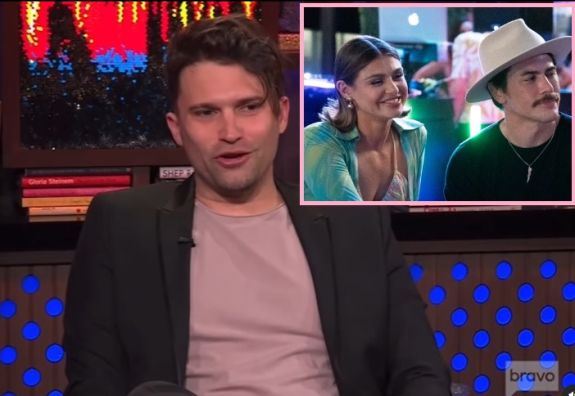 Tom Schwartz had a very interesting appearance on Watch What Happens Live! on Wednesday night, dishing about all things "Scandoval"— and giving his surprising take on whether his pals Tom Sandoval and Raquel Leviss can make it as a couple, despite everything (and everyone) against them.
Schwartz– who admitted in the interview that he learned about Sandoval and Raquel's affair in August 2022 — stated that he doubts the scandalous couple will be able to last.
"I think it will be a miracle if they make it," Schwartz told Andy Cohen. "Their relationship is— I know they care so much about each other but, even in the short time they've been 'in love' or whatever you want to call it, it's become toxic. I don't know if it's sustainable. It's already toxic as it is, and then you add in the whole nation thinking you're scumbags, I think it's too much."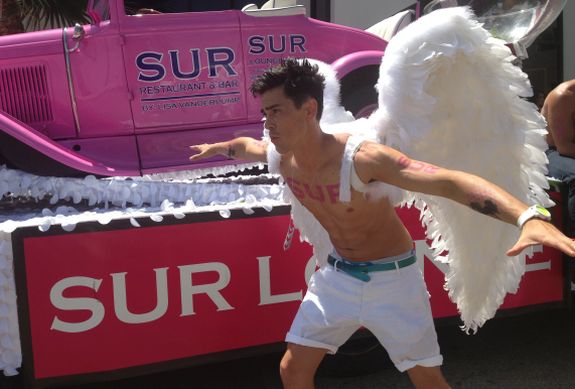 During his interview, Schwartz also gave insight into his buddy's currently feelings for Raquel.
"[He] became obsessed [with Raquel,]" Schwartz said. "…He's addicted.
"It's an infatuation of all infatuations. Raquel is Tom's heroin. … Man, he got lost in the sauce," Schwartz added.
When Andy asked if Sandoval is still "lost in the sauce" of Raquel, Schwartz said he thinks so.
Schwartz also claimed that, despite finding out in August that Raquel and Sandoval were hooking up, he thought it was a "one night stand."
"I didn't think it was a linear thing," he said, adding that he was led to believe that Raquel and Sandoval were only having an "emotional affair."
"I only know what I was told," he said.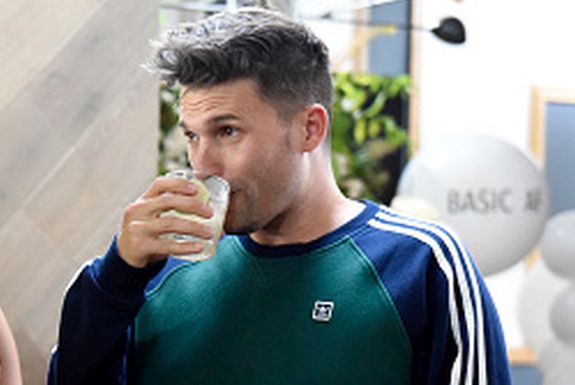 Schwartz stated that he found out how serious the affair was in January.
"[Sandoval] came to me in January and he told me he's in love with Raquel," he said. "I was flabbergasted. Not surprised, because, you know, I think there's a lot of people out there who kind of know [their affair] was an open secret."
Schwartz went on to accuse his pal of getting "brazen" about the affair and not trying very hard to hide the fact that he was boinking Raquel.
"After he told me he was in love, I don't know, it was like a release for him," he said, adding later that Sandoval "did a good job of placating me."
He also claims that Sandoval had told him that he and Ariana Madix— his girlfriend of almost a decade— had broken up frequently during this time.
"[He was saying that he and Ariana] weren't happy, they weren't healthy," Schwartz said. "They're not intimate, blah blah blah. All of it is inconsequential now in light of the way he handled it…he told me he was going to do the right thing but then he just kind of continued to procrastinate [breaking up with Ariana]."
Schwartz claimed that he didn't tell Ariana about Sandoval and Raquel's affair because Sandoval led him to believe that his relationship with Ariana was basically over.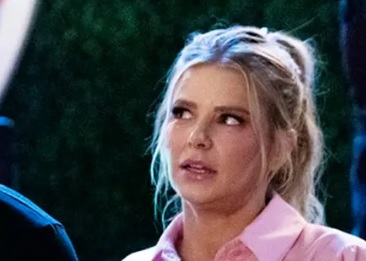 You can watch a clip of the 'Watch What Happens Live' episode below!
View this post on Instagram
RELATED STORY: Andy Cohen Talks "Jaw-Dropping" 'Vanderpump Rules' Reunion: One-On-One Interviews, Extended Version & More
(Photos: Bravo)