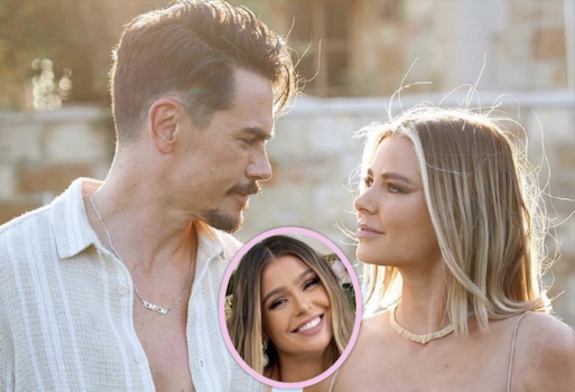 It appears to be over for longtime Vanderpump Rules couple Tom Sandoval and Ariana Madix.
According to TMZ, the former SUR bartenders, who began dating in 2013, have called it quits due to Sandoval allegedly cheating on his "dumplin'" Ariana with their 'VPR' co-star Raquel Leviss. As expected, the show's cast has a lot to say about the split and scandal!
Ariana reportedly found out about the cheating allegations on Wednesday while attending an event for Sandoval's band with Sandoval, Page Six reports. A source told the outlet that Sandoval and Raquel had a "full-on affair" and have been "communicating inappropriately for months" and that the two now "want to be together."
The Ashley is going to do her best to recap the events that have taken place after the news of the split (and alleged affair) broke.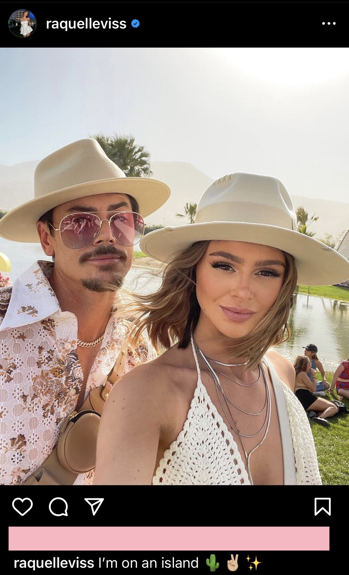 "Ariana and Tom have been affectionate in public recently," the source said, noting that Ariana was "blindsided" by the news. "Ariana had no idea there were any issues."
Cast member James Kennedy seemingly confirmed the cheating scandal on Friday, reposting a screenshot from the TMZ article along with the caption, "Hope you all feel as sick as I do. This explains everything."
(As fans of the show likely remember, James was previously engaged to Raquel, and coincidentally, managed to pull off an elaborate proposal with Sandoval's help.)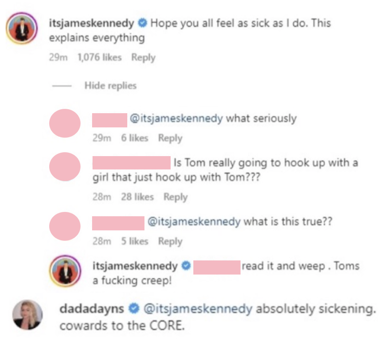 When asked if the rumors were true, James replied, "read it and weep. Tom's a f**king creep!"
"Absolutely sickening," former cast member Dayna Kathan added. "Cowards to the CORE."
Ariana's brother, Jeremy Madix, also commented on James' post, accusing Raquel of being a social climber who is "willing to s**t on people … all just to come up or have some sort of story line." He also pointed out that Raquel has referred to Ariana as one of her "best friends" in the recent past.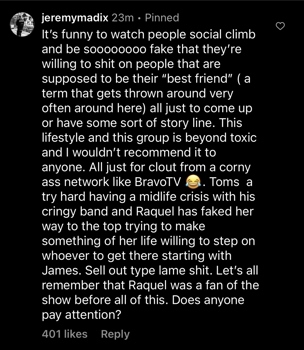 "This lifestyle and this group is beyond toxic and I wouldn't recommend it to anyone," he wrote. "All just for clout from a corny ass network like BravoTV. Tom's a try-hard having a midlife crisis with his cringy band and Raquel has faked her way to the top trying to make something of her life willing to step on whoever to get there starting with James."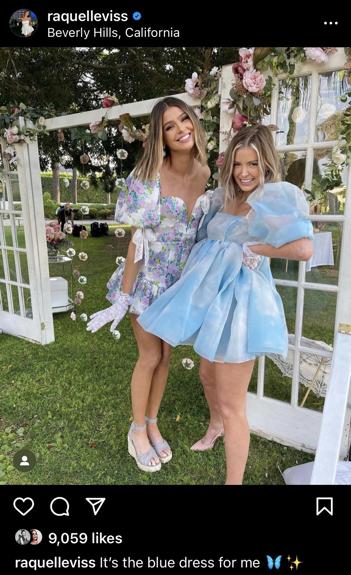 "Sell out type lame s**t," he continued. "Let's all remember that Raquel was a fan of the show before all of this. Does anyone pay attention."
Another cast member who hopped over to James' comment section to chime in on the alleged hookup was Lala Kent, who has voiced her disdain for both Sandoval and Raquel many times over the years.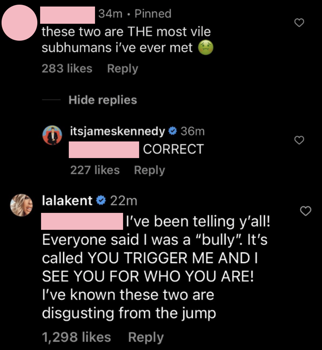 "I've been telling y'all!" Lala wrote. "Everyone said I was a 'bully.' It's calling YOU TRIGGER ME AND I SEE YOU FOR WHO YOU ARE! I've known these two are disgusting from the jump."
Lala went on to issue a threat warning to Raquel on her Instagram Story.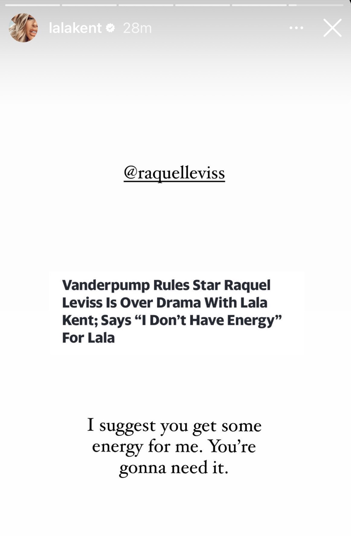 "I suggest you get some energy for me," she wrote. "You're gonna need it."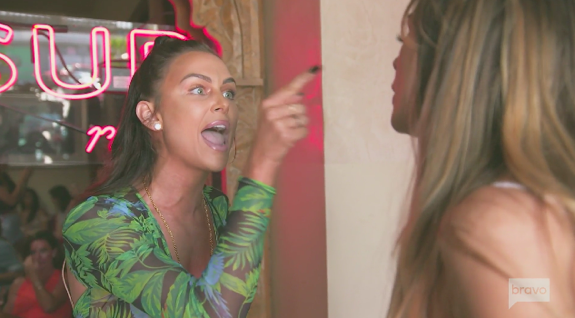 After addressing those calling her a hypocrite online for attacking Raquel's actions, Lala went on to issue another warning.
Don't shoot the messenger (me) 😁#PumpRules pic.twitter.com/DKpFV2PMbs

— LoveAndyC (@LoveAndyC) March 3, 2023
" … by the way, anyone who's sitting there going, 'Ugh, you're a home wrecker, too.' Dude, do you think if I was actually one of those that I would be out on these streets talking the way I'm talking?" she asked. "No. I would crawl in a hole. I ain't got nothing to say. I ain't got nothing to say.
"But guess what?" Lala continued. "I have a lot to say. You f**k with Ariana, you're f**king with a gang of folk. We're coming for you."
This is the second time in recent months that Raquel has allegedly hooked up with a Tom, as viewers are currently seeing the showromance between her and Tom Schwartz–- which happened in the months following Schwartz and Katie Maloney's divorce–- play out on Season 10 of 'VPR.'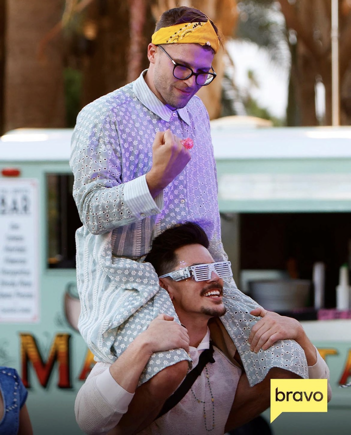 Raquel even went as far as to instigate some drama with Katie last week, posting a photo of herself and Schwartz with the caption, "Just cause."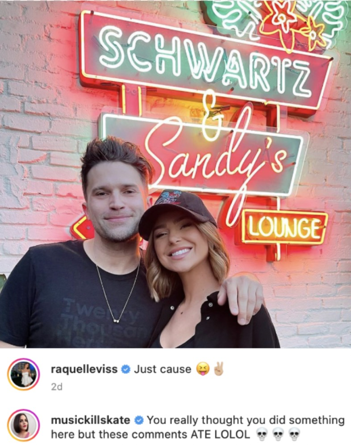 "You really thought you did something here but these comments ATE LOLOL," Katie commented on the photo.
After hearing about Sandoval and Ariana's breakup and the cheating allegations that caused it, 'VPR' producers reportedly decided on Friday to begin filming with the cast to document the drama as it unfolds. The Twitter account @sur_rules tweeted Friday afternoon that production was spotted outside of Sandoval and Ariana's house and they were filming while the exes were inside.
Sandoval and Raquel have yet to comment on the allegations, and, as mentioned above, Ariana has deleted her socials. We've also yet to hear what Lisa Vanderpump has to say on the matter, though one "concerned" fan had some words of her own for the 'VPR' matriarch.

"LISA GET IN THE BUNKER!!!!" they wrote. "RAQUEL IS COMING FOR KEN!!!!!!!!!!!!!!!"
UPDATE #1: Kristen Doute— Tom's ex who was seen with Ariana on Wednesday night at the show of Tom's band— took to Instagram Stories to give her thoughts on the story, noting that she is "Team Ariana 25/8."
In a video posted to Instagram Stories, Kristen said that many fans were wondering if the news of Sandoval cheating on Ariana makes her happy, since Sandoval cheated on Kristen with Ariana during their relationship.
"I don't know why I need to make this clear but there's so many people right now wondering if this is making me happy and, guys, Ariana and I have been really good friends for many, many years now," Kristen said. "I am Team Ariana, all day, every day."
Kristen captioned the video, "Karma is indeed coming. So Raquel should just move home."
UPDATE #2: New photos posted to TMZ on Friday night show Tom packing suitcases into his car outside the home he and Ariana shared. (It should be noted, though, that Tom and his band are performing in Orange County on Friday night, so the suitcases could contain items needed for the performance.)
View this post on Instagram
UPDATE #3: Tom has seemingly addressed his affair with Raquel, and is begging fans to stop trashing his bar online. Click here for the latest!
RELATED STORY: 'Vanderpump Rules' Star Scheana Shay Explains Why She's Not Ready For More Kids & Reacts to Stassi Schroeder's Pregnancy Announcement
(Photos: Instagram; Bravo; Twitter)