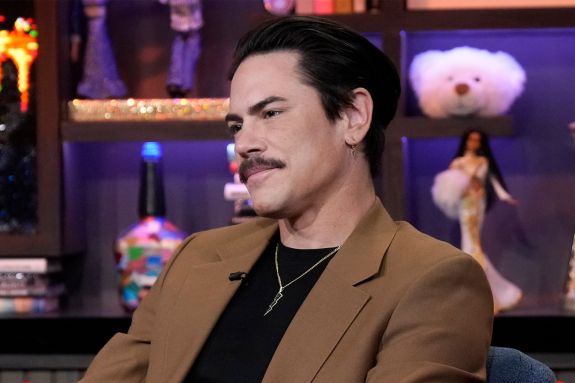 A lot has happened since news broke Friday that longtime Vanderpump Rules duo Ariana Madix and Tom Sandoval were calling it quits after he'd been caught cheating with castmate Raquel Leviss.
Saturday evening, Tom took to Instagram to address the situation– sort of– but mostly do damage control for his businesses after fans called for boycotts of the two bars he operates with partners including castmate, and one-time Raquel hookup, Tom Schwartz.
"Hey, I fully understand and deserve ur anger & disappointment towards me, but please leave Schwartz, my friends and family out of this situation…Schwartz specifically only found out about this very recently, and most definitely did not condone my actions," Sandoval wrote. "This was a very personal thing."
He went on to beg fans to stop leaving negative reviews for Schwartz & Sandy's, the bar he's part owner of, due to their anger over his affair with Raquel.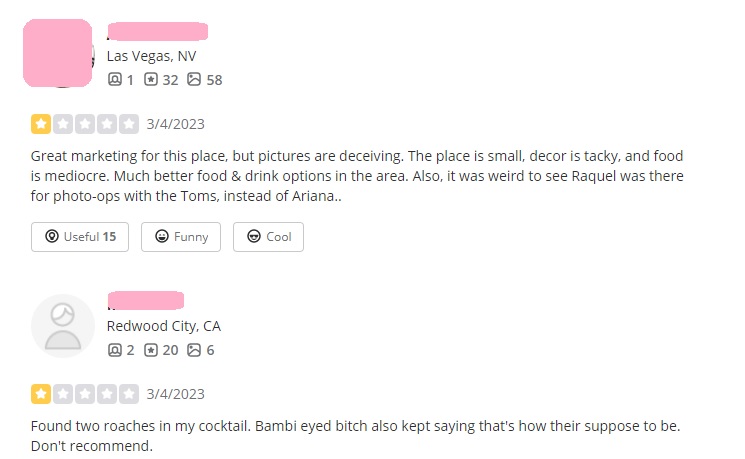 "Schwartz & Sandy's might have my name on it, but also there are 3 other partners and 20 employees, who especially rely on the restaurant for income for them and their families," Schwartz wrote. "Just like TomTom, I'm a small part of a much bigger thing. Please direct ur anger towards me and not them. They did nothing wrong. I'm so sorry that my partners, Greg, Brett, and Schwartz and our employees have to suffer for my actions."
Sandoval then revealed that he's planning to take a break from the bar so that the business and those associated with it won't continued to be harassed.
"I will be taking a step back & taking a hiatus out of respect for my employees & partners. I need some time to address everything else. Sorry for everything," he wrote in the post that has comments turned off.
Sandoval didn't mention if his "hiatus" will include cancelling upcoming shows with his band, The Most Extras. On Friday, the band opened for Yächtly Crëw in Anaheim, California, and were met with chants of "Ariana" from the crowd, an audience member told Us Weekly, to which Sandoval responded, "We love her."
(This chanting was something that Sandoval's 'Vanderpump Rules' co-star, Lala Kent, suggested to her Instagram follower. Another 'VP' star, James Kennedy, asked show-goers to bring cabbage, tomatoes and other items to throw at Sandoval while he was performing, although it doesn't appear that anyone actually did that.)
At another point in the show, he asked the audience, "Have you ever been one of the most hated people in America?"
While Tom's show was going on, Ariana was at the Tove Lo concert in Los Angeles with castmate Scheana Shay. Scheana posted video of the two at the show, with one captioned "We rally" and the other showing Ariana singing along to "Cool Girl" ("I'm a, I'm a, I'm a cool girl, I'm a, I'm a cool girl, Ice cold, I roll my eyes at you, boy").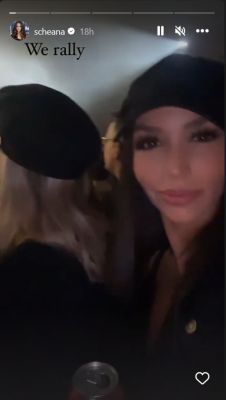 The 'VPR' cast, past and present, continues to show their love for and allegiance to Ariana following the breakup. Former cast member Kristen Doute posted a Reel to her Instagram account filmed Friday afternoon showing her and Ariana hugging and kissing each other.
"I ❤️ Ariana. PERIOD. #TeamAriana #TeamSandwichShop," Kristen, who was in a long-term relationship with Sandoval when 'VPR' premiered, captioned the video.
(Sandoval may have cheated on Kristen with Ariana during their relationship, and Kristen did admit to cheating on Sandoval with Jax Taylor, former 'VPR' cast member and one of Tom's close friends).
Kristen also shared that she will be talking about Ariana and Sandoval on the next episode of her Sex, Love, and What Else Matters podcast.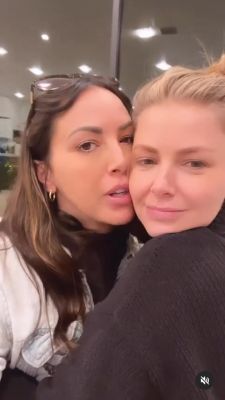 Brittany Cartwright, another former castmate, posted a picture to Instagram Stories of her and Ariana at Ariana's 2017 Kings & Queens-themed birthday party, captioning it, "Obviously."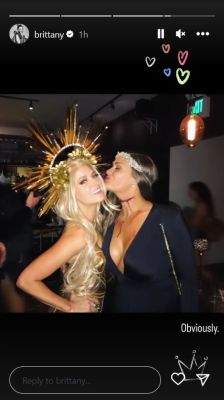 Meanwhile, Lala continued to show she's 100-percent #TeamAriana with her latest Instagram content. In her Stories, she showed herself deleting pictures of Raquel from her Instagram feed.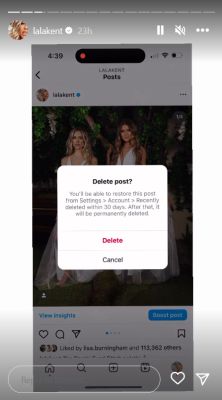 Lala also took time to defend herself from accusations that her past relationships with her ex-fiancé Randall Emmett (who was married when they started seeing each other) and with James Kennedy (who was once engaged to Raquel) give her no right to call out Sandoval and Raquel for their alleged cheating.
"Since so many wanna point out James and I hooking up," she wrote on social media. "Let's not forget that reunion where R*quel said 'we really started our relationship after I moved in with him.' And we know R*ndall was indeed married at that time (& lied about it), and you can't cheat on a married person — so as far as I'm concerned, James and I were two single people having a gooooood time.
"Enough with your noise. It's starting to sound like S*ndovals band and it's hurting my freshly pinned back ears," Lala– who had surgery last summer to pin her left ear back–added.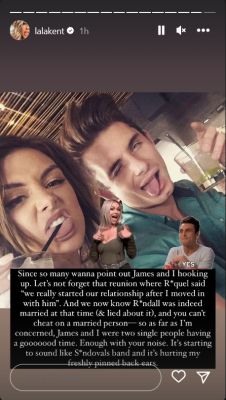 'VPR' grande dame Lisa Vanderpump eased into the breakup conversation Saturday morning with a reply to a tweet from Andy Cohen.
"How many parts is too many parts for the #pumprules reunion???" the Bravo exec tweeted, to which Lisa replied, "Ummm one…I'm not sure my heart is up to it."
Andy answered back, "You have time to get a pacemaker because I NEED YOU."
Lisa will have the chance to share all of her thoughts on the Ariana-Sandoval split, and so much more 'VPR' mess," when she's Andy's guest on Watch What Happens Live Wednesday.
Anyway, it appears that Sandoval's pleas to stop trashing his bars on Yelp have gone unheard….judging by some of the latest to appear on the page for Schwartz & Sandy's…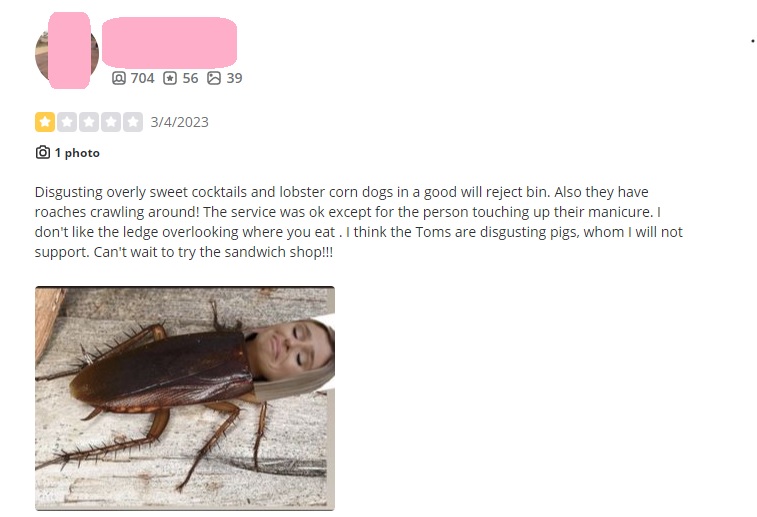 UPDATE! On Sunday, the official Instagram account for Schwartz & Sandy's issued a plea to the public, asking people to stop direct the anger they have for Sandoval toward the business. They also expressed that they are "disappointed by the current situation."
"In light of the recent news, we appreciate the many words of support but we also understand the outpouring of outrage that has been directed toward our business," the message reads. "However, those of us who are not famous have dedicated our time, hearts and money to make this restaurant a reality.
"We, too, are disappointed by the current situation, as Ariana has always been a good friend and a great supporter of the restaurant," the message continued. "We appreciate that you may feel a certain way, but please understand that the livelihoods of others also depend on this business. There are far more people involved in this venture than just Tom Sandoval and Tom Schwartz. Our staff, from the waitresses and bartenders, to the cooks and the dishwashers, all having nothing to do with this unfortunate situation."
The message goes on to ask people to refrain from leaving negative reviews for the restaurant.
View this post on Instagram
Comments are now turned off for the post, but in one comment— captured by the @LoveAndy Twitter account, one of the business' other owners, Greg, instructed fans to take their anger out on the Toms and not the business.
"We don't control the Toms so why should we fall on their dagger," one response from the official Schwartz & Sandy's Instagram account stated. "Direct your anger at them personally. I've got people in that kitchen who don't even own a TV. They come to work to support families. Your anger is misdirected though totally understandable."
RELATED STORY: 'Vanderpump Rules' Couple Tom Sandoval & Ariana Madix Reportedly Split Amid Rumors That Tom Cheated With Co-Star Raquel Leviss (Updated Recap of Events!)
(Photos: Bravo; Instagram; Yelp)