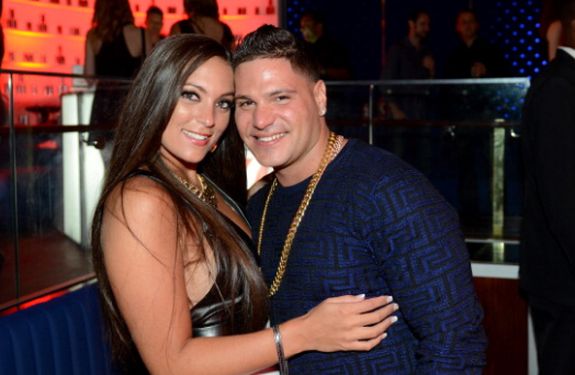 It's been years since Jersey Shore exes Ronnie Ortiz-Magro and Sammi Giancola have been anywhere near each other, but this week Ron and Sam were both spotted at the Margaritaville resort in Orlando, filming for the upcoming season of Jersey Shore Family Vacation!
TMZ reported that, on Friday, Ronnie was seen having a conversation with what looked like a show producer. While Ronnie and Sammi were not seen physically together, Sammi was photographed at the resort with the other roommates. (As The Ashley previously reported, Sammi is filming for the upcoming season, after years of declining to be on the show.)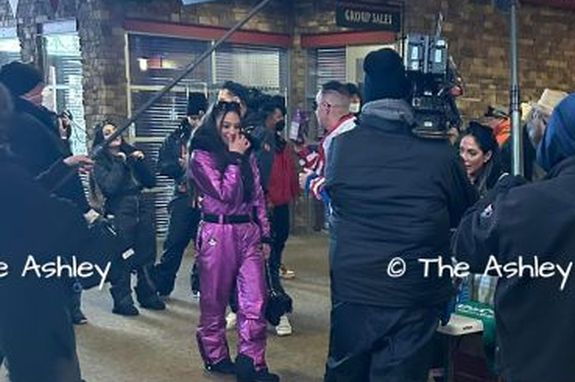 TMZ also reported that Vinny Guadagnino, Deena Cortese and Pauly D were seen mingling and enjoying the resort's amenities. The group wore matching pink t-shirts with the words "Family Fun Trip" on the back.
'Jersey Shore: Family Vacation' Filming at Margaritaville Resort in Orlando https://t.co/wnDcuzseMf

— TMZ (@TMZ) April 8, 2023
Ronnie and Sammi met on the original 'Jersey Shore' series, which premiered in 2009. What started as a fun flirtation between the two soon turned into one of the most tumultuous relationships ever shown on reality television.
Throughout the six seasons, the couple broke up and made up countless times, with one particular fight ending up with Sammi punching Ronnie in the face. In a later heated moment, Ronnie threw Sammi's belongings outside on the porch. During yet another fight, Ronnie attempted to throw Sammi's bed with her still on it.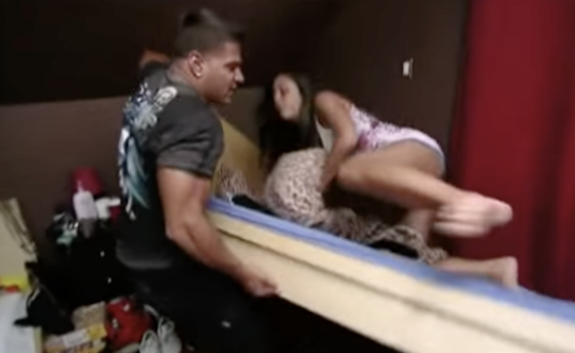 Ronnie and Sammi tried to give their relationship a try after 'Jersey Shore' ended and announced they were moving in together. After two years, the couple finally broke up for good in 2014.
When 'Jersey Shore: Family Vacation' premiered in 2018, Ronnie revealed why he and Sammi ended things.
"She gave me a timeline," he said. "She was like, I want to get married in six months-– and I'm still trying to figure my life out. I got cold feet. I wanted to do the right thing, but there was a part of me that was like, 'I'm not going to do the right thing.' So I didn't do it. I ended up cheating, she found out. I blew it."
Since their breakup, Ronnie and Sammi have not appeared on any of the 'Jersey Shore' spinoffs together. In 2017, fans saw Sammi on Reunion Road Trip: Return to the Jersey Shore, but Ronnie was noticeably absent. He returned to the screen for 'Jersey Shore: Family Vacation,' but Sammi chose to opt out of it, explaining to fans that she was not interested in revisiting the toxic environment that show brings.
"I have chosen not to join the show this season because I am at a completely different place in my life right now focusing on my businesses and relationship," Sammi said on Instagram at the time. "I am not the same person as I was when I was 22.
"At 31, I am currently extremely happy in every aspect of my life and want to avoid potentially toxic situations," she continued. "However, it was a difficult decision as I love my roomies. I've decided to focus on me, my future, and what truly makes me happy."
Sammi is currently dating Justin May, who is reportedly staying with her at the Margaritaville Resort.
It's unclear if Ronnie and Sammi will be filming together for 'Jersey Shore: Family Reunion' Season 7, but if so, this will be their first on-screen reunion.
RELATED STORY: EXCLUSIVE! See the First Behind-the-Scenes Photos of Sammi Giancola Filming for 'Jersey Shore Family Vacation'
(Photos: Chris Roque/Getty Images' MTV; The Ashley; Instagram)