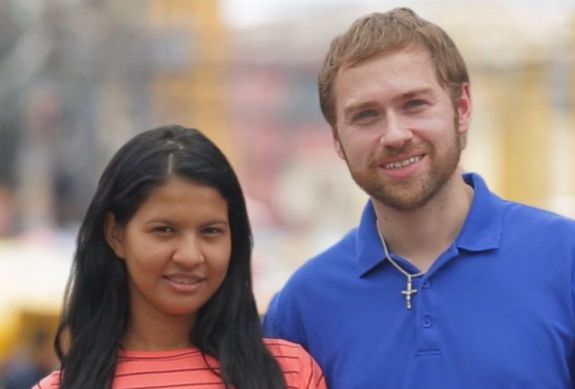 There's been yet another bizarre turn in the custody case involving the children of 90 Day Fiance stars Paul Staehle and Karine Martins.
As The Ashley previously reported, Paul and Karine had their two children removed from their care last year. (The boys are currently in the care of Paul's cousin.) Although Paul has stated that he's barred from seeing the two boys– Ethan and Pierre–until they're adults, Karine had been working hard to regain custody and had been receiving regular visits.
Last month, Paul revealed that his cousin had filed for permanent custody of the boys and was attempting to have his and Karine's parental and custodial rights terminated. In Touch Weekly confirmed that the motion had, indeed, been filed by Paul's cousin on May 22.
On Monday, Paul revealed that his sons have been allegedly taken out of state, without permission from CPS or the judges in their court case.
"Shockingly my cousin has taken my kids to Alabama so CPS notified Karine [that] she will no longer get visits because our children are no longer in Kentucky," Paul wrote on Instagram Stories. "My cousin purposely took our kids out of state after a motion was filed for them not to leave Kentucky so Karine could have her visits.
"Now Karine gets no visits. [The] prosecutor wouldn't hear Karine's motion saying to our lawyers that my cousin would be in court on the 7th, but in reality, she will be in Alabama," he wrote. "Karine is court-ordered weekly visits, which my cousin is denying her."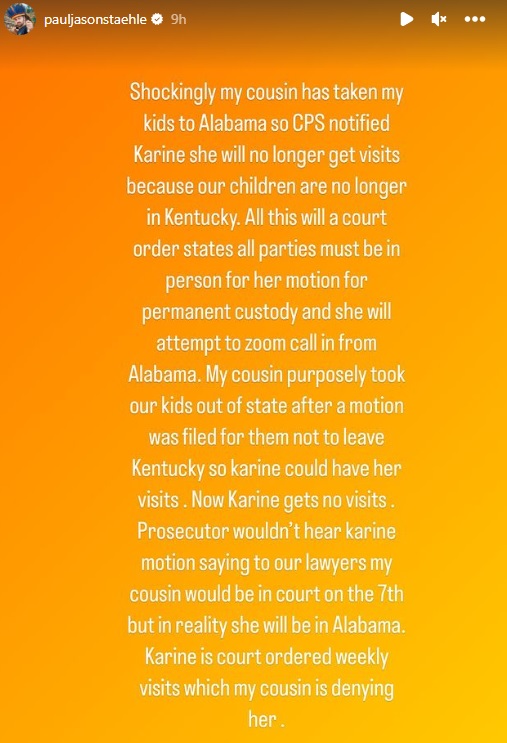 Paul claimed that Karine's lawyer is planning to file "contempt of court" charges against his cousin for allegedly violating several court orders, including removing the kids from Kentucky without permission from the judge; preventing Karine from visiting the kids; and not appearing in court.
Paul had also been outspoken about some of the things his cousin has allegedly done, stating that the cousin told the boys to call her "Mom" and to refer to Karine by her first name.
"She is adamant that they have zero future contact with myself, Karine or any of [Karine's] family," he said.
Before this, Paul had been under the impression that Karine was very close to regaining custody of their sons, as she had almost completed all court-ordered classes and requirements.
"Karine's prayers have finally been answered," Paul shared on his Instagram Story last month. "Finally … after extensive talks with our lawyers, after Karine completes her final class in only nine weeks, she can finally regain custody per her lawyer."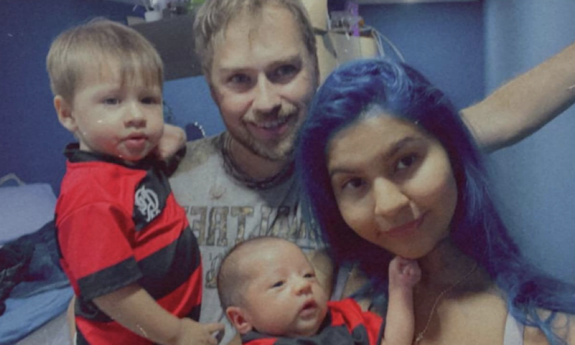 RELATED STORY: "90 Day Fiance" Star Paul Staehle Claims Estranged Wife Karine Will Regain Custody of Their Kids: "Karine's Prayers Have Finally Been Answered"
(Photos: TLC; Instagram)