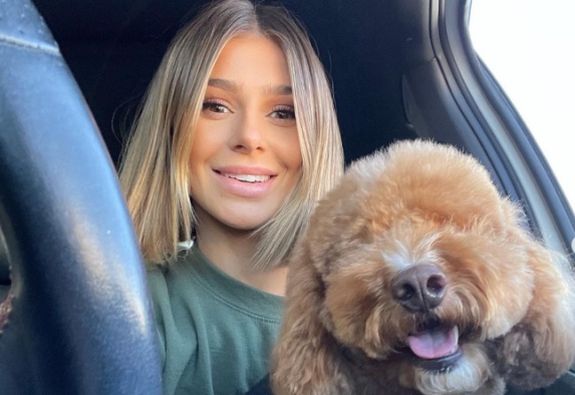 Update! Rachel's mom has released a statement, telling her family's version of events regarding how Graham ended up with James Kennedy. Scroll to bottom of post for latest update!
Raquel Rachel Leviss has abandoned her stage name— and, apparently, her dog!
According to TMZ, the Vanderpump Rules star recently dropped her dog Graham off at an animal shelter, due to his "behavioral problems" which included frequent biting. It is unknown how long Graham— whom Rachel adopted as a puppy with her former fiancé James Kennedy in 2018— sat in the shelter. Vanderpump Dogs reportedly assisted with Graham being placed in James' care.
Rachel took custody of Graham after she and James split in 2021, although Graham lived with Rachel's parents for a bit in between. but James made it no secret that he missed the dog. During an appearance on Watch What Happens Live with Andy Cohen in April, James talked about his time with the pooch.
View this post on Instagram
"I've left Graham in the past now. Beautiful times, but he's gone and that's just what it is," James said.
Once James and Graham were reunited, James posted on Instagram about how happy he was to have his canine companion back, even shading Rachel a bit by vowing in his caption that, "I'll take care of you forever."
James posted several photos of him and his girlfriend Ally Lewber in Lake Tahoe (where many of the 'VP' cast is currently filming), cuddling Graham.
"Look who made his way back home, back into my life, I'll take care of you forever and I love you," James captioned the photos.
View this post on Instagram
Graham's past bad behavior was confirmed by Ariana Madix during a podcast interview in May.
"Rachel would bring Graham over who is honestly a terror," Ariana said. "He bit me before. Just putting that out there. He's not a well-trained dog. He's kind of a little jerk. But we would let it go because we were like, 'That's our friend's dog…and she would always purport it to be like, maybe when her and James had him together that maybe it was the way he was raised as a puppy. And I'm almost like, 'Clearly James was not the problem!'
"Like, I tried to move the food bowl and he would try to bite me," she added. "He's crazy. He's very cute. But it's not his fault. It's the owner's fault."
View this post on Instagram
While Rachel reportedly ditched Graham due to his biting issues, TMZ reports that the pooch has been successful in his training classes.
UPDATE! Rachel's mother, Laura, is denying TMZ's version of the story of how Graham ended up with James. In a statement released to Entertainment Tonight, Rachel's mom denied the site's claim that Graham was dumped at a shelter. She also claimed that Vanderpump Dogs and Lisa Vanderpump actually helped with the initial rehoming and rehabilitation of Graham, whom Laura claims bit her so hard it caused severe nerve damage.
"Rachel put Graham into behavior classes after breaking up with James because he had bitten several people," Laura told ET. "When Rachel went into the mental health facility, she asked us to care for Graham as we have many times before. While caring for him he bit me to the bone, causing severe damage."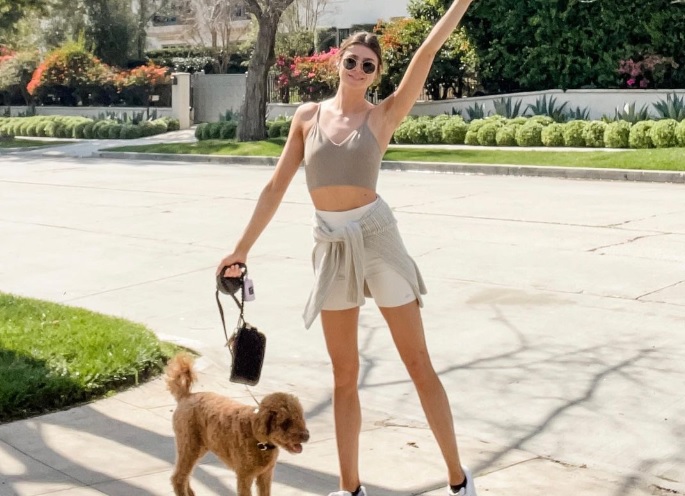 Laura claimed several doctors told her to euthanize Graham after the severe bite, but she refused. Instead, she states, she took the dog to the California Doodle Rescue, a rehabilitation center that paired Graham with a very experienced trainer. Laura says she took Graham to the trainer's home on May 20.
"While with the trainer, Graham bit both her and her husband," Rachel's mom said. "They still worked with him more to get him to a place where he could be adopted. He was placed with a new owner and was returned within three days after also biting her."
Laura claims the rescue reached out to Lisa Vanderpump directly and asked for financial assistance to hire a new trainer for Graham. She claims Lisa offered to adopt Graham, and Lisa's Vanderpump Dogs Rescue picked him up from California Doodle Rescue on July 13.
View this post on Instagram
"California Doodle Rescue was told that Vanderpump Dogs would either rehabilitate him and place him in a good home or he could live on her property until his dying day. My daughter nor I ever dumped Graham and want nothing but the best for him," Laura said.
With Laura telling her version of events, it's unknown if Graham ever actually ended up at a shelter, as TMZ claimed. If he did, it appears that Laura is implying that Lisa's dog rescue was responsible for him ending up there, not Rachel or her family.
Lisa and her dog rescue have yet to comment on the situation. The Ashley will update this story when more info is available.
RELATED STORY: 'Vanderpump Rules' Star Raquel Leviss Released From Mental Health Facility; Reportedly Changes Her Name Following Scandoval Fall-Out
(Photos: Instagram)