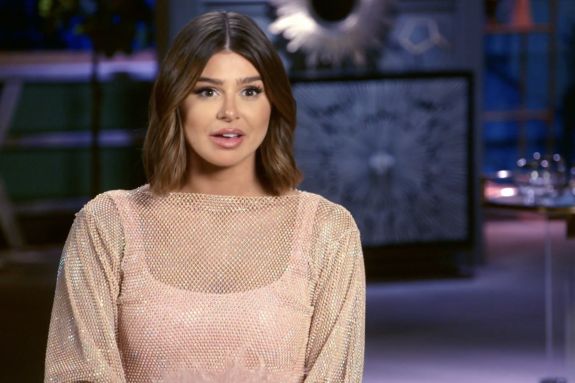 Raquel Leviss is done with her mental health treatment— and her stage name.
TMZ broke the news on Friday that the infamous Vanderpump Rules star has completed her stay at the mental health facility she had been staying at since April. The site reports that Raquel had been receiving "intensive therapy" at The Meadows facility in Arizona to deal with her trauma and mental health issues, but checked out last week and has been staying at a friend's house since her release.
After her stay at The Meadows (which TMZ reports cost over $200,000), Raquel decided to ditch her stage name "Raquel" (which she has used since she was a child), and go back to using her birth name, Rachel. Haters— and some 'VP' cast members— began referring to Raquel as "Rachel" as a way of insulting her following Scandoval breaking.
The name switch reportedly came at the suggestion of her therapists at the facility.
"Her therapists explained to her [that] her detractors had weaponized the name 'Rachel' to hurt her," TMZ reported. "She came to realize, with the help of the therapists, that by taking the name back and embracing it… she neutralized the people who used it as a weapon. So, from this point on, she's Rachel."
View this post on Instagram
Ironically, Raquel's co-star Lala Kent actually suggested Raquel change her name. During an interview in June, Lala stated that the only way she felt Raquel could recover from the Scandoval fallout was "if she, like, moved and changed her name again."
During a June appearance on The View, Lala claimed to know why Rachel changed her name to Raquel when she was a kid.
"She asked her mom if she could change it when she was five because there was a prima ballerina that lived across the street named Raquel. So, identity issues have been happening for a long time," Lala said, although it's unclear if this version of events is actually true.
Raquel Rachel is reportedly in negotiations with Bravo to appear on 'Vanderpump Rules' Season 11, which is currently filming. She has not, however, officially signed on yet.
While Raquel's name on her verified Instagram account is still listed as "Raquel Leviss," a source for TMZ claims that she has changed big time.
"She is like a totally different person," one person who reportedly spent time with Raquel last week told the site.
Raquel has not been seen publicly since leaving the mental health facility.
RELATED STORY: Raquel Leviss Reportedly"Playing Hardball" While Negotiating Her Season 11 Contract with Bravo; 'Vanderpump Rules' Earns First Emmy Nominations