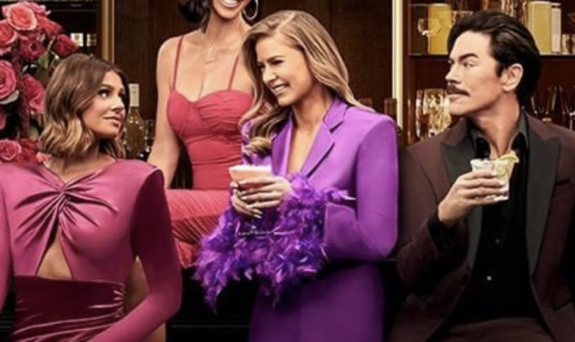 Tom Sandoval and Raquel Leviss are finally publicly apologizing to Ariana Madix, days after Ariana discovered the two were having a months-long affair behind her back.
As The Ashley previously told you, Sandoval and Ariana ended their nearly 10-year relationship last week after Ariana allegedly discovered inappropriate texts and a recording of an explicit FaceTime conversation between Sandoval and Raquel on Sandoval's phone.
Now, exactly one week after Sandoval and Raquel's secret relationship was revealed, the Vanderpump Rules stars are apologizing to Ariana for their actions.
Sandoval issued his statement Wednesday via Instagram, beginning with an apology to everyone he's "hurt through this process."
"Most of all, I want to apologize to Ariana," he wrote. "I made mistakes, I was selfish, and made reckless decisions that hurt somebody I love. No one deserves to feel that pain so traumatically and publicly. I can only imagine how devastating this has been for Ariana and everyone around us. I feel really horrible about that.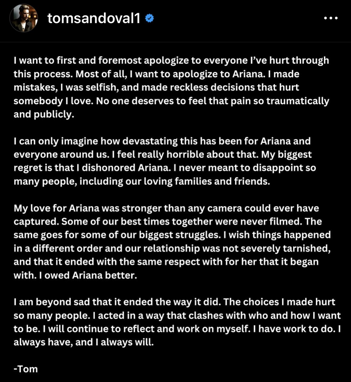 "My biggest regret is that I dishonored Ariana," he added. "I never meant to disappoint so many people, including our loving families and friends."
Sandoval went on to claim that his "love for Ariana was stronger than any camera could have captured," noting that some of their best times were never filmed, while admitting the same goes for some of their "biggest struggles."
"I wish things happened in a different order and our relationship was not severely tarnished and that it ended with the same respect for her that it began with," he wrote. "I owed Ariana better. I am beyond sad that it ended the way it did. The choices I made hurt so many people. I acted in a way that clashes with who and how I want to be."
Sandoval concluded his statement vowing to "reflect and work on" himself.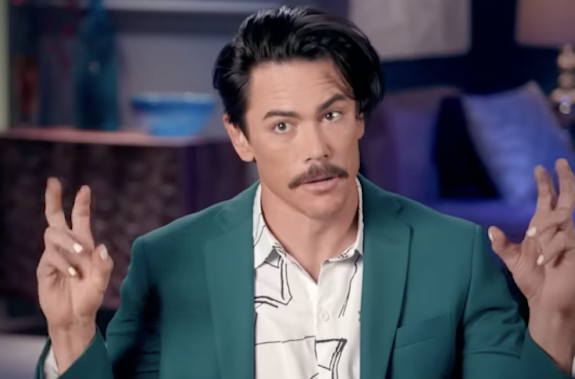 Until now, Sandoval had only publicly addressed the "Scandoval" to do damage control for his businesses–- namely Schwartz & Sandy's, the restaurant and bar he operates with with partners including castmate and BFF, Tom Schwartz. Sandoval posted his statement to social media over the weekend and was immediately called out by a number of his 'VPR' co-stars for failing to apologize to (or even acknowledge) Ariana.
As for Raquel, she issued a statement to Entertainment Tonight on Wednesday, marking the first time she has commented on the Scandoval (aside from issuing legal notices to her 'VPR' co-stars through her attorney and filing a restraining order against Scheana Shay, that is.)
In her statement, Raquel apologized to Ariana, (as well as friends and fans) admitting "there is no excuse" for her actions.
" … I am not a victim and I must own my actions and I deeply regret hurting Ariana," she continued.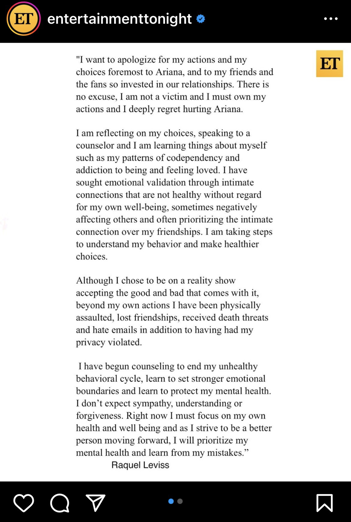 In addition to reflecting on her choices, Raquel said she is speaking to a counselor and learning more about her "patterns of codependency and addiction to being and feeling loved."
Raquel admitted that she has "sought emotional validation" through intimate connections "that are not healthy without regard for my own well-being, sometimes negatively affecting others and often prioritizing the intimate connection over my friendships."
She also said she is taking steps to end her "unhealthy behavioral cycle" and learning how to "protect" her mental health.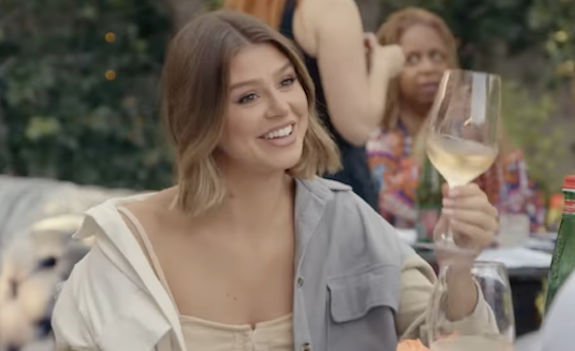 Raquel also used the statement as an opportunity to seemingly confirm that she was physically hit by someone over the Scandoval. (Several media outlets have reported that Scheana allegedly hit Raquel after finding out about the affair. While neither party has confirmed it, Raquel did file a request for a restraining order against Scheana this week.)
"Although I chose to be on a reality show accepting the good and bad that comes with it, beyond my own actions I have been physically assaulted, lost friendships, received death threats and hate emails in addition to having my privacy violated," she continued. " … I don't expect forgiveness. Right now, I must focus on my own health and well-being and as I strive to be a better person moving forward, I will prioritize my mental health and learn from my mistakes."
RELATED STORY: Raquel Leviss Seeks Restraining Order Against 'Vanderpump Rules' Star Scheana Shay Amid "Scandoval"
(Photos: Bravo; Instagram)