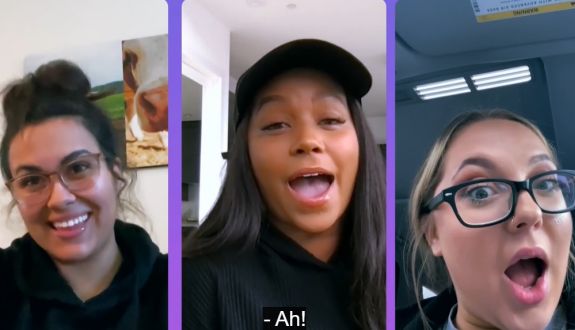 This crapisode starts off in Florida with Briana. She's trying to convince "the gals" to come down to the Sunshine State so they can rent a house together and participate in "activities" planned by Briana. (Perhaps a "family field trip" to good ol' Dr. Miami to get some body parts hacked and packed?)
Naturally, because most of these people don't have actual jobs, aren't in school or don't have anything to do besides beef with each other on The Gram, almost everyone immediately agrees to fly across the country for some on-camera fun in the sun.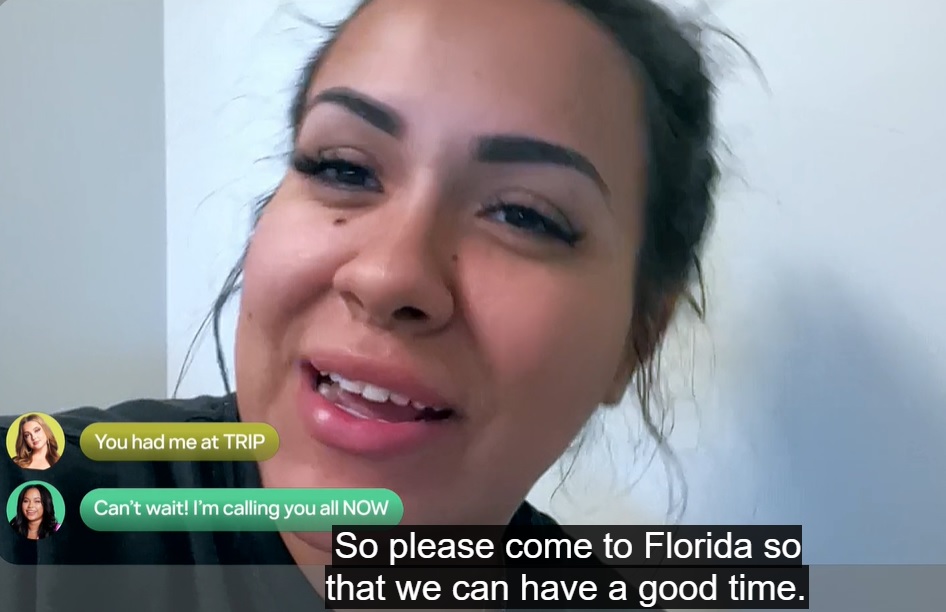 Cheyenne and Jade video-chat with Bri and immediately pump her for info about her date with Devoin. (Does anyone else think that it's funny/weird that everyone is suddenly pronouncing his name correctly? Back when Bri hated him, she called him "De-vaughn." Now that she wants to hump him, she— and her minions— are all pronouncing it correctly as "Dev-voyne.")
Maci staggers to the phone and joins in the convo about Bri and Devoin's potential tryst. She says that, regretfully, she won't be able to make the impromptu Florida trip. However, Cheyenne and Jade are going.
Zach is planning to tag along as well. #ThingsYouCanDoWhenYouDontHaveJobs
Over in Tennessee, Ryan has his britches all in a tangle because he believes his wife Mackenzie has been cheating on him. (The timeline the editors on this show have created to retell history is just ridiculous. They're conveniently leaving out that, by the time this was filmed, Ryan had already trashed his and Mack's home (scrawling cheating accusations on the walls of the house), been arrested and posted a scandalous revenge p0rn pic of Mackenzie to his Instagram).
But, you know….poor Ryan.
He calls up his new BFF Maci and informs her that he and Mack are divorcing. He also tells Maci— who is almost certainly feeling some tingling in her lady parts after hearing that Ryan is about to be single again–that Mackenzie is a "real pain in his ass."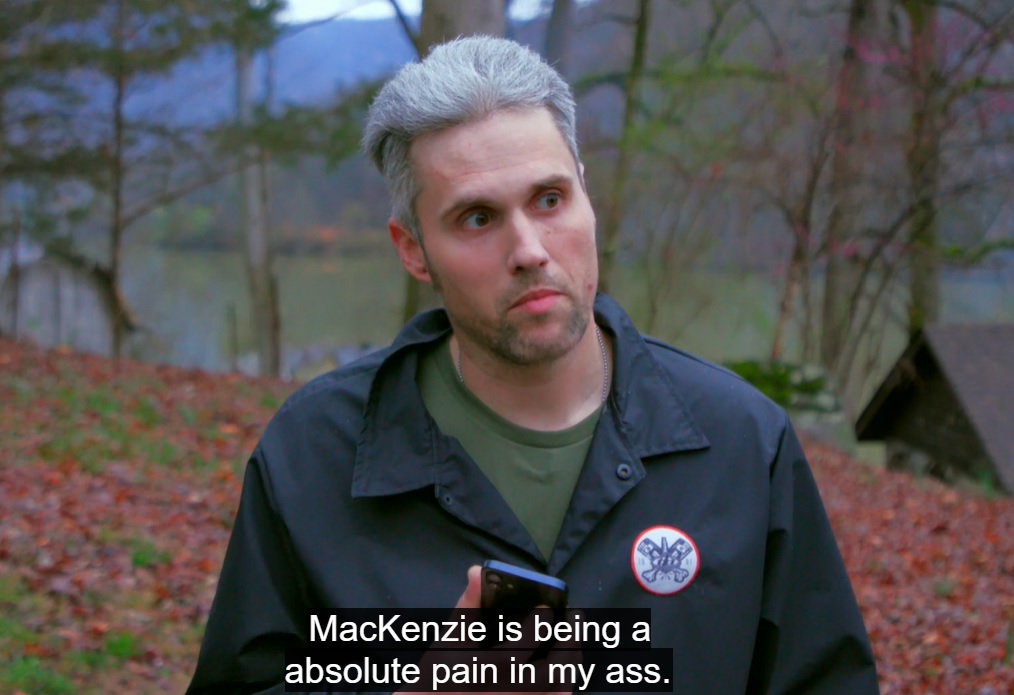 "She don't know why she left," Ryan tells Maci.
It certainly wasn't the fact that you were on drugs…which we all saw.
Or that you harassed her on Instagram…which we all saw.
Or that you trashed the home you all lived in…which we all saw.
Or that your hair looks like an actual Brillo pad.
Nope, can't imagine why she'd want to leave….
Ryan actually has the balls to suggest that Mackenzie left him because he spent too much time "out in the garage."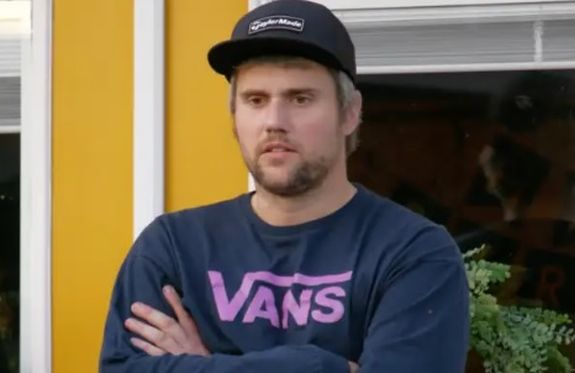 UM…YEAH. SHOOTING FREAKING HEROIN.
JESUS GOD LEAH!
Someone airmail me one of Catelynn's therapy horses. The Ashley needs a minute!
Maci advises Ryan to keep focusing on himself (um…pretty sure that's what he's always done, but OK), and to stay away from Mackenzie.
Over at Maci's MTV Mountain Mansion, Maci informs Taylor that Ryan and Mackenzie are getting a divorce.
"What a mess," Taylor says.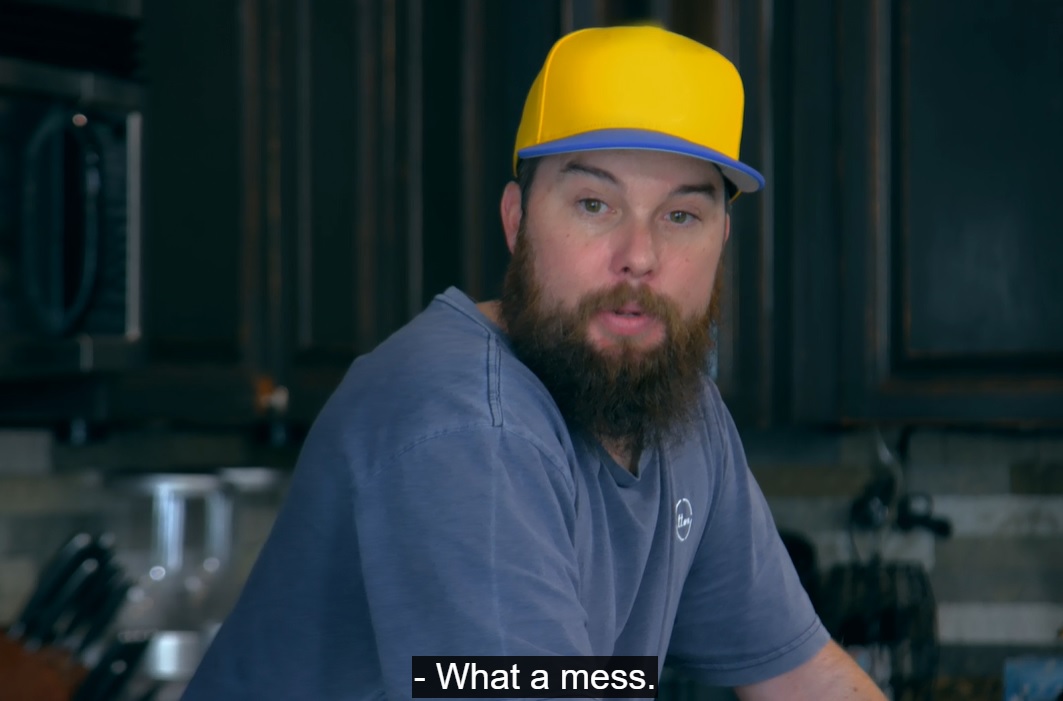 It's about to get even more ridiculous. Maci then suggests that Mackenzie wants a divorce from Ryan not because of his drug use, not because of his online (and alleged physical) attacks on her, and not because of his arrests but because he and Maci have become friends.
WHAT IN THE REWRITTEN HISTORY HELL?!
Maci claims that Mack "lost her mind" anytime Ryan and Bentley went to do something.
To be fair, up until like two months prior, Ryan didn't do much with Bentley, unless you count the "why didn't you wait for me?" Halloween incident. Hell, he probably couldn't have picked the kid out of a lineup of mulleted teens!
As per usual, Maci makes the situation about herself. She says that the divorce has "everything to do with" her improving her relationship with Ryan. Oh…and Bentley.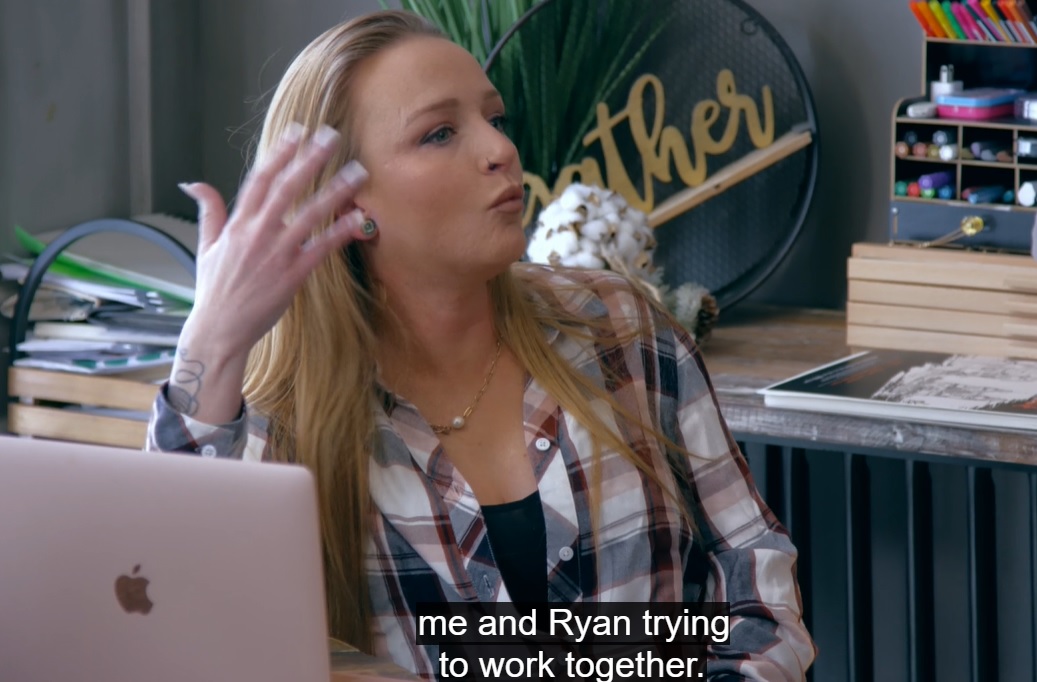 Taylor and Maci agree that Ryan is "a different person today" than he was a few years ago. (Um, you mean when he was shooting cats and threatening to shoot you, Taylor?)
Sure.
Over in Los Angeles, Cory and Taylor are thrilled that their daughter Maya is home after spending two weeks in the hospital after her heart surgery. He brings Ryder home to Cheyenne's MTV Mansion and Cheyenne informs him that she and Zach are going to Briana's spur-of-the-moment trip to Florida.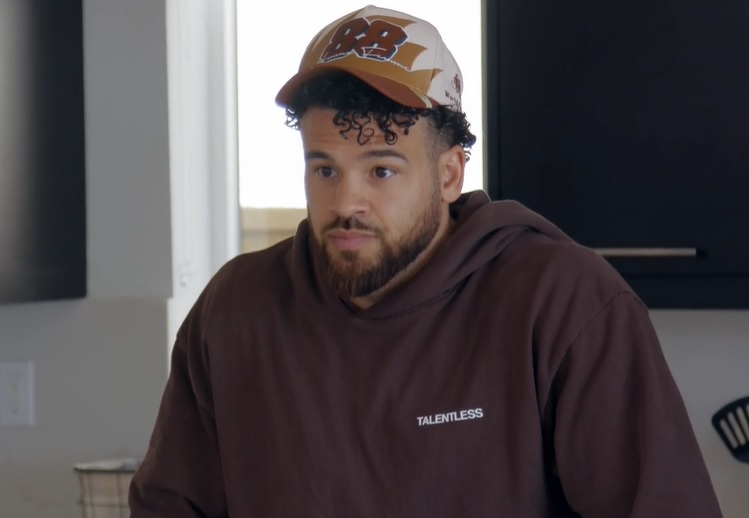 Cory agrees to watch Ryder so Zach and Chey can go (although he low-key looks hurt that he wasn't invited anywhere that MTV cameras will be).
Cory asks if Ashley will be spitting her way to the Sunshine State to attend and Cheyenne laughs. Cheyenne says she is getting lots of hateful messages on The Interwebs because the episode where she uninvited Ashley to her Wedding of The Century just aired. Cheyenne tells us she went on her podcast to explain that, just because she and Ashley are both Black, they don't automatically have to be friends…or something.
I don't know.
Cheyenne then shows us the nasty comment Ashley left on a fanpage, accusing Cheyenne of pretending to be in the car accident as a way of covering up that she got her body sucked, tucked and plucked. Ashley also insinuates that Cheyenne married Zach, even though he was her "second choice."
Cory— who is clearly enjoying sloshing the 'Teen Mom' tea around with Chey and Zach— then brings up the fact that Ashley's first-choice husband, Bar, called all the girls on the show hoes online and then deleted it…or something.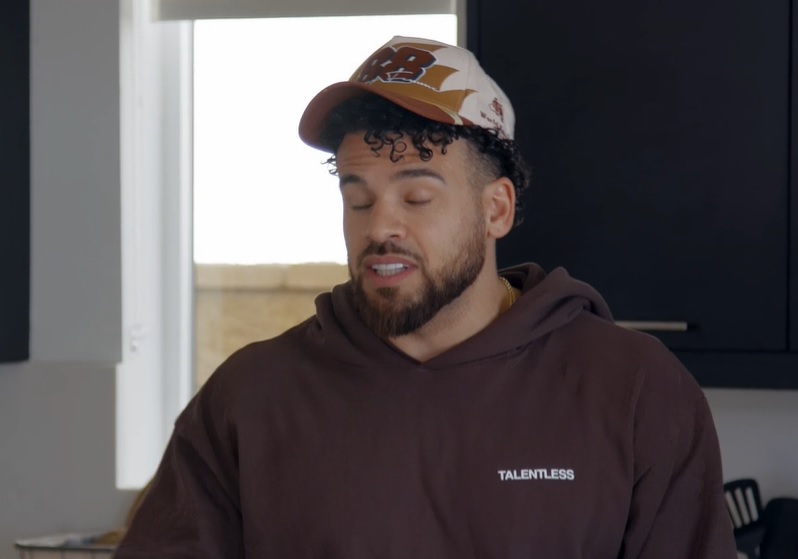 Over in Indiana, Jade is heading to Florida, with Sean and Cloughiiii in tow. They arrive to the Airbnb that Briana has rented. Soon, Cheyenne and Zach arrive and everyone is jumping up and down and wiggling their plumped-and-stuffed booties in excitement.
(For some reason, Briana has chosen to wear army pants and a Western fringe jacket that looks like it came from a cheap Dolly Parton Halloween costume from Wish.com. I'd imagine the costume would be called something like "Singing Dolly Cowgirl Girl.")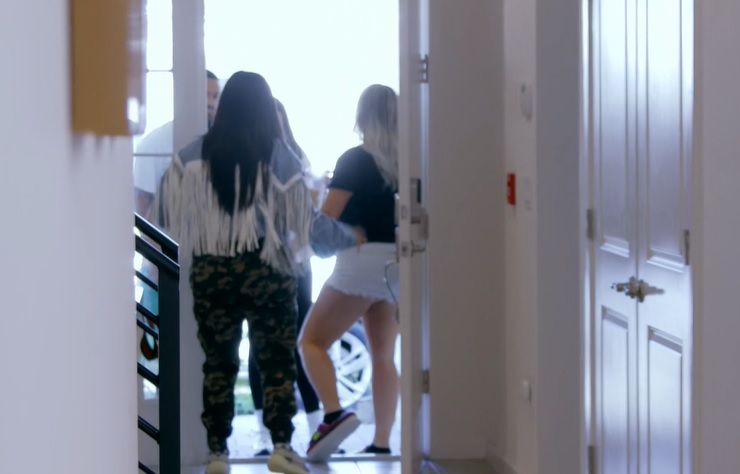 Naturally, the convo immediately turns to what Ashley said online about Cheyenne, and Chey defends herself, stating that she's never said anything negative about Ashley…at least not publicly.
She says that Ashley accusing her of making up the car accident so that she could get plastic surgery was really low. Zach says he has always been cool with Bar, but he didn't like that Bar was "co-signing" what Ashley said about Cheyenne.
This is so dumb. YOU PEOPLE ARE ALL 30 YEARS OLD and you're sitting around cackling about who called who hoes and stuff.
Seriously, I long for the days where 'Teen Mom' was all about Farrah banishing her parents to her driveway Port-a-Potty or Chelsea trying to figure out how to keep her dad from finding out that she once again touched Adam's ding-dong.
SIGH.
Mercifully, the convo moves to something more entertaining: Devoin's attempts at re-entering Briana's sausage-gobbler after about a decade or so.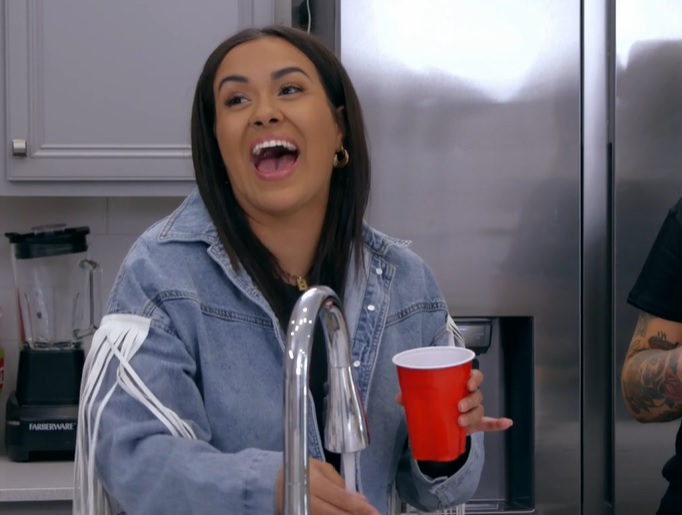 Briana basically implies that she would like to engage in a lil' bedroom rodeo with Devoin on this trip. (I guess there were no security guards around to boink?)
Later, Briana's trusty friend Shae arrives to join the festivities. (What happened to "Shirley" by the way? Does she only come around when Briana gets carved up on Dr. Miami's Operating Table 'o' Horrors or…?)
Brittany and her boyfriend Steven arrive soon after, as do Devoin and Sean.
(Devoin is sporting quite the Who-Ville hair for the occasion of boinking his baby mama. I think that's nice…)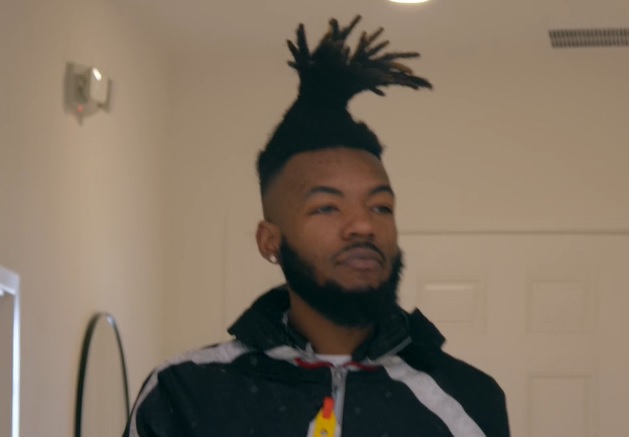 As he walks in, Briana gives him a look that tells us she'd like to shove Devoin into the nearest club bathroom and let him give her the ol' pickle tickle!
Briana has hired a hibachi chef to cook for her motley crew. As the chef squirts sake into the girls' mouths via a Super Soaker (as you do), Devoin regales the group with tales of his time in rehab. He brags that he only went there for gambling, but the rest of the people at the rehab were crackheads.
Briana is being very flirty, and it seems like Devoin is incredibly uncomfortable with her attempts at PDA in front of the group.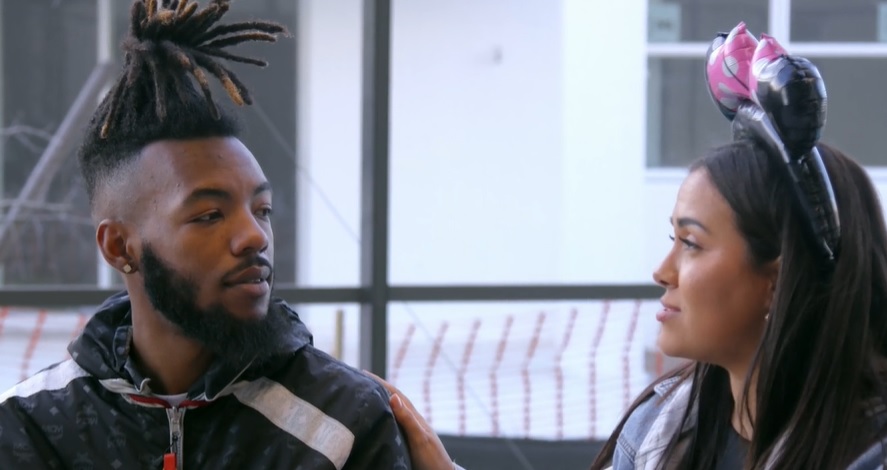 Meanwhile, over in Las Vegas, Ashley is painting cow spots on her wall (as you do). She shows her mom, Tea, who claims to "love" it. Ashley invites Tea to visit them in Las Vegas and Tea agrees.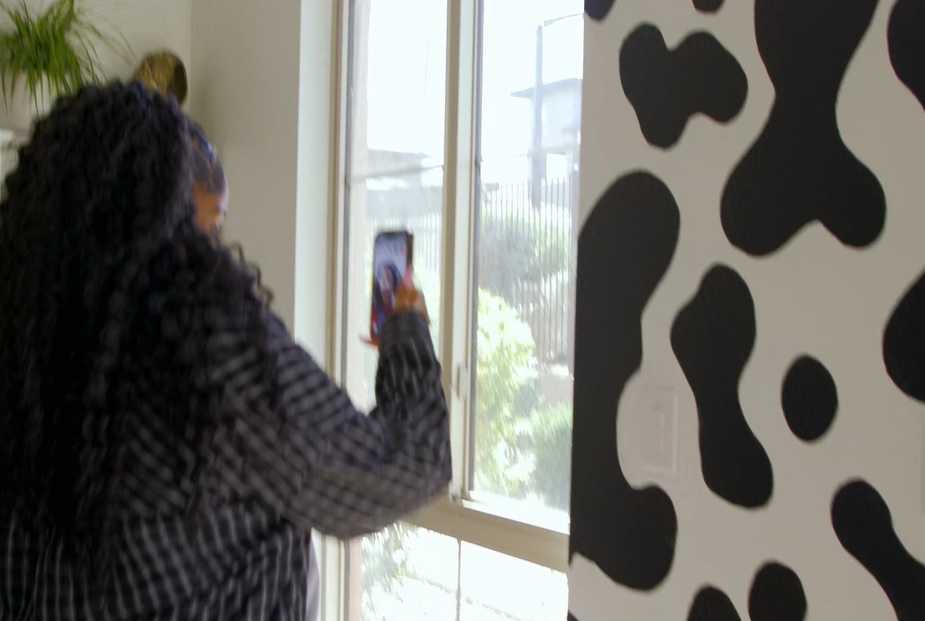 Later, Ashley heads out with some friends (who are suited up in their SHEIN spandex finest, natch) to chat about her time in nursing school…and talk crap on the other girls on the show.
"Are you friends with them other girls on the show?" one friend asks Ashley.
Ashley jokes that she is the only girl on the show. She then points out that everyone on the show got the job because they're "toxic and crazy."
Well…yeah.
She says that, other than being co-workers, she has no connection to them.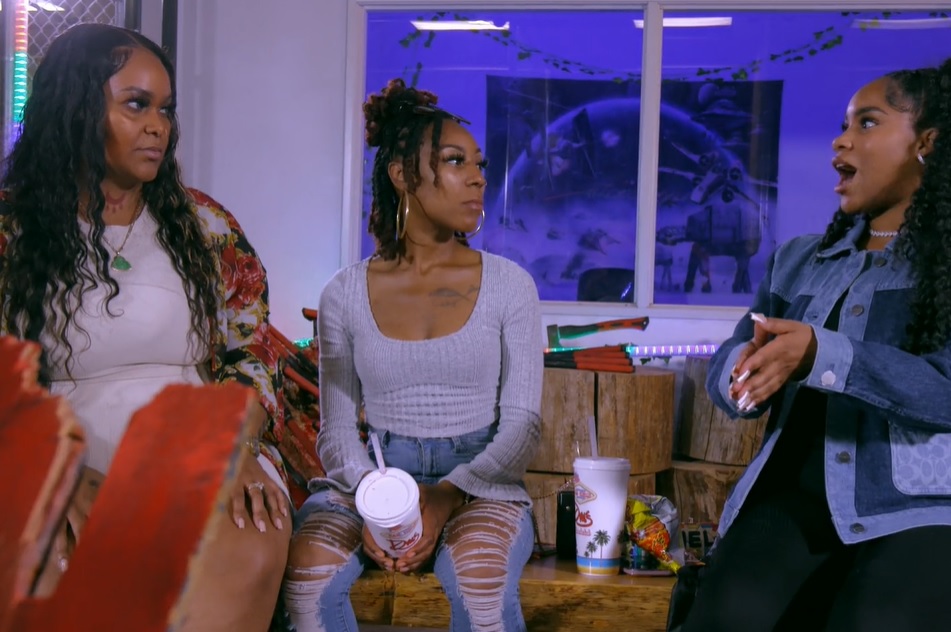 One of the friends (whose eyelashes literally go past her eyebrows) asks how many Black and Latin women are on the show.
"I'm the only Black girl on the show," Ashley says, obviously taking a dig at Cheyenne.
She goes on to claim that Cheyenne is only "Black" when it's "convenient" for her. She says she made the nasty comments online about Chey because Cheyenne talked about her on her podcast.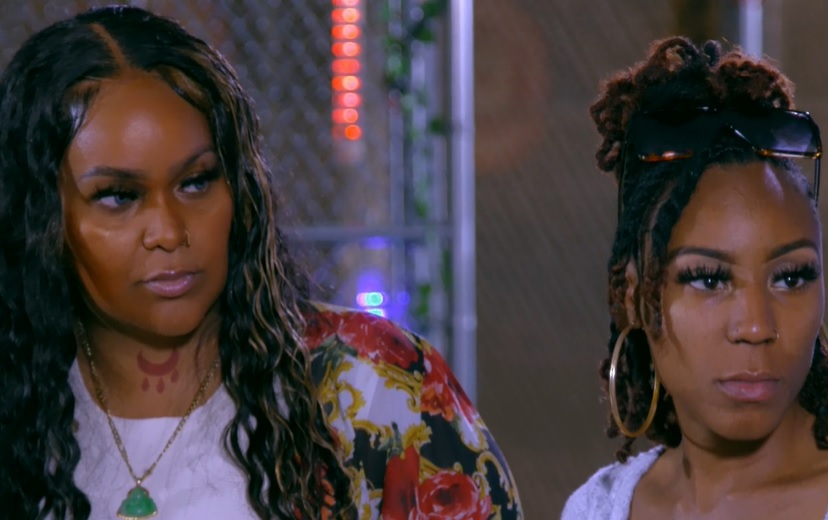 Ashley, ever the class act, then proceeds to proclaim that she would like to hock a loogie on her co-stars' elderly relatives.
"I spit on all you hoes, and all your mamas, and all your dead-ass grannies!" Ashley says.
Seriously, what the hell are we watching!?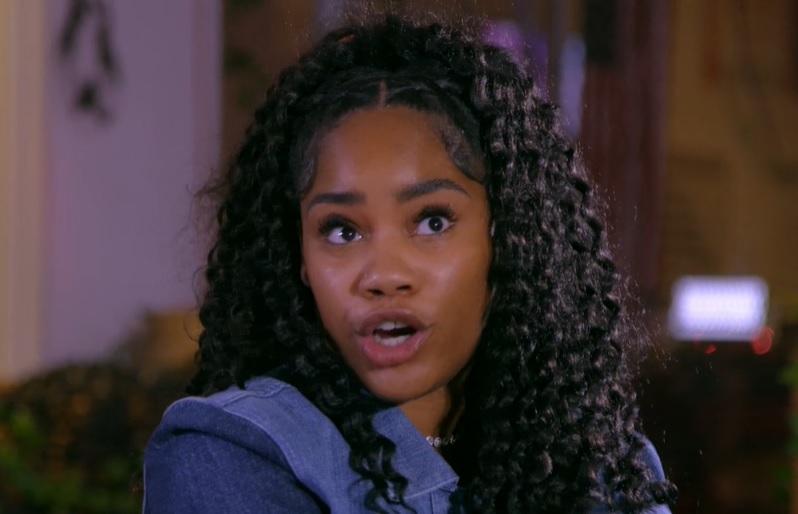 Back in Florida, the boys and girls split into groups, with the girls going bowling. Sean takes Kloweeeee with him and Devoin and Zach…
To a bar.
As you do…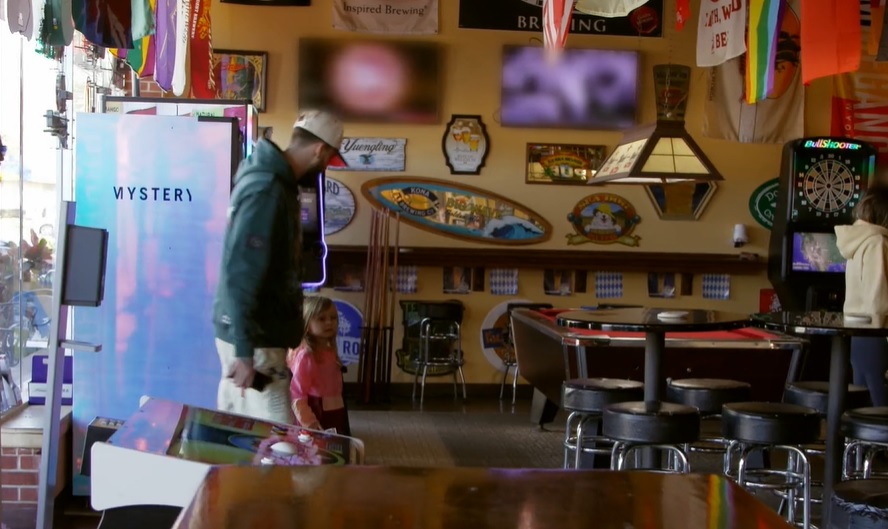 The guys naturally bring up the whole Ashley/Cheyenne situation. (Meanwhile poor Cloiiie is just stuck in the corner playing on an iPad. Why the hell didn't she go bowling with the girls?)
The guys encourage Zach to call up Bar and address what was said.
COME THE HELL ON. This storyline is already so tired. I'd seriously rather watch footage of Klllloiii looking for loose change.
Meanwhile, the girls go bowling. Briana randomly announces that it's been more than six months since she's had sex— not even a bathroom bang!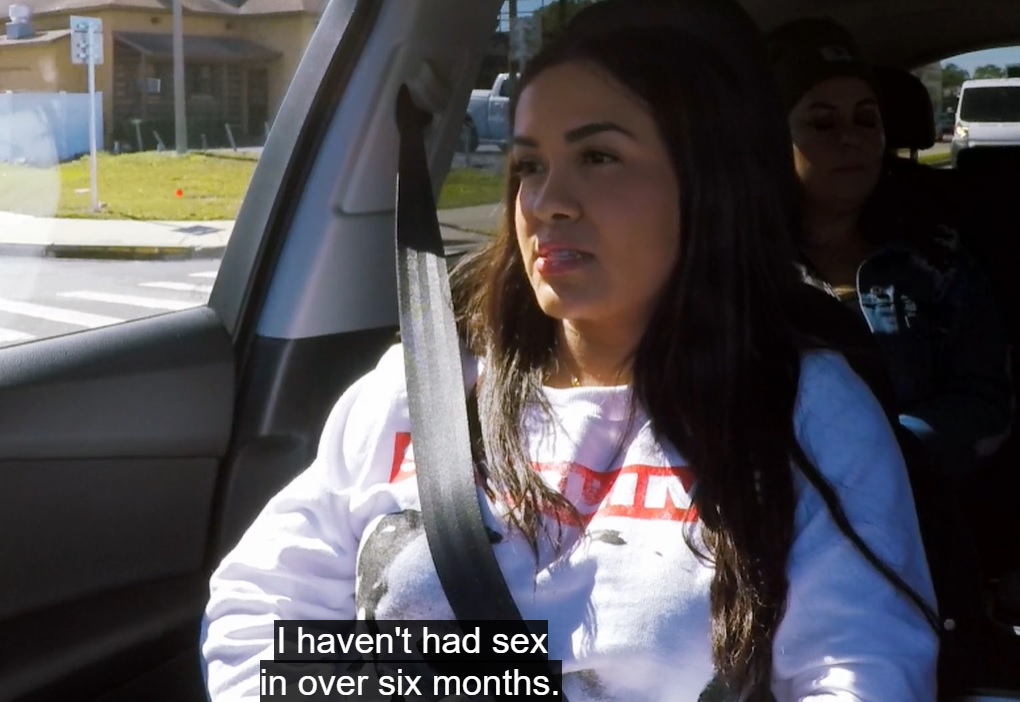 Briana shares that Devoin asked to sleep with her the night before, but she turned him down.
Back in Tennessee, Maci informs "the gals" that she told Bentley about Ryan and Mackenzie getting a divorce. She said Bentley wasn't very upset. (She does manage to get in a dig on Mack, telling them that Bentley "has never really been a big fan" of Mackenzie.)
Over at Jen and Larry's, Ryan's kids are hanging out. Jen tells Larry that Ryan came and "played with the kids for a minute…I mean a little bit" and then left.
Jen tells Larry that Ryan is just really "devastated" about the divorce.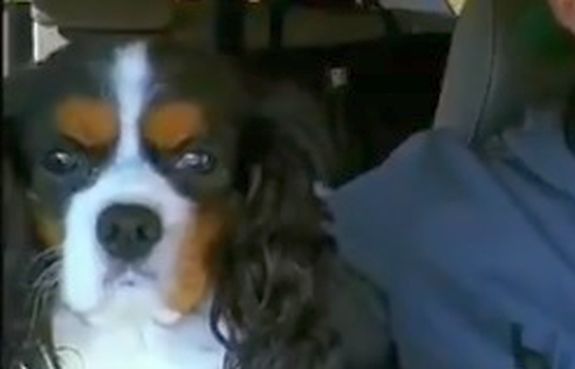 Jen worries that this will "mess with Ryan's sobriety."
UMMMM!?
Remember, by the time this scene was filmed Ryan had already been arrested for harassment and drug possession. This scene was filmed in February (we can tell because of the Valentine's Day décor in the background).
The next day, headlines surface that Mackenzie claimed Ryan held a knife to her, among other things.
Producer Kiki heads over to talk to Ryan at a deserted pond and get his side of the story. Ryan denies holding a knife to Mack, but agrees that when he "gets angry, he gets f**king angry."
"I ain't never hurt or put my hands on a woman ever before!" Ryan exclaims.
Ryan— the gumshoe of our generation— says he sleuthed it out and figured out Mackenzie was cheating on him.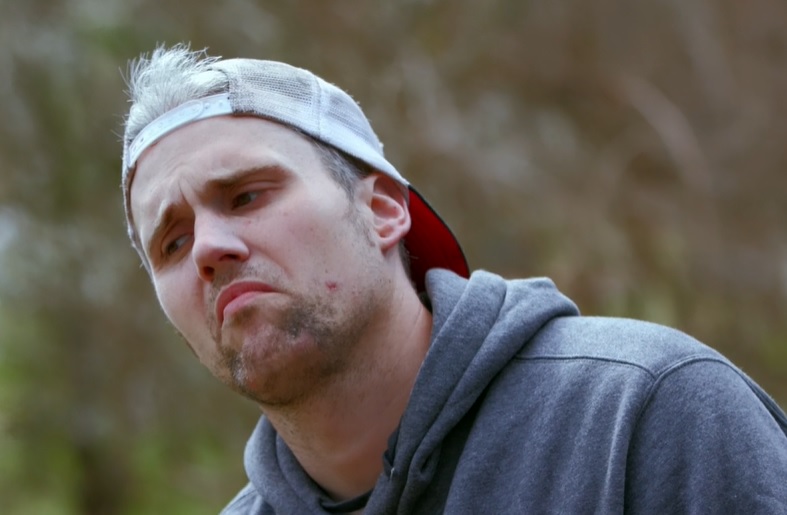 Ryan calls Mack's alleged actions "shocking." He also reveals that he hasn't had much time for his kid Billy Bentley lately, and it's all that dern Mackenzie's fault!
Ryan admits he's "done f**ked up" in his sobriety (ya don't say?), but, again, it's all that dern Mackenzie's fault!
Ryan then settles into his garage to tell us that he "done used drugs" after he found out that Mack wanted a divorce, but he didn't even like 'em…and stuff. He does get honest about how much crap he's put his kids through, particularly Bentley.
Back in Florida, poor Cllloweeee is banished to her room to look at weird mail-order catalogs as the moms dress in matching pajamas for a slumber party. The gang decides to play Truth or Dare. Naturally, this game is just an excuse to get Briana and Devoin to touch no-nos.
First, though, Jade is forced to suck Sean's big toe.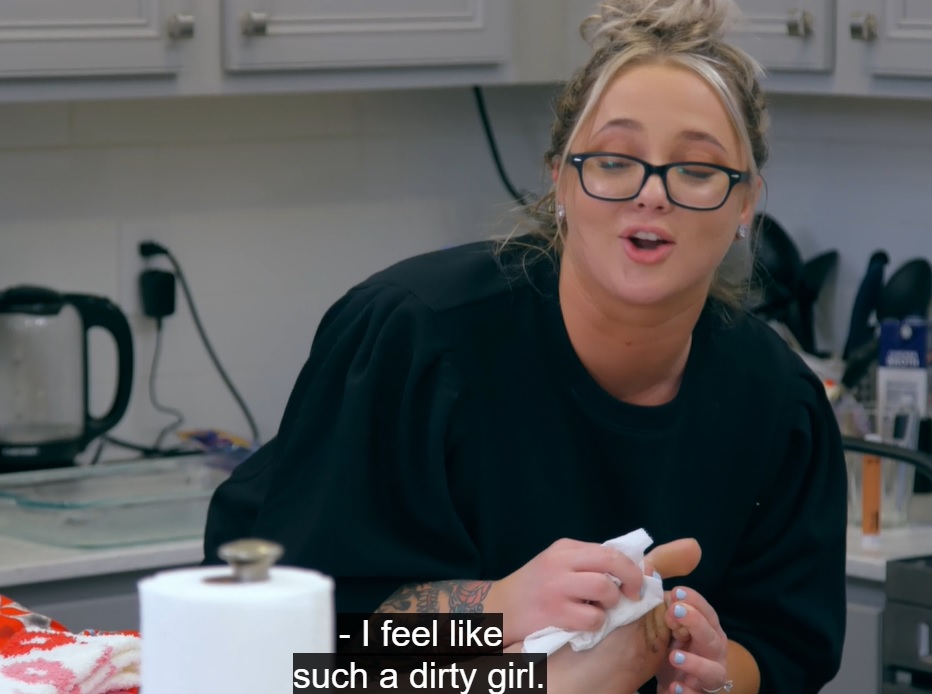 WHAT THE HELL ARE WE WATCHING, GUYS? WE NEED TO DO BETTER.
Next, Briana is dared to give Devoin a lap dance. She hops right on, shaking her Dr. Miami-boosted money maker like her paycheck depends on it. (Since this is kind of the only storyline she's got right now, it kind of does.)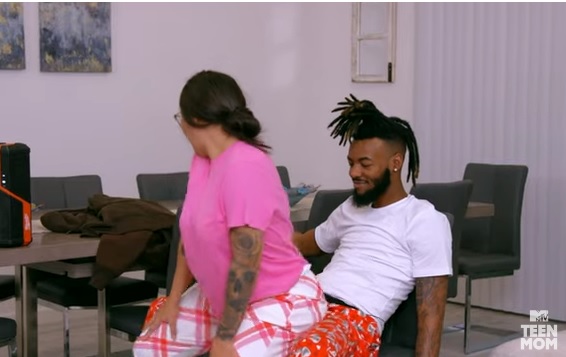 The next day, everyone has to fly home and go back to their families. (Hopefully Jade and Sean remembered to toss Cloweeeee and her mail-order catalog into their suitcase.)
Naturally, what Zach is focusing on is calling Bar to talk about him calling Cheyenne a ho. (Ashley claims that this was the second call Zach made to Bar, and that the first one— which was made in front of the group while in Florida– wasn't aired.)
Zach agrees to fly to Vegas to talk to Bar in person. Again, #ThingsYouCanDoWhenYouDontHaveJobs
That's all for this episode of 'Teen Mom: The Next Chapter!' To read The Ashley's previous recaps, click here!
(Photos: MTV)