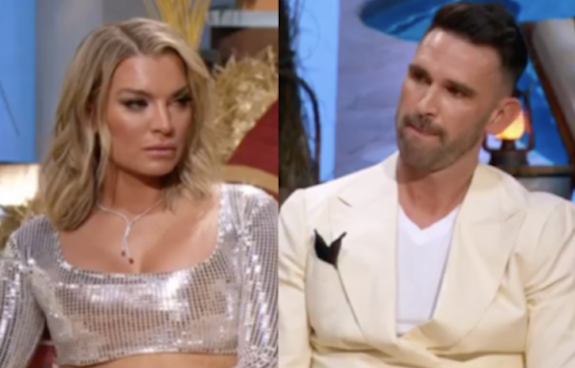 Two weeks after it was reported that Carl Radke had called off his engagement to Lindsay Hubbard, Lindsay is finally speaking out on the breakup, claiming it has left her both "humiliated" and "heartbroken."
As The Ashley previously told you, Carl issued a statement to his friends and family this week, in which he apologized to his and Lindsay's loved ones-– many of whom were left with travel fees for the Summer House couple's November destination wedding in Mexico.
On Thursday Lindsay took to Instagram to comment on the broken engagement, telling followers she has been grieving the loss of not only her relationship, but her friendship with someone she considered her best friend for eight years.
"The last two weeks have been the most heartbreaking and emotional weeks of my life," Lindsay wrote. "My entire life and future was ripped out from underneath me and I've had a hard time making sense of it all – with no answers or closure on why."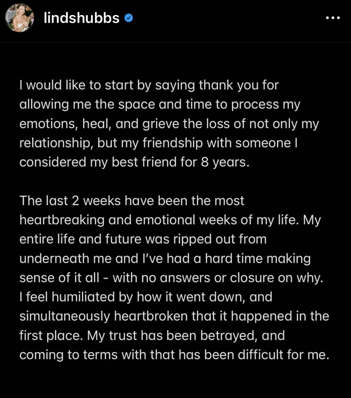 In the wake of the couple's abrupt split, a source told Us Weekly that "Lindsay was 100 percent blindsided" by Carl calling off the engagement; however, "it was a long time coming for Carl."
Lindsay seemingly confirmed this in her statement on Thursday.
"I feel humiliated by how it went down, and simultaneously heartbroken that it happened in the first place," Lindsay continued in her statement. "My trust has been betrayed, and coming to terms with that has been difficult for me."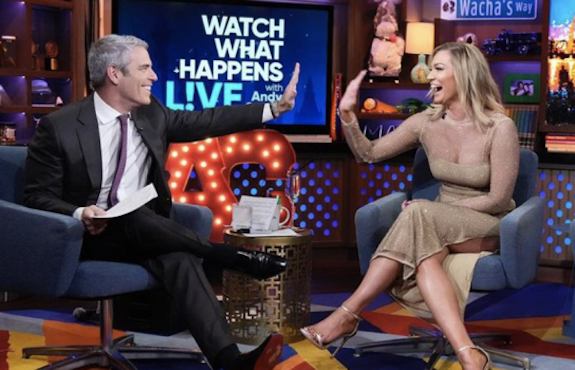 While there had been some speculation on whether the Bravo couple's split was mutual, Lindsay finally set the record straight.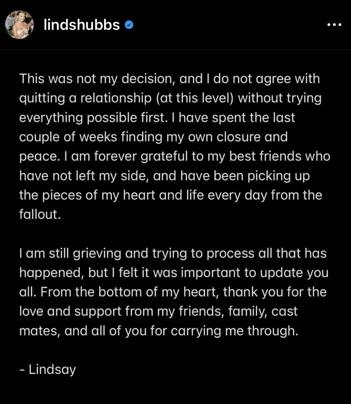 "This was not my decision, and I do not agree with quitting a relationship (at this level) without trying everything possible first," she wrote.
Lindsay wrote that she has spent the last couple of weeks finding her own "closure and peace," before going on to thank those who have been by her side during this time.
"I am forever grateful to my best friends who have not left my side, and have been picking up the pieces of my heart and life every day from the fallout," she wrote. "I am still grieving and trying to process all that has happened, but I felt it was important to update you all.
"From the bottom of my heart, thank you for the love and support from my friends, family, cast mates, and all of you for carrying me through," she concluded.
Lindsay has deleted nearly all of the photos she had with Carl on her Instagram, and Carl recently cleansed his account of Lindsay's photos.
While Carl has yet to reveal publicly why he dumped Lindsay just months before their wedding, in his letter to his loved ones— which was obtained by People— he did reveal that he is "crushed" by how the breakup went down.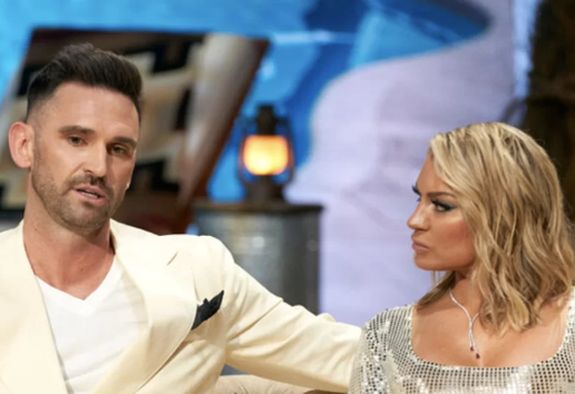 "There have been a lot of false narratives and misunderstandings that have made this all the more painful but sadly at this time we are not moving forward with the wedding," he wrote. "The fact of the matter is Lindsay is devastated and I'm crushed with how all this transpired."
RELATED STORY: 'Summer House' Star Carl Radke Breaks His Silence on Calling Off His Engagement to Lindsay Hubbard; Find Out How the Split Reportedly Went Down
(Photos: Bravo; Instagram)