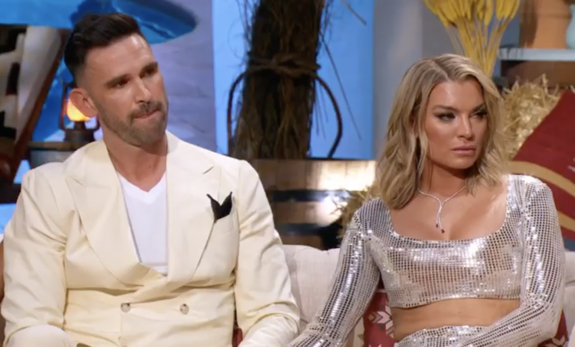 More than a week after multiple media outlets stated that Summer House star Carl Radke had called off his upcoming wedding to Lindsay Hubbard, the former Loverboy VP of Sales has issued a statement on the breakup to his loved ones.
"Words cannot possibly express how difficult the last two weeks have been for Lindsay and I," Carl said in a letter–obtained by People— to his friends and family. "We are so incredibly sorry to all of our guests for the confusion and lack of communication. We were left trying to figure out how this all exactly happened before we could even have the opportunity to determine the path forward amongst ourselves.
"There have been a lot of false narratives and misunderstandings that have made this all the more painful but sadly at this time we are not moving forward with the wedding," he continued. "The fact of the matter is Lindsay is devastated and I'm crushed with how all this transpired."
Carl acknowledged that their guests were now left with travel fees for their destination wedding in Mexico and offered to "help with any costs associated with changing plans."
"[We know your] commitment of money and time was already a lot," Carl wrote, before suggesting that the hung-out-to-dry wedding guests use their reservations as a vacation. "I don't take [this] lightly. We are super grateful for the love and support you have shown us.
"I'm sorry again this has become such a mess," he continued. "Thanks for your unconditional love and support during this tough time. Will be in touch with further updates. With love, Carl."
A source told Us Weekly that Carl and Lindsay's guests were told too late about the breakup and are now stuck with hotel rooms and flights to the destination wedding, which was scheduled for November.
"Only producers knew this was coming, very few of the guests were informed before the news broke," the source told the magazine. "The deadline to cancel their rooms and receive a refund [has passed], so many guests were left to eat the costs."
Another source confirmed that Lindsay had no idea Carl was planning to break up with her.
"Lindsay was 100 percent blindsided by the engagement being called off, but it was a long time coming for Carl," the source claimed. "He wasn't in this relationship emotionally for a while."
"Lindsay is broken up and not in a great place, she's surrounded by friends and family, but this has been very rough," the source added.
According to a recent episode of the Cocktails and Gossip, podcast, a source stated that the end of Lindsay and Carl's relationship came quietly.
"It wasn't a fight; it was a calm conversation and he called it off," the source told the hosts.
"I talked to Danielle [Olivera]. This was very premeditated by Carl. He did this with production in full knowledge of the situation," another person shared with the podcast hosts. "They had finished wrapping in the Hamptons last week and nobody [else] knew he was planning on calling off the engagement."
According to a 'Summer House' crew member, Carl was upset that his role on the show had been reduced. The role reduction reportedly "impacted their income greatly."
"The way it was explained to me was that he blamed Lindsay for what happened with that," the podcast hosts stated, adding that many believe Carl was pushed into being with Lindsay by the show's producers.
According to one source, "The couple was also instructed to go through with the wedding because 'they'll make more money than the divorce will cost.'"
Lindsay has yet to make an official statement but she was recently spotted celebrating her friend (and 'Summer House' Season 1 castmate) Jaclyn Shuman's wedding in Portugal.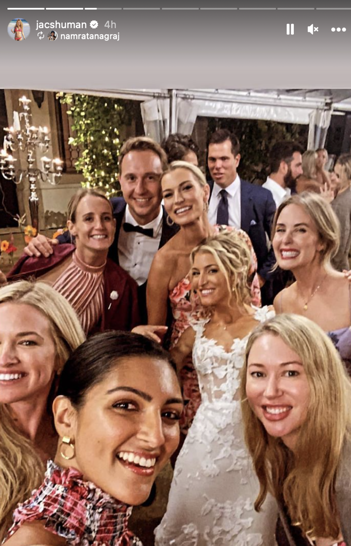 This was the first time Lindsay had been seen in public since the news broke. She has deleted most of the photos of Carl, as well as pics of her recent bridal shower, off her Instagram account.
RELATED STORY: 'Summer House' Star Carl Radke Has Reportedly Ended His Engagement to Lindsay Hubbard, Just Months Before Their Fall Wedding
(Photos: Bravo; Instagram)