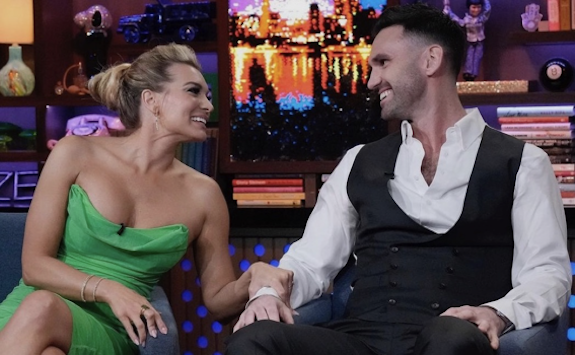 Summer should be fun-– but it doesn't seem to be the case for Summer House cast members Lindsay Hubbard and Carl Radke.
The Bravo couple have reportedly ended their engagement just months before they were set to walk down the aisle, with Carl being the one to initiate the split.
The Instagram fan account Bravo and Cocktails first gave hints of the breakup after receiving an email from an anonymous source that read: "I can't say who I am. So anon email. But this summer house couple set to wed in the fall. A friend of friend told me the wedding is off. He called it off!! I'm hoping I'm wrong but I don't think I am."
News of the couple's split was later picked up by Entertainment Tonight, with various sources reportedly confirming the breakup.
"Carl Radke and Lindsay Hubbard have called off their engagement," sources told the outlet. "The two were set to get married in November, but Carl told Lindsay he couldn't move forward with the wedding. The breakup was filmed and will most likely play out on the next season of 'Summer House.'"
Lindsay and Carl's relationship has faced its fair share of ups and downs. The two first attempted to take their friendship status to the next level during Season 4; however, their constant bickering made it apparent that they weren't on the same page. Lindsay later confirmed in a now-deleted Instagram post that she and Carl had "both moved on."
During Season 6, Lindsay and Carl started getting flirty again and after the HubHouse founder shared a snap of the two sharing a hug at Amanda Batula and Kyle Cooke's wedding, fans wondered if they were a couple again.
"We're definitely dating!" Lindsay told Page Six in January 2022. "We don't really talk in labels, Carl and I … [But] we're very much together. We're very happy."
Lindsay and Carl's engagement was captured in the latest season of 'Summer House.' While on a private excursion in the Hamptons, the former salesman got down on one knee and proposed to a very surprised Lindsay.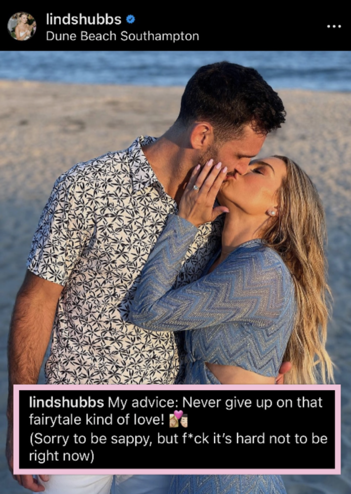 Their whirlwind romance caused problems between Lindsay and her BFF, Danielle Olivera, who was upset that she was kept in the dark about the proposal.
"I'm glad Carl included me in the whole thing because that's really f**king cool. Whatever," she ranted during a Season 7 episode. "It says a lot without saying anything. Am I going to be invited to the wedding? Who knows?"
While things were still tense between Lindsay and Danielle during the reunion, it seemed as if the friends made up. Danielle was seen at Lindsay's bridal shower in August, along with other members of the 'Summer House' cast.
"I feel so blessed and lucky to have so many girlfriends share in such a special moment with me," Lindsay wrote while sharing a group picture with Danielle, Amanda, Ciara Miller, Gabby Prescod, and Samantha Feher.
In another pic, Lindsay revealed that Carl had also made an appearance.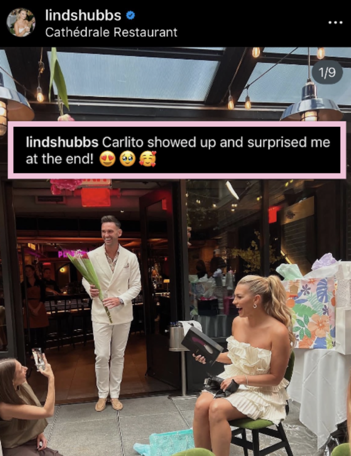 "Carlito showed up and surprised me at the end!" she shared.
Carl posted photos from his surprise drop-in, too, along with a message to his now former-fiancée.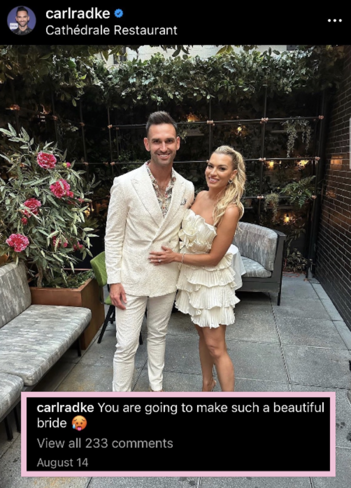 "You are going to make such a beautiful bride," he wrote.
According to a source, Lindsay is "devastated" and "blindsided" by the breakup, confirming that Carl did, indeed, call off the engagement on-camera. (Although filming for Season 8 had already wrapped, cameras started rolling again to catch all the drama, meaning fans will likely see this play out on the next season of 'Summer House.')
"A normal person who loves someone wouldn't break up with someone they love on camera," an insider shared with Us Weekly. "No matter how many problems you may have, you don't do something like that on camera for the world to see their reaction."
However, the breakup might not be the end for Lindsay and Carl forever, as the source shared that Lindsay and Carl, "might get back together tomorrow."
The bridal shower was just one of the wedding-related events that had been planned for the couple. Lindsay was going to be celebrating her bachelorette party in the Bahamas in late September, with the wedding date set for November 17 in Mexico.
View this post on Instagram
As of press time, Carl and Lindsay are still following each other on Instagram.
According to Page Six, Carl was seen getting on a flight out of New York City's LaGuardia Airport on Thursday.
RELATED STORY: 'Summer House' Star Paige DeSorbo Recalls Interaction Between Boyfriend Craig Conover & Raquel Leviss that Made Her Suspicious of the 'VPR' Star: "I Don't Trust This B*tch"
(Photos: Instagram)