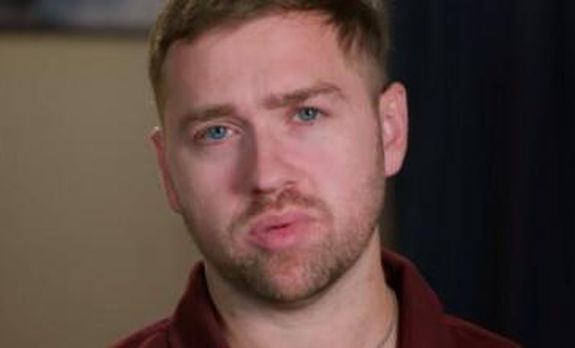 Paul Staehle is apparently missing in Brazil, according to his wife Karine, and, one day after Karine made several cryptic posts about Paul (with one seemingly indicating that the 90 Day Fiance star is no longer alive), Paul's whereabouts remain unknown.
On Thursday, Karine posted a photo showing off her belly (which appeared to her way of announcing that she is pregnant). In the photo caption, Karine– who is currently in the United States– wrote that, "Paul went missing last night in Brazil. Prayers that he is found safe."
View this post on Instagram
She continued to post cryptic photos and videos on Thursday, even posting a tribute video to Paul, with a caption referencing Paul in the past tense.
"Not all of our memories were bad," Karine wrote. "Our children loved you very much. We will never forget you or the good memories we all shared."
View this post on Instagram
On Friday, Paul's mother, Edna told TMZ that Paul has been traveling in Brazil since late July. On Thursday, Edna stated that she received a series of "alarming" texts from Paul, asking her to help him and stating he is lost.
Blogger John Yates— who knows Paul personally— confirmed that Edna had been texting with Paul and trying to help him before Paul's phone went dead. John Yates posted screenshots sent to him by Edna of her convo with Paul. In the texts, Paul tells his mom he "got lost" and that, "I f**ked up. I f**ked up bad."
Paul— who indicated he was alone— also asked his mom to contact people they know in Brazil who might be able to help him.
"I need a boat to get back," Paul told his mother before letting her know that his phone was going to die.
View this post on Instagram
After losing contact with Paul, his mom— who is in Kentucky– sent messages to people they know in Brazil to try to see if they could help or locate Paul.
One of the friends later posted on Instagram that the police were getting involved but that she didn't know where Paul was.
On Friday, John Yates indicated that he had spoken to Paul's Brazilian friend, Luana.
"She said that Paul has been known to be in some very remote parts of Brazil that are dangerous," John wrote on Instagram. "But she doesn't know his status."
Paul has not been in contact with anyone since Thursday.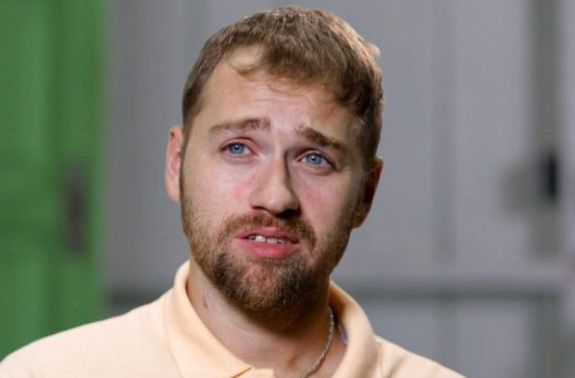 Although Paul's family is worried about him, not everyone believes that Paul is in actual danger.
Carmen Nys— friend of 90 Day Fiance star Larissa Dos Santos Lima (and a native of Brazil) wrote in the comment section of John Yates' post about Paul that she was skeptical of Paul's story.
"First nobody with Wifi or 5G working is lost in the jungle," Carmen wrote. "You can always call the rescue police and give your location. He does not speak Portuguese. He could send his location to any of his Brazilian friends at WhatsApp and they would call rescue police to get him. Its very sad what people do for attention. I see another Josh Setter using his family to make their death looking realistic."
(Carmen is referencing Josh Seiter, who recently stated he was "alive" after a post was put on his Instagram page announcing his death. Although Josh later claimed that he was "hacked", many— including The Ashley— felt that Josh actually faked his death for media attention.)
Paul's mom Edna told TMZ that Paul has disappeared before and she "hopes this isn't some stunt like he has pulled in the past."
She is, however, worried for him, as he was last pinged to be in the Amazon.
The Ashley will update this story when more info is available. Stay tuned…
UPDATE! As of Saturday, Paul has not been located or heard from. Karine posted a message to her Instagram Stories stating that a friend in Brazil is searching for Paul.
"I do not have an update on Paul," she wrote. "The girls he was with in Brazil to my understanding are going to look for him today on a boat. Yesterday they went to a house he is renting and hotels he was known to use."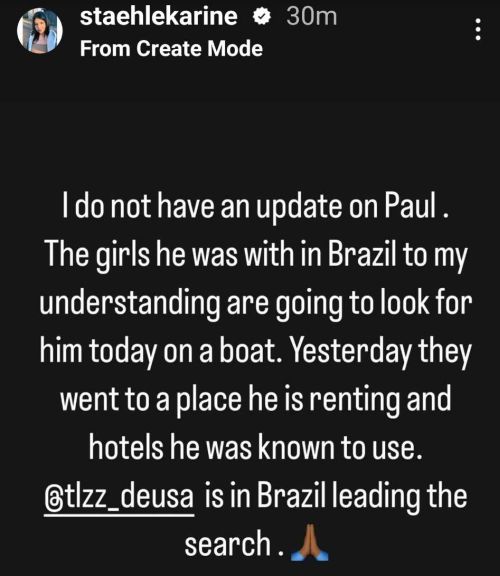 According to a new post from John Yates, Paul's phone is still apparently dead. However, before it went dead, the phone's last pinged location was an island off the coast of Manaus, Brazil known as Isle of Marapatá.
One follower of John Yates stated that the island is not safe.
View this post on Instagram
"I'm a Brazilian, and there's no way I would ever go to those places," wrote Instagram user @simonepryor.
"That's pretty much what Paul's friend said," John Yates replied. "That the island is dangerous and no boats go there."
UPDATE! As of Sunday, Paul has been located. Click here for details.
RELATED STORY: Josh Seiter Reappears on Social Media, One Day After He Was Reported to Have "Died"; Claims to Have Been "Hacked"
(Photos: TLC; John Yates; Instagram)