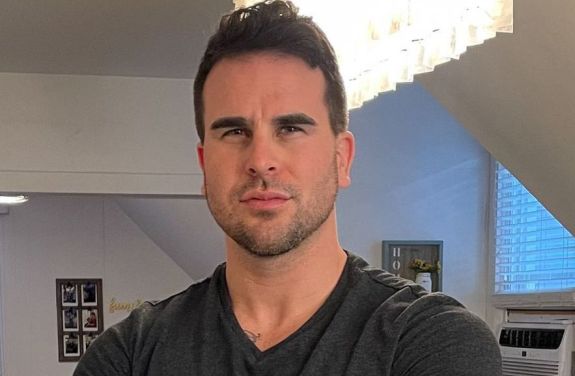 One-time Bachelorette contestant (and infamous reality TV clout-chaser) Josh Seiter is not dead, despite a statement posted to his Instagram on Monday stating otherwise.
Josh— who has become notorious for trying to date any newly single reality star he can find including 1000-lb. Sisters star Tammy Slaton and 90 Day Fiance star Karine Staehle)— posted a video of himself to his Instagram account on Tuesday stating that he is "alive and well" and was the victim of a mysterious "hacker."
A large amount media outlets circulated the story that Josh had unexpectedly died after a statement appeared on his Instagram claiming that he was dead, supposedly written by his family.
"It is with an extremely heavy heart that we share the tragic news of Joshua's unexpected passing," the statement read. "As all who knew him can attest, Joshua was an incredibly bright light in an increasingly dim world. His fearless voice and indomitable spirit helped thousands of people in their darkest moments feel just a little less alone. Although our heartache at Joshua's passing pains us beyond measure, we find comfort knowing that he is finally at peace."
The Ashley didn't post the story, as she was suspicious that it was not true, given Josh's history of attention-seeking; the fact that the "family" was able to access Josh's social media account immediately with the password and that no coroner's report was available when The Ashley search for it.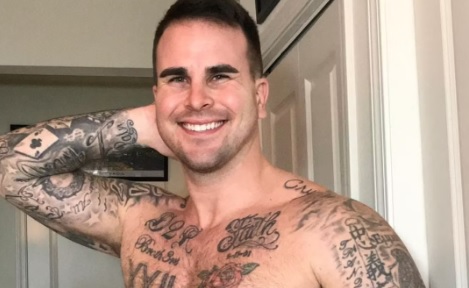 Now, according to Josh, "someone" hacked him in order to play a "cruel joke."
View this post on Instagram
"Hey guys, as you can see, I am alive and well," Josh says in his video posted Tuesday. "My account was hacked for the last 24 hours. For the past 24 hours I have been trying desperately to get into it. Somebody was playing a cruel joke and mocking my mental illness and the struggles I've gone through with depression and suicide attempts.
"I'm sorry for all the pain they caused when they made that post," he continued. "I just got back into my account. I'm going to do all that I can with my team to try to identify who was behind this.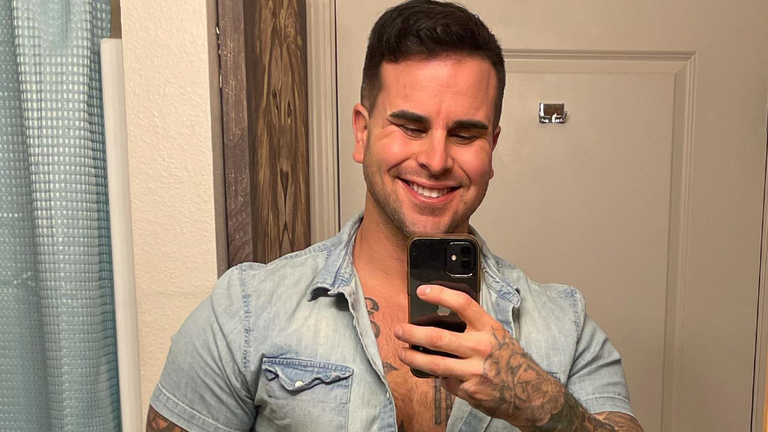 "But, again, I apologize for the confusion, but I will update you guys as more facts come in."
UPDATE! Josh's ex-girlfriend, "90 Day Fiance" star Karine Staehle, called Josh out on Instagram on Tuesday for his stunt.
"Idiot, no one plays dead," Karine wrote in English and Portuguese. "Josh is alive, what people are doing for followers is horrible."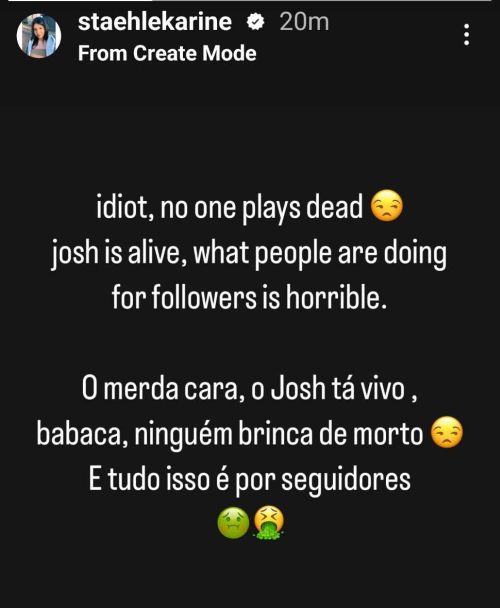 RELATED STORY: "1000-Lb. Sisters" Star Amy Slaton Rejects "Weird Stalker" Josh Seiter After He Shows Up At Her Sister's House To Ask Her Out: "Go Away!"
(Photos: Instagram)