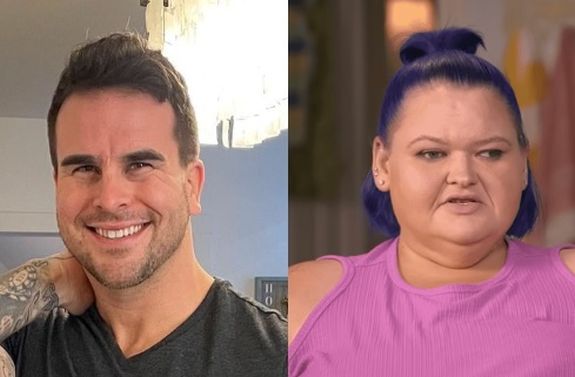 Amy Slaton isn't falling for any of Josh Seiter's social media shenanigans.
The 1000-Lb. Sisters star— who was paid an unexpected visit by Josh on Wednesday— slammed the former Bachelorette contestant in a series of private Instagram messages (leaked by Josh himself, of course), telling him she's not interested in dating him and calling him a "weird stalker."
As The Ashley previously told you, Josh (who has dated— or tried to date– a whole plethora of reality TV women over the past few years) randomly decided he couldn't live without Amy and drove four hours to Kentucky to see her. He told The Ashley that he couldn't stop thinking about Amy (who is newly single) and that he planned to woo her by showing up at her sister Tammy Slaton's door step with gifts to ask her out.
Josh did take the trip to Kentucky (and documented it on his Instagram, of course), but stated that no one answered the door at Tammy's place (where Amy and her kids had been staying since Amy split from her husband Michael Halterman).
On Wednesday, Josh announced that Amy had responded to his attempt to slide into her DMs. However, she allegedly made it clear that she wanted nothing to do with the serial reality TV star dater.
"Do you want to know what Amy said to me after I drove to Dixon [Kentucky] to take her on a date?" Josh wrote on Instagram Stories.
He then proceeded to post messages that he says were sent to him by Amy, telling him to get lost because she already has herself a man!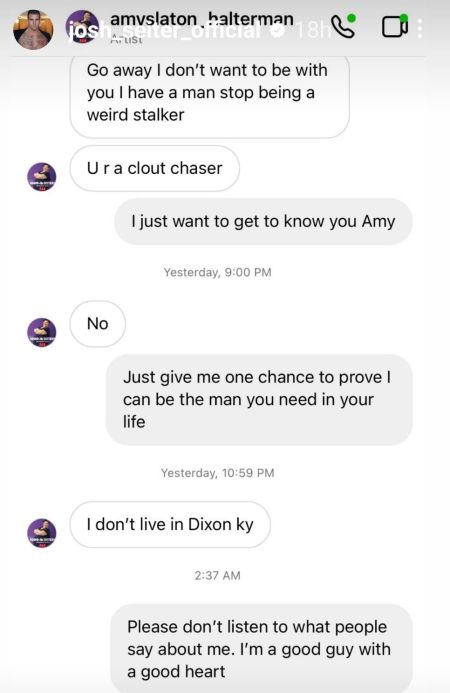 "Go away. I don't want to be with you," Amy allegedly wrote to Josh. "I have a man. Stop being a weird stalker.
"U r a clout chaser," Amy added.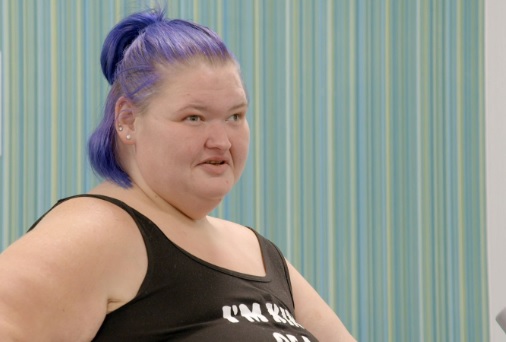 When Josh responded, letting her know that he just wants to get to know her, Amy flatly told him "No" and said that she doesn't even live in Dixon, Kentucky, the town Josh drove to in order to profess his undying love to her in person.
"Just give me one chance to prove I can be the man you need in your life," Josh begged.
Amy did not state in the messages whether her "man" is someone unknown or if she's referring to her ex-husband Michael. (It's unlikely to be Michael, though, given that the two are currently engaged in nasty divorce/custody proceedings and have to stay 500 feet from each other.)
Josh has dated/hit on/publicly professed his love for a whole cornucopia of freshly single reality TV stars. Over the past two years, he was briefly engaged to 90 Day Fiance: The Other Way star Yolanda Leak and has dated 90 Day Fiance stars Rose Vega and Karine Martins. Josh also had a short "relationship" with Love After Lockup star Lizzie Kommes, and he attempted to hit on Sister Wives star Christine Brown.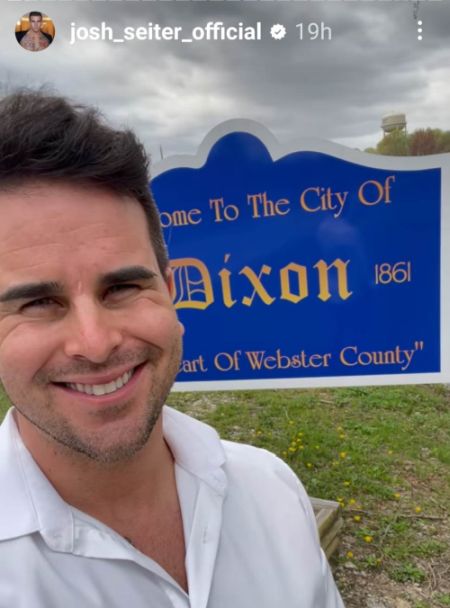 His most-recent reality TV "relationship" was with Love After Lockup star Glorietta Besos, whom he declared in an interview last month to be his "person." On Monday, Josh posted to his Instagram Stories that he'd "decided to break it off" with Glorietta before he went to Kentucky to see Amy.
"I've realized we are not a good fit and I want to be able to pursue other women. I wish Glorietta nothing but the best," he wrote. (It's unknown if Glorietta found out about the breakup from Josh or online.)
Before heading to Kentucky, Josh bragged about how good-looking he is and declared how smitten he thought Amy would be with him when he met her.
"[I'm] 35 and I swear I look 25. Let's be honest, Amy won't be able to resist me when she sees me. She's never been with a man who looks like me. Honestly, I'm irresistible," Josh said while flexing shirtless on Instagram Stories (as you do).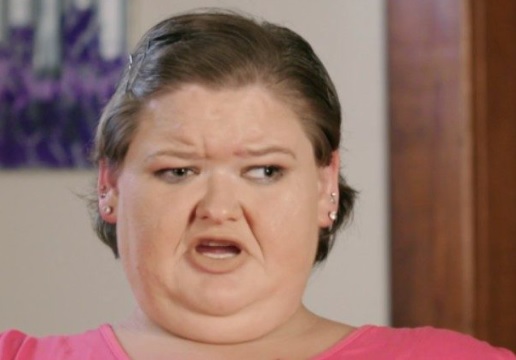 On Wednesday, Josh posted to Instagram that he's "honestly heartbroken" over getting rejected by Amy.
"I never thought Amy would respond that way," he wrote. "I was just trying to do something nice for her."
RELATED STORY: EXCLUSIVE! Josh Seiter Says He's Heading to Kentucky to Ask Newly Single "1000 Lb. Sisters" Star Amy Slaton to Date Him: "Can't Stop Thinking About Her"