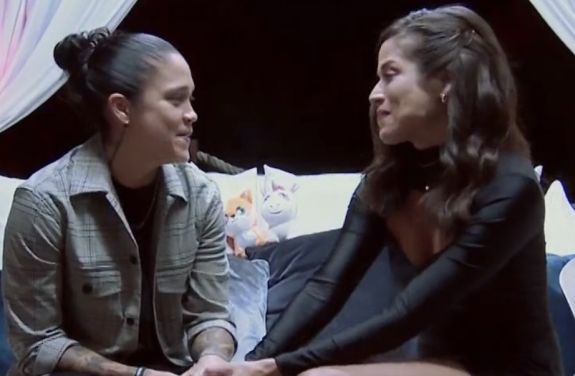 Nany Gonzalez and Kaycee Clark have officially taken their relationship to the next level!
In a video shared by the couple over the weekend, the stars of The Challenge announced that they are engaged. Nany and Kaycee later shared details of the romantic proposal, which took place on a beach in Thailand.
In the proposal video, Nany and Kaycee are seen twirling on the sand and exchanging kisses. Later, the couple is sitting down, watching a fire dancer perform when fire-lit letters spelling out "Will You Marry Me" are revealed. Nany then gets down on one knee to propose to her girlfriend.
View this post on Instagram
"From the moment I met this woman, I knew that she was someone special," Nany wrote in the caption of her Instagram post. "Our paths crossed in the most unexpected way, and I am forever grateful for that chance encounter. My heart is full of love and gratitude for the joy you have brought into my life, Kaycee Noelle.
"Our love is unconditional, a love that is meant to last a lifetime, and I am blessed to spend the rest of my days growing old and loving you every step of the way.
"PS: bet no one saw that ending coming…" Nany added.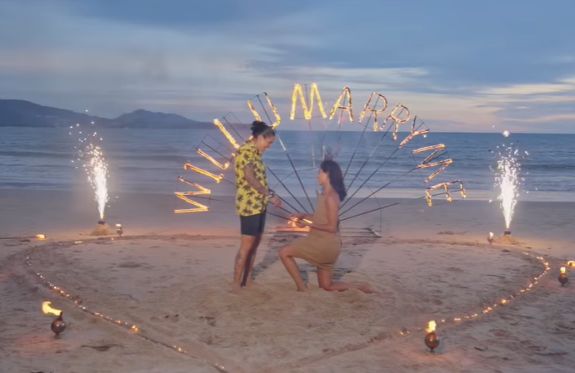 Their 'Challenge' castmates shared their excitement over the news.
"This is the best news I've heard in such a long time. I'm SO HAPPY FOR YOU BOTH. Such a beautiful couple, two incredible individuals, seriously I have chills. You both deserve this," Tori Deal commented.
"Yassss I love this for both of you! This is such good news!" Wes Bergmann wrote.
"I'm not crying you're crying. Congrats you two," Johnny Bananas shared.
Kaycee replied, "My forever lady. I love you."
Nany and Kaycee met on Season 35 of The Challenge: Total Madness. At the time, Nany expressed interest in Kaycee, but Kaycee was already in a relationship with model Tayler Jiminez.
The two 'Challenge' vets still got close — just as friends, which Tayler wasn't too happy about, and eventually, she and Kaycee broke up. (Tayler later took to Twitter to reveal that she and Kaycee broke up because she had discovered "inappropriate" text messages between Kaycee and Nany –whom she referred to as "that woman"– while Tayler and Kaycee were still together.)
During the "Spies, Lies and Allies" season of 'The Challenge' two years later, fans watch Kaycee and Nany's romance play out onscreen. During the season, Kaycee wooed Nany by surprising her with a romantic date, with the help of their cast members.
"I've done a lot of 'Challenges,' and I feel like I leave every experience with something. This time around, I left with her. I'm just so happy. She's my best friend. Kaycee's the love of my life," Nany said during that season's Reunion.
The couple has talked about raising a family together.
"We've discussed it, and we're getting older. Time is ticking, but we throw it out there, here and there, but also, we're gonna be smart about it," Nany told Us Weekly on the red carpet of the 2022 MTV VMAs.
"The next step, obviously, would be marriage," Kaycee said during the same interview. "And then, of course, after that would be [having] children and that, obviously, would, you know, come with IVF and all of that. So that's definitely something that we're going to look into eventually and we're super excited about just our future together."
View this post on Instagram
Nany and Kaycee— who celebrated their two-year anniversary last month— have not yet revealed when they plan to get married.
RELATED STORY: Oh Baby! 'The Challenge' Stars Kam Williams & Leroy Garrett Are Expecting Second Child