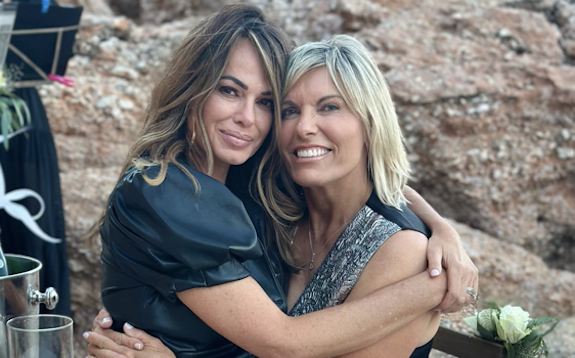 Captain Sandy Yawn is getting hitched.
E! News reports that the Below Deck Mediterranean star is engaged to be married after proposing last week to Leah Shafer, her partner of more than five years.
"I have been thinking about marrying Leah for years," Captain Sandy told the outlet. "I knew from the minute I met her, but the timing had to be right. I wanted to make sure we could truly do life together first."
Captain Sandy said she began planning the proposal months ago, which was inspired by her future wife's "elegance."
"Leah wanted the fairytale, and to me, Leah represents elegance," she said. "I planned a boat ride to a beautiful cove. I had it decorated with flowers with a path to a small table accompanied by three violinists where we could sit and have a small date."
Due to nerves, Captain Sandy said she wasted no time in popping the question to the gospel singer and skin aesthetician upon their arrival.
"I truly could not wait!" she said. "I shared my vision list of love I had written and wanted, then got on one knee. Then, she said 'yes!'
"The look on her face was priceless, and my heart exploded!" Captain Sandy continued. "It was filled beyond capacity of anything I could ever imagine. Somehow I feel closer than I did before, and I can't explain it. There is an energy that I have never experienced in my life. I love her beyond; as Leah says, 'Yawn beyond.'"
"This happened!!" Leah captioned the proposal photos when she posted them to her Instagram account. "We are officially ENGAGED. My heart is soooo happy! I love you beyond @CaptainSandraYawn."
Captain Sandy and Leah met in Los Angeles in 2018, though they had connected months earlier after Leah reached out to the Bravo star privately on Facebook.
This will be Captain Sandy's first marriage and the second for Leah, who shares a teenage daughter with her former spouse.
RELATED STORY: 'Winter House' Season 3 Brings Together Stars From 5 Different Bravo Shows; See the Cast List & Watch the First Trailer
(Photos: Instagram)