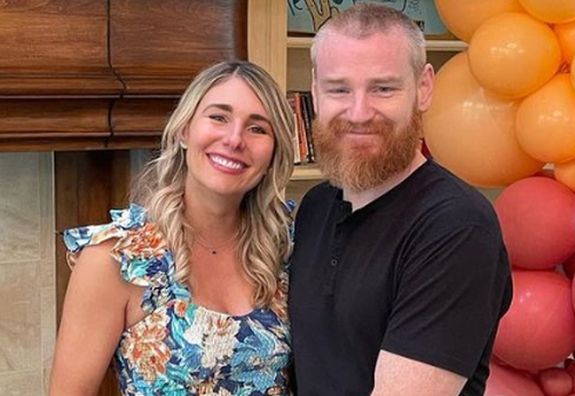 Wes Bergmann is a first-time father!
The Challenge star and his wife Amanda Hornick welcomed a baby girl on September 28.
"Well, well, well — my name is Lucy Jean!" he announced on Instagram. "All my girls are healthy and I'm beaming."
Wes reported that Lucy Jean weighed in at 7 lb. 11 oz. and was in the 50th percentile in height (but jokingly added she was in the "99th percentile" in intelligence.)
Wes' 'Challenge' castmates showered him with congratulations in the comment section of the post.

View this post on Instagram
"My new lil god daughter," Nehemiah Clark wrote.
"She finally made it! Welcome to the world!!!! Over the moon for you," Aneesa Feirrera shared.
Jenna Compono, who is currently expecting her third child with Zach Nichols wrote, "Ohhh my goodness. Congrats you guys!!"
On Saturday, Wes' wife Amanda posted a photo of Lucy sleeping on Wes, announcing that already had her daddy "wrapped around her little finger."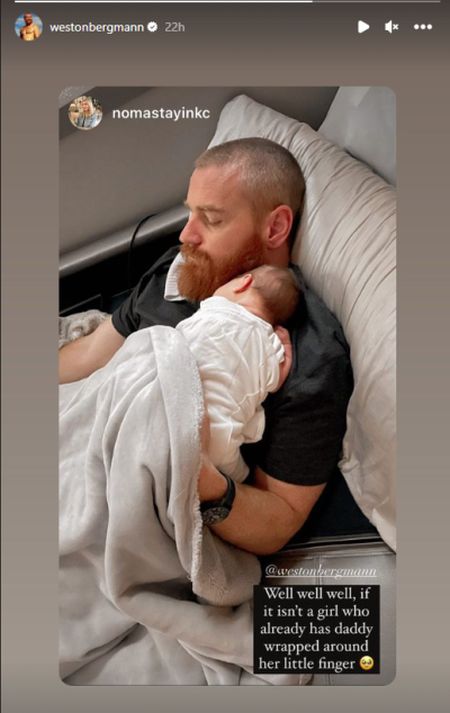 Wes and Amanda first announced that they were expecting in April.
"Baby Bergmann, coming this September," they wrote in an Instagram post in April. "We would like to take a second to thank all of our friends, family, and supporters who continue to help us become the best versions of ourselves.
"We aim to pour all of that love into this child in an effort to make him/her the next great, ginger, genius. While we are entering into this new stage of life with immense gratitude, we know the season of waiting too and send love & strength to anyone else hoping to one day become parents themselves. Dare we say, future 'Challenge' champion?"
The news of Wes' new role as a father is bittersweet to some fans, as he revealed on The Challenge: USA Season 2 that he is leaving the franchise due to his growing family.
After losing an elimination against Survivor winner Chris Underwood, Wes told his fellow competitors, "I'm not coming back. And it's been a privilege. To everyone making this, playing with y'all, like, I'm going to miss it all. So goodbye."
Following his loss, Wes wrote on Instagram, "Well, well, well! I'm hanging up my Under Armour…." He went on to thank his fans, 'The Challenge' producers, and his castmates for the last two decades of his time on the shows.
View this post on Instagram
When some fans questioned his retirement, stating on social media that they felt he'd be back by Season 40 of 'The Challenge,' Wes assured them he was done, even offering to put his money where his mouth is.
Wes dared fans to send him $100 through Venmo and if he is, indeed, on Season 40, he would send them back $1,000.
"If I don't appear — you get nothing. So you have three choices (1) believe me, (2) put your money where your mouth is because how could you pass up a 10X return, (3) admit you do not have $100," he wrote.
"Each $100 you spend is like a ticket. So if you buy $10,000 worth of tickets and I appear on [Season] 40, I'll owe you $100,000. Max tickets you can buy is $100,000. Deadline to buy is 7 days from now."
It remains to be seen if Wes is truly leaving 'The Challenge' behind, but Mark Long replied, "See you on All Stars 5."
Back in August, Wes explained the reason for his leaving.
"The long and short of it is this, I'm done. It's mounting entrepreneurial responsibilities paired with becoming a father (in the next month) — there's no time," he tweeted.
"Coupled with doing nothing to anyone and still people trashing my name behind my back in interviews — I'm above this."
View this post on Instagram
This isn't the first time Wes declared that he was retiring. After winning The Duel, he claimed he was hanging up his 'Challenge' hat only to return on The Ruins, so it's possible fans may see him again.
RELATED STORY: 'The Challenge' Star Nelson Thomas Says He's Facing Amputation Due To Ankle Injury Sustained in Near-Fatal Car Accident Earlier This Year: "I Gotta Make My Choice"
(Photos: Instagram)