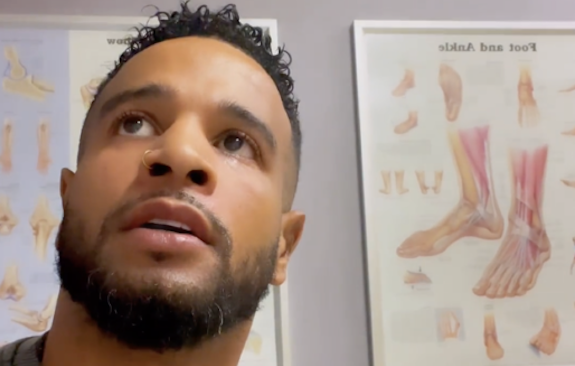 Nearly seven months after suffering severe injuries from a near-fatal car accident, Nelson Thomas of The Challenge has received some "disheartening news" on his recovery journey.
As The Ashley previously told you, Nelson was pulled out of his burning vehicle in March after crashing it in Austin, Texas. He was helped at the scene by Minnesota Vikings wide receiver K.J. Osborn and three other bystanders, whom he credits with saving his life.
While Nelson is thrilled to be alive, his recovery has been grueling, and now the 'Challenge' vet says he's facing possible amputation of his ankle.
After his accident, Nelson spent nearly two months in the hospital undergoing multiple surgeries on his ankle, which suffered extensive injuries, along with his forearm. The longtime 'Challenge' competitor has regularly shared updates on his health via social media, which he did once again on Wednesday following an appointment at Texas Orthopedics in Austin.
In the emotional video, Nelson revealed that he had just "received the most disheartening news" about his ankle.
" … I just got my scans back, just got my x-rays back– the bone has been re-broken," Nelson said. "It is out of place, it's not healing at all."
Nelson said he had been experiencing pain over the last couple of weeks, but assumed it was a result of overworking his ankle during physical therapy; however, he was informed by his doctor that it is actually much more serious.
" … Come to find out, where they have the screws and plates, the bone broke. It did not re-heal," he explained. " … The doctor has laid my options out there. The stage that I'm in right now is called a salvage stage, which [means] either they can salvage my ankle, or they can amputate it.
"Right now, I just, at this point it's been seven months since my surgery," he continued. "When I got out of surgery, my doctor said it'll take up to a year for me to heal. These last seven months have been a f**king waste, dude. F**k. I'm so mad right now, bro. So mad."
Before moving forward, Nelson said he has to undergo another CT scan, more bloodwork and another appointment with his doctor.
" …and I gotta make my choice," he said. "Do I want to have an ankle fusion [surgery], which [will] salvage my ankle, or do I want to amputate my ankle? At this point, man, I am so mentally drained. I just don't know."
(An ankle fusion surgery– or arthrodesis—fuses the injured ankle joints into an immobile segment of bone. Nelson would not have much mobility in those bones afterward, if any, which is why this procedure is only considered when all other options other than amputation are exhausted. Fusion surgery carries significant risks and is often not successful, leading to a below-the-knee amputation anyway.)
Nelson said in the meantime he is "just going to pray about it." He also thanked those who have supported him along his healing journey.
"This is not going to break me, but goddamn, I'm so over hearing bad news," he added. "I just wanted some good news today."
In the caption of his post, Nelson noted that he has chosen to seek a second opinion from a specialist and asked his followers if they had any recommendations for doctors who "specialize in ankle fusion or related treatments."
Unfortunately this is not the first setback Nelson has encountered in his recovery. Back in May, he was hospitalized after experiencing pain and shortness of breath.
"I saw my cardiovascular doctor and he let me know that I have a small pneumonia in my chest, fluid around my heart, and fluid around my lungs," he told followers.
Nelson was hospitalized again in July due to infection in his ankle.
Shortly after the March car accident, a friend of Nelson's created a GoFundMe where friends, family and fans could make a financial contribution towards his mounting medical bills and other recovery aids, as he was uninsured at the time of the accident. The online fundraiser remains active.
RELATED STORY: CT Tamburello & Ex Wife Lili Solares Agree to Parenting Rules After Lili Freaks Out Over CT's Plan For Their Son While He's Away Filming 'Traitors 2' (EXCLUSIVE DETAILS!)
(Photos: Instagram)