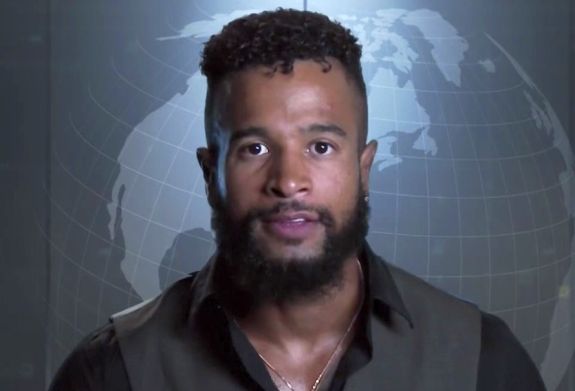 Nelson Thomas is back in the hospital after an unexpected setback in his recovery from a horrific car accident in March.
The Challenge alum shared an Instagram video over the weekend, giving fans an update on his latest hospitalization. Nelson revealed that pain and other symptoms he has been experiencing recently were the result of issues with his heart and lungs.
"I saw my cardiovascular doctor and he let me know that I have a small pneumonia in my chest, fluid around my heart, and fluid around my lungs," Nelson told his followers.
Nelly, who filmed the video from his hospital bed, shared that he had trouble breathing for three days but ignored it due to having family visiting and feeling "uplifted" by them.
"So I didn't feel like I needed to go to the hospital because I was happy and smiling and I think I can get through the pain," he said.
"But this morning, it just got worse. My neck was aching, I was out of breath, I couldn't sleep, I couldn't eat, I'm sweating, as you can see I got the chills," Nelson continued. "The worst thing about it is, I hate the hospital. I hate it. I just feel like the four walls are closing in on me and it's just too much and I feel like it brings back a lot of bad memories.
"But I'm here and I'm staying strong," he added.
View this post on Instagram
As The Ashley previously reported, Nelson was pulled out of a burning car after crashing it in Austin, Texas, on March 5. He was helped at the scene by Minnesota Vikings wide receiver K.J. Osborn and three other bystanders, whom he credits with saving his life.
"Words can't explain how grateful I am to be alive. God is truly great and he has you in his hands no matter who you are," he wrote on Instagram.
After his accident, Scuba Nelly spent nearly two months in the hospital, undergoing multiple surgeries for his leg, which suffered extensive injuries, along with his forearm. Nelson was recently discharged from the hospital and was working hard to mend physically and emotionally from the ordeal.
View this post on Instagram
However, this setback means he will be spending more time in the hospital.
"They're going to transfer me to another hospital. They have specialists to run tests on me because they don't even know what's wrong with me yet," Nelson stated, admitting that he feels scared and depressed for the first time since his accident, but was grateful for all his support.
"So, I just wanted to thank all of you for the GoFundMe, the DMs the prayers, I'm just thankful to be alive again and here to breathe." Nelly said.
A GoFundMe fundraiser created for Nelson after his accident has raised over $56,000 as of press time. He has stated that he will use the money to help him pay his medical bills, as he was uninsured at the time of the accident.
His 'Challenge' friends are doing their best to keep his spirits up.
"I'm praying for you brother. I love you man," Hunter Barfield wrote in the comment section of the post.
"My brother! Hang in there! Try to stay positive even on the darkest of days. God has a master plan for you…and it will be glorious," the 'Challenge' godfather Mark Long replied.
There have been no addition updates from Nelson since Saturday.
RELATED STORY: GoFundMe Set Up to Help 'The Challenge' Star Nelson Thomas with Medical Costs After Horrific Car Crash; His MTV Co-Stars Donate Thousands of Dollars