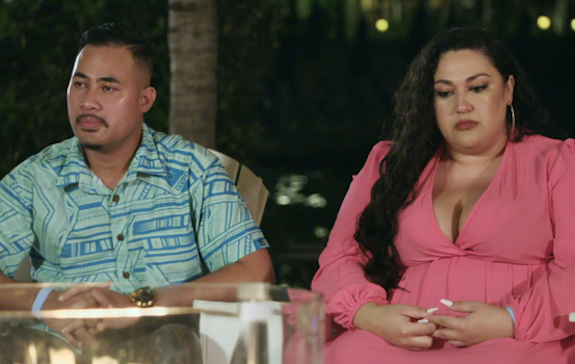 Trigger Warning: This story contains mentions of sexual assault.
90 Day Fiance star Kalani Faagata shocked her fans on Monday when she posted an Instagram Story that seemingly accused her husband Asuelu Pulaa of impregnating her via sexual assault.
Kalani— who is currently starring with Asuelu on 90 Day: The Last Resort— told fans that she has been getting a lot of hate mail— as well as death and rape threats— and decided to "clear some things up" in regard to her life with Asuelu.
Kalani— who shares two sons with Asuelu– first informed her fans that her pregnancy with her older son Oliver was planned—despite some fans believing Kalani got pregnant after a one-night stand with Asuelu. Kalani then went on to insinuate some shocking claims against her husband.
"I had a second baby because I was held down," Kalani wrote. "He apologized for that, and the other times I was [sexually assaulted]– it's recorded."
Although Kalani didn't go into more detail regarding that statement, she did tell her followers that getting messages from people who tell her to "keep her legs shut" are especially hurtful, given that she allegedly didn't choose to have sex when she got pregnant for the second time.
"You can imagine how it feels to get messages about 'taking responsibility' and learning to keep my legs shut when they were forced open," Kalani wrote.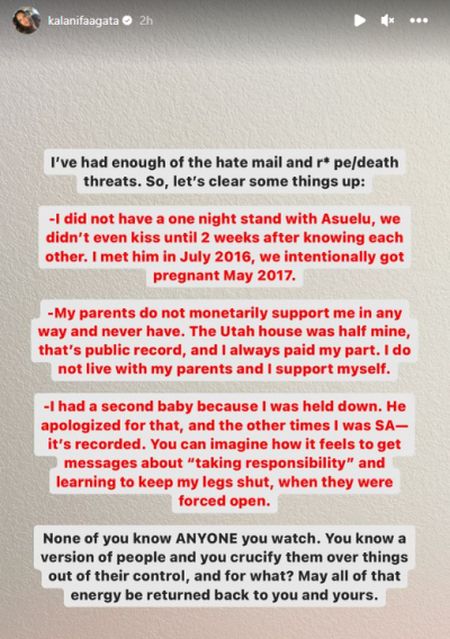 "None of you know ANYONE you watch [on TV]," she continued. "You know a version of people and you crucify them over things out of their control, and for what? May all of that energy be returned back to you and yours."
This version of events concerning Kalani's pregnancies is certainly different from the version "90 Day Fiance" fans were told when the couple first started on the franchise during Season 6. On the show, it was explained that Kalani met Aseulu while on vacation in Samoa in 2017. Kalani claimed to have gotten pregnant while on that trip, and she gave birth to their son, Oliver, in January 2018.
View this post on Instagram
In Kalani's post to Instagram on Monday, she stated that she actually met Aseulu in July 2016, and that they "intentionally got pregnant" in May 2017.
Aseulu and Kalani got married in September 2018, and their second son, Kennedy, was born in May 2019. Kalani admitted that was an unplanned pregnancy, but has never before mentioned that the pregnancy was allegedly the result of a sexual assault.
Aseulu has yet to respond to Kalani's claims.
RELATED STORY: Colt Johnson's Wife Vanessa Guerra Calls Out '90 Day Fiance' Production Company For Ignoring Injury Colt Got While Filming; Claims He Has $250k in Medical Bills
(Photos: TLC; Instagram)