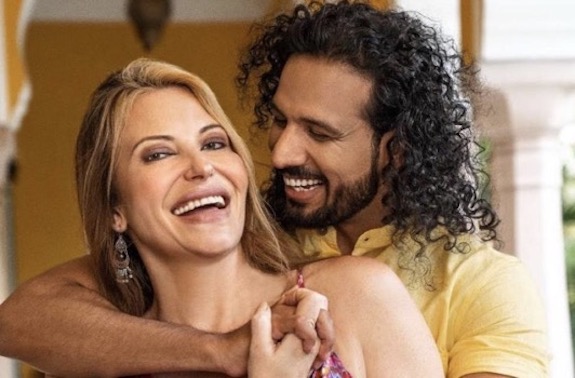 It wasn't mutual after all.
One day after Rishi Singh from Season 4 of 90 Day Fiancé: The Other Way posted on Instagram that he and Jen Boecher had decided together it was time to part ways, Jen went on Instagram Live to share her side of the story on the end of the couple's three-year relationship, revealing that Rishi's version of events is not accurate.
"Jen and I have mutually decided to part ways," Rishi's post began. "This hasn't been an easy decision by any measure, but we know it's the right one at this point in our lives. The love and respect we have will always be, and our shared memories are forever. We part as life partners, but will remain platonic friends."
Earlier today, Jen announced via Instagram Story that she would be going Live, writing atop her ex's post, "Rishi's b******t. For the real story … I'll be LIVE."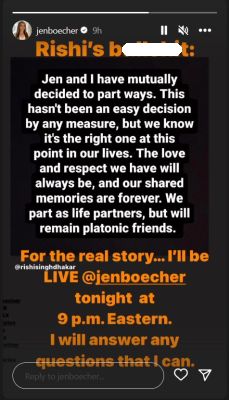 During the Live segment, which hadn't been archived on Jen's Instagram as of press time, the speech language pathologist challenged everything in Rishi's post, saying, "Dude, we are not friends, we are acquaintances at this point."
According to Jen, she was the one to call it quits, breaking up with Rishi in the summer when she realized she loved him but was not in love with him. The two remained friendly but weren't in regular contact after that.
Jen stated that Rishi called recently to let her know that he had met someone else, that the new woman was going to come visit him, and that they were possibly going to get engaged and go on '90 Day Fiancé.' Jen wouldn't name the new woman in Rishi's life, saying, "I'm not going to give them any credit," but did reveal that woman had been on the show before as a side character!
Additionally, Jen said she discovered that Rishi had been talking about her behind her back with other people who'd been featured on the show, a friendship-ending betrayal. Despite this, Jen did say she didn't regret the relationship and that Rishi didn't do her wrong. She even left the door open for the two of them talking again at some point years from now, saying, "never say never."
Jen shared that she's currently single but thinking about dating again and is open to being featured on 90 Day: The Single Life. She even thanked her ex for letting the world know the two of them were no longer together and what his post could mean for her future dating life.
"If I go on a date with someone and post a picture, I won't look like an a***hole."
Jen, 48, met Rishi, 33, during a visit to India and accepted his proposal a month later. The couple dealt with pressure from his family who were concerned about their age difference and wanted him to have an arranged marriage instead. Back in the spring, Rishi defended his then fiancé on Instagram against negative comments and DMs she'd been receiving in regard to the challenges in their relationship.
"Dear fans, I do not like to see Jen upset, and she is VERY UPSET by the DMs & condemnations about some things i should have cleared up a long time ago," he wrote back in April.
"1. Jen has been coming to India since 2014 and is very familiar with the general Indian culture.
"2. When I proposed, I told her that my family was 100% fine with me choosing my own bride AND we could live in our own place (joint family not necessary).
"3. Regardless of when my family found out about the engagement, there would have had some issues with the age difference. Her friends did me a favor.
"4. Please stop suggesting to Jen that.
A. she is 'trying to change me/the culture' (see#1+2)
OR
B. She 'should have learned from Jenny & Sumit'
"5. Why are people lumping ALL Indians and ALL Americans into the same categories? Not ALL Indian people are the same just as not ALL American people are the same. To assume that Sumit represents all Indian men or that Jenny represents all American women is ridiculous and small-minded. They are absolutely wonderful people but THEY ARE NOT US. Thank you for your support!"
Jenny Slatten and Sumit Singh appeared on the first season of '90 Day Fiancé: The Other Way.' The couple met online when Sumit catfished Jenny then developed a relationship and Jenny moved from California to India to be with him. The pair faced multiple obstacles to getting married, including objections from their families over their 30-year age difference, but are still together. The pair commented on Rishi's post from their mutual Instagram account @sumitjenny, "So sorry to hear that. I Wish god give you strength to deal with the situation."
(Photos: Instagram; TLC)