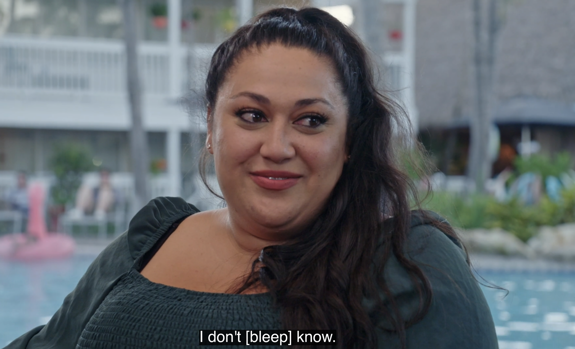 Kalani Faagata's hall-pass-turned-boyfriend Dallas Nuez isn't planning to appear on future 90 Day Fiance spinoffs, but he assures fans of the show that he's treating Kalani much better than her estranged husband, Asuelu Pulaa, ever did.
The 28-year-old took to social media recently for a Q&A in which he provided a bit more insight into who he is and how his relationship with Kalani is going.
Dallas' IG Story interaction with fans came just days after Kalani confirmed on the platform that the two of them were in a relationship. Kalani shared this news– as well as a photo of her man– less than 24 hours after 90 Day: The Last Resort viewers saw her tell Asuelu that she wanted to end their seven-year marriage, largely due to Asuelu cheating on her at least a dozen times throughout their relationship.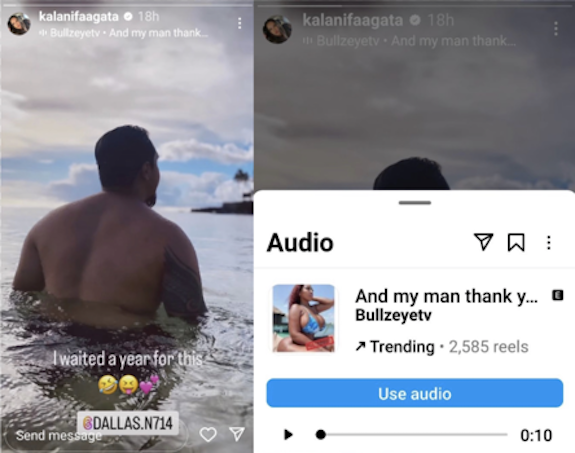 As The Ashley previously told you, in an attempt to make amends for his cheating, Asuelu "allowed" Kalani a hall pass to kiss another man, which is how Kalani first connected with Hall Pass Guy Dallas.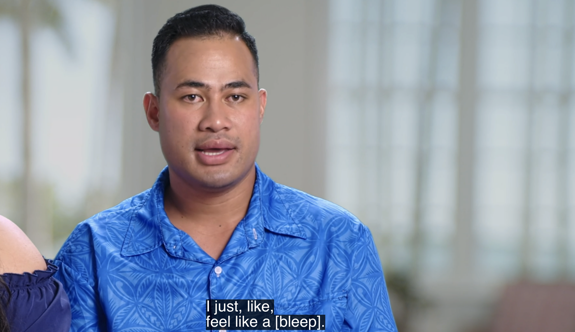 Kalani admitted on the TLC spinoff that she and Dallas ultimately had sex and remained in contact with each other, and towards the end of the season, Dallas even made a surprise visit to Key West to see the mother of two, despite her being at the retreat with the intention of repairing her marriage.
While Kalani confirmed that she and Dallas had sex during his visit, Dallas did not appear on-camera at any point, and according to the 28-year-old, that will not change.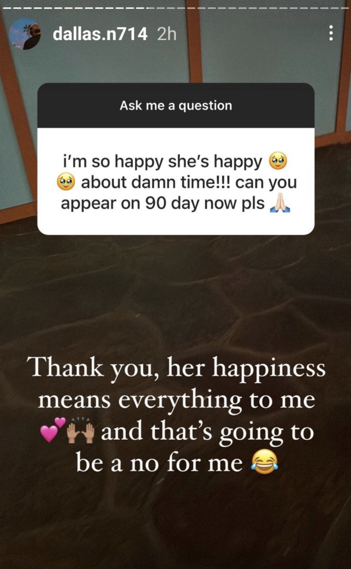 " … that's going to be a no for me 😂," Dallas replied to a fan who asked about the possibility of him showing his face on the "90 Day Fiance" franchise.
Dallas, a California native who works as a security guard and is licensed by the Bureau of Security and Investigative Services, also opened up about his personal life during the Q&A, telling followers that he does not have any kids and is not from Samoa, despite what some fans had speculated.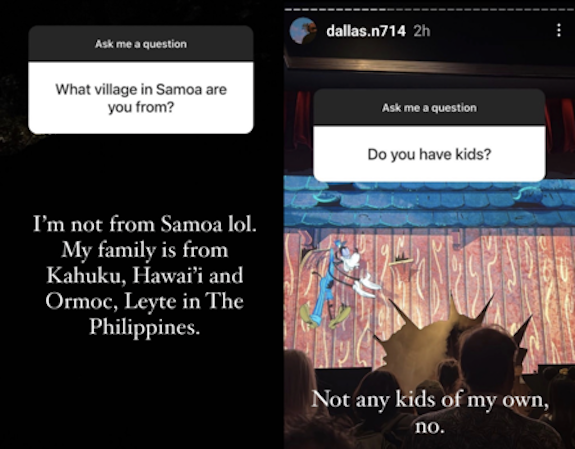 "My family is from Kahuku, Hawaii and Ormoc, Leyte in The Philippines," he shared.
Given Kalani's tumultuous union with Asuelu, fans were also curious to find out what Dallas "loves most about Kalani," to which he provided a seemingly genuine response.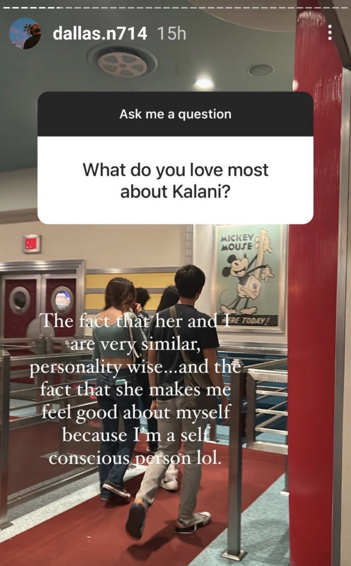 "The fact that her and I are very similar personality wise…and the fact that she makes me feel good about myself because I'm a self conscious person lol," he wrote.
Dallas also assured "90 Day" fans that he's treating Kalani much better than Asuelu did.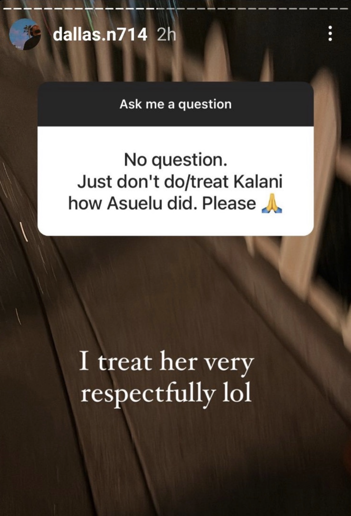 "I treat her very respectfully lol," he shared on his IG Story.
While Kalani is now able to share more details about her relationship with Dallas, she and Asuelu appear to have been sharing parenting duties for their two kids since their split, with both parents posting photos on social media of respective outings with their sons, Kennedy and Oliver.
RELATED STORY: "90 Day Fiance: The Other Way" Star Jen Boecher Responds After Ex Rishi Singh Announces Their Breakup On Instagram
(Photos: TLC; Instagram)