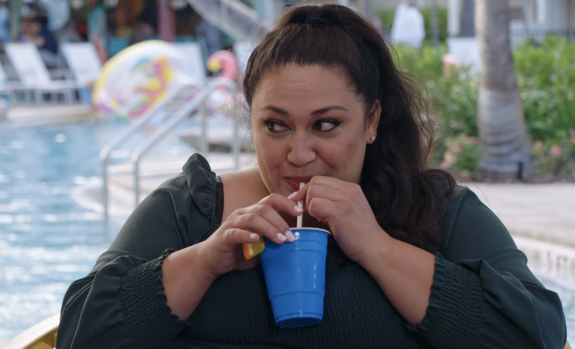 Kalani Faagata has hard launched her relationship with Hall Pass Guy, aka Dallas Nuez.
The TLC star shared a photo of her man Tuesday on social media, less than 24 hours after 90 Day: The Last Resort viewers saw her tell husband Asuelu Pulaa the she wanted to end their seven-year marriage.
"I waited a year for this," Kalani wrote on her Instagram Story over a photo of a Dallas in the ocean.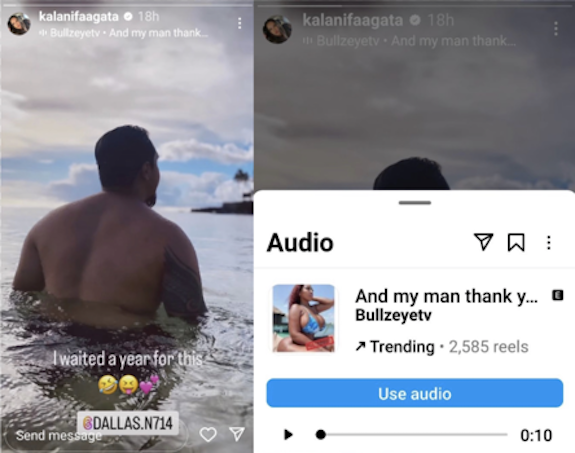 While the photo did not reveal Dallas's face, Kalani did make sure to tag her new man in the Story and express her appreciation for him by pairing the Story with trending audio from TikTok featuring a line– "and my man, thank you to my man"– from rapper Latto's acceptance speech at the BET Awards.
As The Ashley previously told you, Kalani revealed earlier this season on "90 Day: The Last Resort" that Asuelu had been unfaithful to her throughout the duration of their relationship– approximately a dozen different times, she claimed.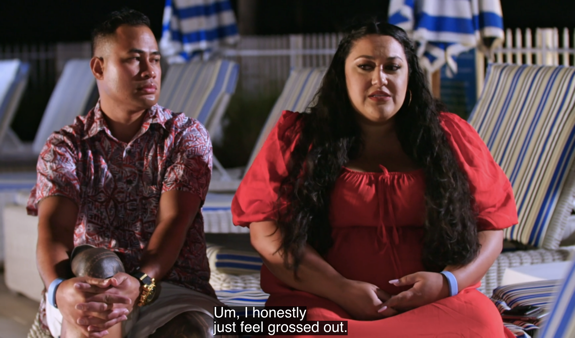 Following his latest affair, Asuelu had "allowed" Kalani a hall pass to kiss another man, whom Kalani ultimately had sex with and remained in contact with until shortly after she and Asuelu arrived to the "90 Day: The Last Resort" retreat.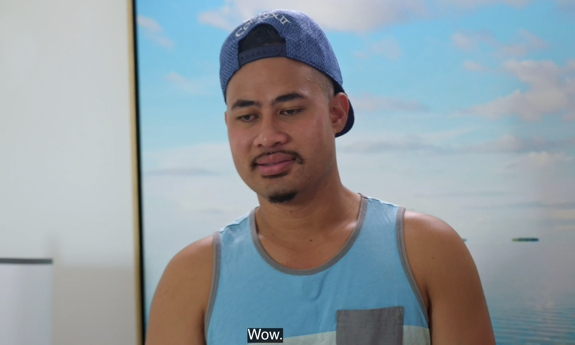 Once the spouses began counseling and couple's therapy, Kalani decided to block Dallas from contacting her in an effort to focus on fixing her marriage to Asuelu. She had a change of heart, however, after seeing Asuelu suspiciously deleting DMs and texts on his phone at the retreat, which prompted her to unblock Dallas.
Kalani revealed on the show that she and Dallas reconnected and that he had traveled to Key West to visit her, despite her being at the retreat with the intention of repairing her marriage to Asuelu. (She also confirmed that she and Dallas had sex during the surprise visit.)
On Monday's episode, Kalani came clean about everything to Asuelu in an emergency therapy session, during which she tearfully told him it was too late to fix things between the two of them. She also expressed that she wanted to legally end her marriage to Asuelu as soon as possible for the sake of their two sons, Oliver and Kennedy.
"The sooner we divorce, the better for the kids," she told cameras. "There's just nothing more that can be done. Like, I've given up, I just hope that he can deal with everything and move forward with all of us."
According to In Touch, Kalani's new man (well, newly public man) works as a security guard and is licensed by the Bureau of Security and Investigative Services.
RELATED STORY: "90 Day Fiance" Star Kalani Faagata Tells Husband Asuelu Pulaa She Wants to End Their Marriage: "The Sooner We Divorce, the Better For the Kids"
(Photos: TLC; Instagram)