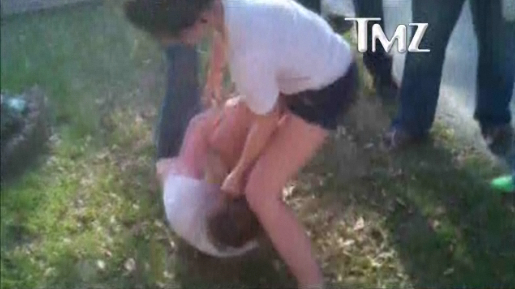 Jenelle Evans really is the trashy gift that keeps on giving.
Earlier this week the Teen Mom 2 trainwreck was involved in a brutal catfight with one of her friends.
Luckily, one of the many fight watchers had the insight to turn their cell phone camera on and capture it on video. They then sold it to TMZ.
You can watch the brutal fight video by clicking here!
The beat-down reportedly started when Jenelle thought her Band Aid-covered ex, Kieffer Delp, made a pass at Brittany Truett while they were all hanging out. First Jenelle screams at her "friend" and then some random chick comes from behind and pushes Jenelle into Brittany.
After that, things get really brutal. Jenelle socks the girl in the face. At first Brittany defends herself, but after literally 20 to 30 blows to the face and head, she pretty much just lays there.
According to updates on various websites, the New Brunswick police have launched an investigation into the incident, even though Jenelle's victim said she won't press charges. Because both girls are over 18, things are much more serious than if they were both teens.
Stay tuned…