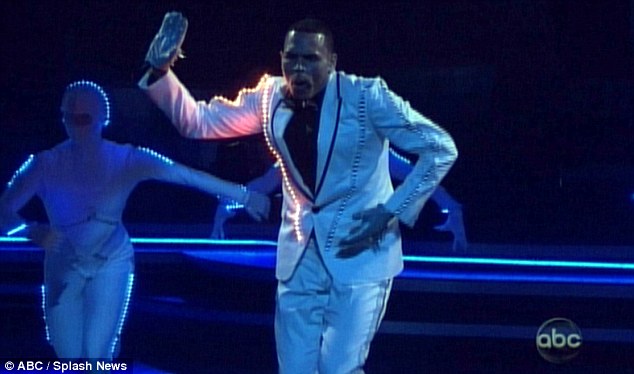 Seriously ABC? You gave Chris Brown access to your studio again?!
Last night on Dancing With the Stars, Loveline's Mike Catherwood got the boot (which is actually a shame; that guy is hysterical on the Los Angeles' Kevin & Bean morning show, as well as on Loveline.) His celebrity status just wasn't up to par with the likes of Kendra "On Every Page of US Weekly" Wilkinson.
However, that's not what The Ashley wants to write about. She wants to ask ABC why the hell they let Chris Brown sing not one but TWO songs on last night's show?
First of all, calling his performance "singing" is being generous. It was a big heap 'o' auto tune, lip-synching and flashing lights. It's doubtful that there was much singing involved.
Anyway, Chris sang his hit "Forever," along with some other song. I must say his dance moves were impressive and I totally dug those light-up costumes the dancers were wearing. But that's it.
Here's my question to ABC: of all the acts in the world, why the hell do you choose Chris Brown to perform? Why does this guy keep getting chances to redeem himself?!
He barely got a slap on the wrist for his brutal assault of his then-girlfriend Rihanna in 2009. Then, just recently, he turned into a raging Incredible Hulk after Good Morning America anchor Robin Roberts asked him about the Rihanna incident.
Apparently, after the interview, cry-baby Chris stormed off the stage and broke a window in his dressing room, all the while screaming like a crazy person. He then allegedly cornered a producer in the hallway to yell some more and finished things off by ripping his shirt out of anger (as you do).
Good Morning America is an ABC show. You'd think after behaving like this they would ban him from ever setting foot on the ABC Studios lot. But nooooo! They invite him to perform a two-song spectacular on one of their biggest shows! WTF?!?!
Hey ABC, why not give a deserving artist who doesn't have creepy anger issues a chance to perform on your show? (May I suggest this one?) OR…let artists who are doing amazing things for charity projects, such as Adam Lambert perform?
You punished him after his "risque" performance on the American Music Awards in 2009 by canceling all of his future ABC performances, but you reward Chris Brown? In fact, you replaced Adam on all those performances with Chris!!!!
All Adam Lambert did was kiss a guy, Chris beat a woman and had a violent outburst on your set! That's messed up! According to this article , I'm not the only one who feels this way!
 Anyway, The Ashley is stepping off her soapbox.
It's American Idol night kiddies!!