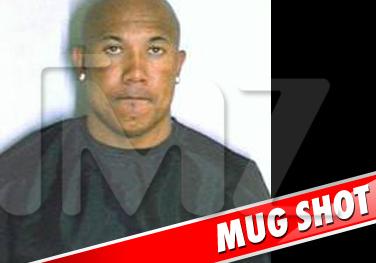 Pittsburgh Steeler and the most recent Dancing With the Stars champion, Hines Ward, was arrested yesterday for "The DUI" in Georgia.
Oh, Hines. If you really were driving drunk, you've disappointed us…we thought you were one of the good ones. Besides, did you forget that you have million of dollars? If The Ashley can afford to take a cab home from a bar after a night of too many Cabo Wabo shots, so can you.
Anyway, it appears Hines had quite the busy evening on the night of the arrest. He visited a few high-quality establishments, including the Oasis Gentleman's Club. Perhaps he was just there to provide the ladies with his 'Dancing With the Stars' expertise?
Despite the arrest, Hines is sticking to his story that he was not driving drunk. According to TMZ, he may be telling the truth. In fact, TMZ spoke with several people that were at the places Hines was on the night of his arrest and all of them state he only had a few drinks.
His manager told TMZ, "He cooperated fully with the police and truthfully answered all of their questions. We are currently in the process of ascertaining all the facts. From our preliminary investigation we can tell you that we are confident that the facts will show that Hines was NOT impaired by alcohol while driving.
This is the second time Hines has had a run-in with the Georgia police. According to Starcasm, he pleaded guilty to reckless driving in April of 2007 in Georgia and paid a fine.
The Ashley, along with the entire Steeler Nation, is hoping that Hines is telling the truth and this is all a misunderstanding, but only time will tell.
His 'DWTS' partner, Kym Johnson, has yet to comment on the situation.
(Photo: TMZ)