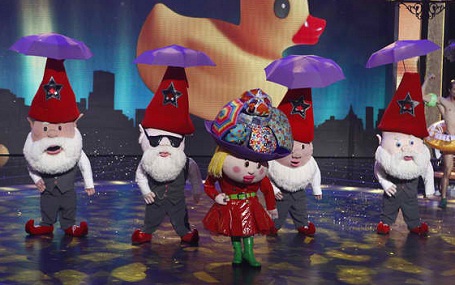 We've waded through weeks of auditions to finally get to the America's Got Talent live results
show, which reveals which acts are closer to that big-money contract and which ones are just
getting a train ticket home.
The acts are divided into groups of three and only one will be chosen to move on. The show tries to build up the suspense but, honestly, it's not hard to predict which act will move on.
The first group to learn their fate includes the Fearless Flores Family, Duo Aero (the trapeze
couple) and Snap Boogie (the street dancer). All three were considered 'fan favorites' in the
earlier shows (and got more than their share of airtime), which makes it odd that they would all
be grouped together, with only one moving on.
It's time to announce the results…oh, snap! It's Snap Boogie!
As we bid farewell to the daredevil Flores Family and the acrobats, Snap Boogie dances himself one step closer to the big money.
The next group to receive its results includes Squonk Opera (the creepy band), Sandou Trio (Russian bar act) and J Chris Newberg. So many oddly spelled words….
Unfortunately, we must first endure a performance by Avril Lavigne. God, I hate her. She's bugged me since "Sk8ter Boy" and now she thinks she's even cooler because a clothing line at Kohl's and has blonde hair. I hate her…or, in true Avril fashion: I H8 Her. Moving on…
We are forced to suffer through two angst-filled and annoying songs by Avril before we can
learn which is the next act to move on.
After the screeching has stopped, it's time for Nick to announce the results. Predictably, the
Sandou Trio is picked to move on. The trio promises to deliver something "totally different" next
week, which is a relief. Although their act is fun and unique, they do risk moving into the one-
trick pony zone if they don't add anything new to their routine.
The next group of contestants to learn their fate include Dezmond Meeks (the singer/piano
player ), Echo of Animal Gardens (the parrot act) and Anna Graceman (the little girl singer/
pianoist, otherwise known as this year's "Jackie Evanco.")
At this point, we kind of feel bad for Dezmond and the parrot; we know that they stand little
chance when pitted against the little girl with the golden voice. America loves cute, talented kids.
Not surprisingly, Anna is picked to move forward, while the other two acts get the hook.
It's time for another performance. This time we are "treated" to samplings from the
musical "Priscilla, Queen of the Desert." The whole thing is just choppy and odd. There's
no way you can cram an entire two-hour-or-so show into a minute and a half, no matter how
talented the people performing are.
The final group of the night includes Those Little Funny People (the puppet guys), the
Fiddleheads (Southern bluegrass band) and Miami All-stars (dance troupe).  The decision is left up to the judges, which makes it extra exciting!
The judges give their opinions and tell us that it will be the dancing gals moving on, sending the much-beloved puppets and the banjo guys packing.
As they leave, broken-hearted, Piers decided to pour salt into the little puppet guys' wounds by thanking America for sending Those Little Funny People home. Seriously, was that necessary? Making fun of puppets is just lame; sure they have a man's hand up their ass, but come on! Can't you do better than that? Call me when he starts making fun of the little girl. Now that I'll tune in for!
Next week, 12 more acts will face their fate! Although there are some seriously impressive
acts left in the competition (cough, Melissa Villasenor, cough!) they all will be hard-pressed to
overtake Anna Graceman. She's got the vote of every grandma in America and is definitely the
front-runner in my opinion!
For more fantastical 'America's Got Talent' News head on over to this The Ashley-approved site: #.
(Photos: NBC/ EPA Mike Nelson)