The Ashley was so sad to see that her favorite America's Got Talent contestant, comedian/impressionist Melissa Villasenor was voted out during last night's semi-final show. (Maybe I should have actually voted?)
Check out this super-cool interview Melissa did with AGT News right after she was eliminated. (If you're a fan of 'America's Got Talent' you really need to go to that site. They have lots of AGT goodies over there!)
Melissa always brought the LOLs and The Ashley was convinced that she would go all the way. Melissa wasn't the only act to get the hook last night: the Russian Bar Trio, Beth Ann Robinson and some other people also got voted out, leaving a bunch of dance-based acts. Yawn.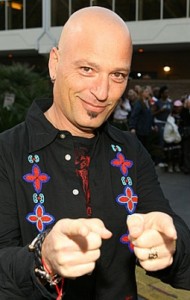 Melissa was the best part of this show (other than the awkward product placement they sneak into every episode. I kind of love that crap. During American Idol season The Ashley has been known to rewind and re-watch the stupid Ford Music Videos over and over. I have no life, leave me alone.)
Anyway, don't fret; we all know Melissa's got talent, and apparently so do a lot of other venues. According to her Twitter, she will headlining at Flappers in Burbank on August 32, appearing at the La Jolla Comedy Store on September 2-3 and spending September 6-11 at the Las Vegas Improv. I think she'll do just fine without Howie and the gang.
(Photo: NBC)