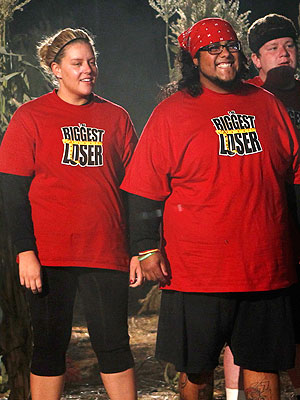 Tonight's episode of The Biggest Loser was one of the best The Ashley has seen in a long time, between all of the strategic game play and temptation challenges. Even Allison Sweeney didn't let me down and sported some truly horrendous hair during the weigh-in. I love when that happens; it pretty much makes my night!
Anyway, the best part of the entire episode was the end. (Warning, spoilers!) Even though Ramon Medeiros was eliminated, we got to see him go home and surprise his girlfriend from the Ranch, Jessica Limpert, with his new slimmed down body– and new 'do! (Was anyone else shocked how good looking he actually was underneath that mop of hair he had?!)
Anyway, we watched them sky dive together and Ramon even hinted that they would be taking an even bigger plunge, hinting that the couple may be getting engaged soon.
This, of course, left us viewers wondering: are they still together? Are they engaged? Did Ramon grow back his hair?
The Ashley is happy to report that Jessica and Ramon are still growing strong! In fact, Jessica has moved to Los Angeles from Pittsburgh and she and Ramon have been seen biking around town, training for the marathon and enjoying each other's company!
They are not engaged yet; however, if there's no proposal at the season finale, I would be completely shocked. Someone call Neil Lane, this man is going to get himself a wife!
There is one thing the couple can't agree on: which football team to root for. Jessica is an avid Steelers fan, while Ramon is a die-hard Raiders fan. (You know that huge, dark black shield thing Ramon has tattooed on his arm? It's actually the Raiders logo but producers have to black it out with Sharpie during every weigh-in, according to Jessica's Twitter! The Ashley always wondered about that tattoo!)
If they get engaged, they won't be the first 'Biggest Loser' couple to fall in love on the show. Click here to read about more 'Loser' lovebirds.
(Photo: NBC)