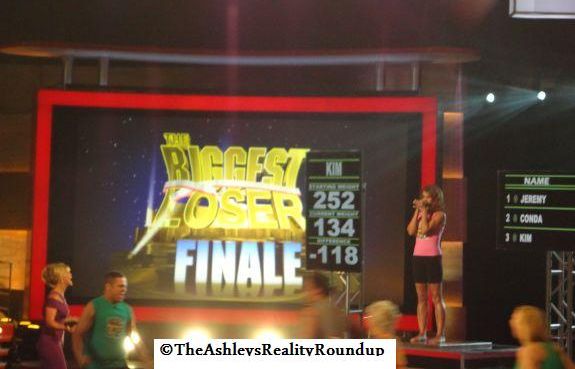 On Tuesday, Biggest Loser fans watched as 23-year-old Jeremy Britt took home the $250,000 grand prize during the finale special of what was possibly the most dramatic season in the show's 13 season history. From daily emotional breakdowns (cough…Conda…cough), to contestants whining about being bullied to the dramatic walk-off of two contestants, Season 13 was nothing less than captivating.
Although the finale was less eventful, there were still a few things that the live studio audience got to see that the TV viewers at home didn't.
1)      Last season's lovebirds Ramon Medeiros and Jessica Limpert cuddled and snuck kisses throughout the finale. The pair was seated in the section reserved for the show's alumni and rarely left each other's side. During one commercial break, Ramon made his girlfriend laugh by chanting trainer Dolvett Quince's catchphrase "Hard Work! Dedication!" Several former contestants joined him and Dolvett for the impromptu motivational chant.
2)      While finalists Jeremy and Kim Nielson received an overwhelmingly loud applause when they came on stage, Jeremy's sister, Conda, didn't receive quite as much fanfare. In fact, many audience members refused to even clap for Conda, who caused a lot of drama during the season.
3)     Though walk-offs Buddy and Mark weren't shown on the finale, both attended (and looked fabulous!) They received a warm welcome from the other contestants and other members of the production staff. It was nice to see there weren't any hard feelings. (Check out the gallery below to see how Buddy looks today!)
4)      Jeremy and Conda's mother held Conda's daughter, Brooklyn, for most of the finale, even rocking her to sleep while the other contestants were brought out. However, when it was time for Jeremy and Conda's weigh-in, Brooklyn and the rest of the Jeremy and Conda's family went wild. At one point, their mother shouted "I gave birth to the dynamic duo!"
5)      Several audience members attempted to get the attention of who they thought was former trainer Jillian Michaels. The woman, who was seated in the front row next to the show's physician, Dr. Huizenga, turned out to be the show's nutrition expert (and Michaels lookalike) Rachel Beller. (Just in case you're wondering, Jillian was a no-show.)
The Ashley snagged some great behind-the-scenes photos of the finale taping and unofficial after party, where current and past contestants gather after the show to hang out. This year's party was pretty stale (most of the contestants were drinking water–boo!) Still, it was pretty cool to see how contestants from the past look today.
Best part of the night? When Dolvett saw The Ashley's "We Love Dolvett" sign and waved and blew The Ashley kisses. Yeah…even The Ashley gets starstruck once in a while! (Who can blame me for swooning over Dolvett?! Have you seen this?!)
Check out the gallery below!