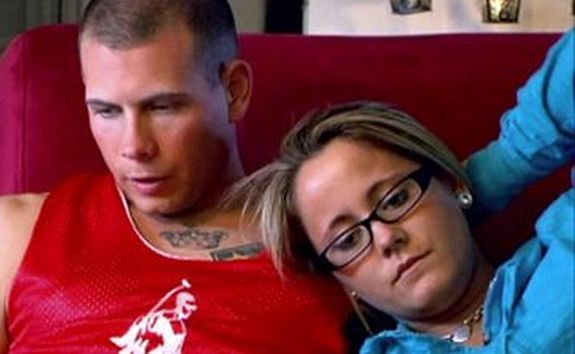 It's been a big week in the ever-changing love lives of the Teen Mom and Teen Mom 2 stars. Since these girls' relationship statuses change faster than I can type, I figured it would be best to compile all of this crap into one, ridiculous article.
To those of you who revel in this crap as much as me, enjoy. To those of you who have better things to do than worry about than who Jenelle Evans is dating this week…um…shouldn't you be reading stories on CNN's website?
Ok…on with the freak show!
*Let's start with the big news! 'Teen Mom 2' star Jenelle Evans is engaged!
That's right; Jenelle is now promised to her Marine boyfriend-turned-ex-turned-boyfriend again, Gary Head!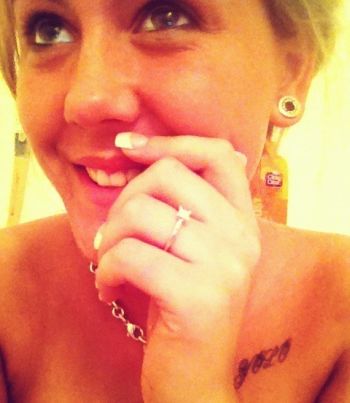 She announced her big news on the Twitter this morning, posting photos of her ring and letting her fans know that she's finally found a good guy. (This comes just weeks after she got back with–then dumped–Creepy Kieffer Delp.)
She told her Twitter followers, "[the engagement ring] means everything to me he actually takes care of my every need and Jace's every need."
While The Ashley is thrilled to see that Jenelle has finally ditched 'The Kieff,' she is skeptical that she will ever see Gary and Jenelle walk down the aisle. (Of course if we do, it will most likely be featured on a "very special" 90-minute episode of 'Teen Mom 2.')
*'Teen Mom' baby-daddy Ryan Edwards broke up–then got back together– with his girlfriend Dalis Connell.
This is pretty typical of these two. They have a fight, break up, announce that they're single on Twitter, then get back together. There should be a rule that you can't change your Facebook relationship status or announce a breakup over Twitter until at least 48 hours has passed. Anyway, we will be seeing Dalis on the upcoming fourth season of 'Teen Mom.'
*Gary Shirley made sure everyone knows he and Amber Portwood are DONE!
The 'Teen Mom' dad cleared up any misconceptions that fans might have that he and his troubled baby mama are back together.
"Amber and I are not together," he told his Twitter followers. "I'm a single feller. We can't be together I think you guys understand why I just can't anymore." (Being that AMBO is currently sitting in a jail cell, I can't really blame him!)
The Ashley will be sure to update you when someone else gets engaged, arrested, dumped or attacked by a pack of wild boars.