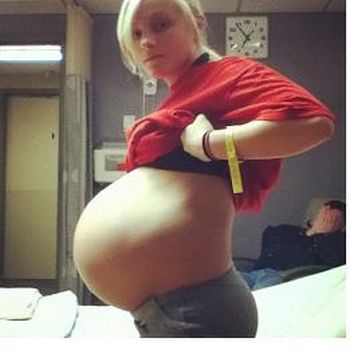 UPDATE: Mackenzie's little girl has arrived! According to In Touch, she chose the name Jaxie Taylor for the baby girl, who weighed in at 8 lbs., 9 oz.
"God's timing is not always our timing, but He always knows best," Mackenzie told the magazine of her unexpected pregnancy, which she credits with helping to save her marriage to husband Josh McKee.
According to Mackenzie, she chose the baby girl's first name in honor of her grandfather, Jack. Taylor is also Mackenzie's middle name.
Last night the Teen Mom 3 star Mackenzie Douthit checked into an Oklahoma hospital to prepare for the birth of her baby, and even posted a photo of her enormous baby bump from her hospital room.
Poor Mackenzie has had a rough final few weeks of pregnancy: last week she was rushed to the hospital due to complications with her Type I diabetes. Her doctors were able to keep Mackenzie from going into early labor, and she had a scheduled C-section today at 37 weeks.
This has been a difficult pregnancy for Mackenzie right from the start. In August, she had an emotional breakdown online, stating that she was tired of people thinking she was getting fat. She chose to announce her pregnancy that night, sending MTV into a frenzy, as she was due to come to New York for 'Teen Mom 3' work that weekend.
Unfortunately for Mackenzie, her pregnancy continued to be jinxed. In the fall, she broke her foot and just weeks later was physically attacked by an acquaintance. In December, she found out that MTV had cancelled her show, 'Teen Mom 3,' which hit the couple hard financially. She has struggled to maintain her blood sugar throughout the pregnancy.
Congrats to Mackenzie and Josh!
(Photo: Instagram)