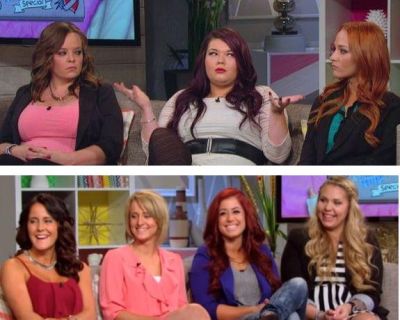 Last night's "Ask the Moms" special marked the first time the casts of Teen Mom and Teen Mom 2 came together on one stage to meet and talk about their experiences on the shows. The girls had a chance to talk about what it's really like to have your personal life feasted on by millions of viewers, and how they feel about each other.
The girls got surprisingly candid, discussing everything from Farrah Abraham's absence to how they feel about their baby-daddies dating new girls. Here, The Ashley has put together a list of things we learned from–or had confirmed on–last night's "Ask the Moms" special.
1. The show's producers and MTV made the decision to nix Farrah (and her backdoor) from the new season of 'Teen Mom', not the girls.
Earlier this year, a story came out from Us Weekly that stated that Maci Bookout, Amber Portwood and Catelynn Lowell had banded together and demanded that Farrah be excluded from the new season of 'Teen Mom,' due to her decision to venture into the p0rn industry. The story even stated that the girls refused to do the new season if Farrah was on it.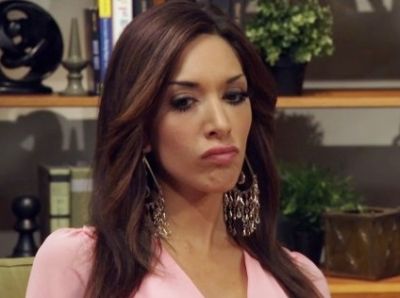 Last night we learned that, while Farrah will not be on Season 5, it had nothing to do with Maci, Amber and Catelynn. Maci confirmed that, while she and the other girls feel that Farrah's new lifestyle is not in line with the "message" they want 'Teen Mom' to have, they had "nothing to do with" the decision to nix Farrah.
2. Chelsea is still boinking Adam.
Although Chelsea is shown throughout Season 5B making fun of Adam and calling him out for his constant girlfriend-switching, she was still having sex with him during this time. On last night's special, Chelsea is asked if she will ever get back with Adam, to which she responded with a firm "No!" However, when she was asked when was the last time she hooked up with Adam, she revealed that it was "months ago." And guess when Season 5B was filmed? Months ago. This means that Chelsea was hooking up with Adam (at least once) while Season 5B was filming. Sigh.
3. Maci thinks Kail's son is cuter than her own.
There's no denying that Kail Lowry and Javi Marroquin's son, Lincoln, is adorable (and that's even without him being dressed in the bear suit!)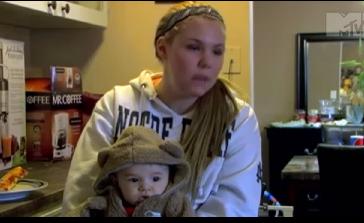 On "Ask the Moms," Maci revealed that, although she would never want her own son, Bentley, to know, she thinks Lincoln is the cutest kid ever. "Bentley can never hear this," Maci added.
4. The new season of 'Teen Mom' will likely break the "fourth wall."
The girls discussed the "fourth wall," which in TV-speak means showing the viewers at home the filming process, or, in this case, acknowledging that the girls are on the show. To be more clear, the entire 'Teen Mom' franchise has always avoided any mention that the girls are being filmed for this show or that filming is effecting their lives, with no mention of it in the voice-overs. The camera crew and producers are also kept out of the finished episode.
On the "Being Maci" and other "Being" specials, the fourth wall was broken down for the first time, with producers actively interacted with the girls on-camera. In sneak peek footage shown last night of the new season of 'Teen Mom,' it appears that the fourth wall will once again be broken down. Chelsea mentioned that she loves it when viewers get to see that footage, because it gives them a better understanding of what's really happening.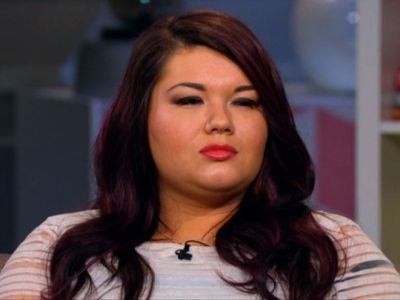 5. Amber may have engaged in lesbian affairs in prison.
Although she didn't exactly come out and specifically admit to it, Amber did hint that she may have been involved in some lady-lovin' while in prison–or at least saw a lot of it. When asked by Jenelle what the craziest experience she had while in jail, Amber admitted that she wasn't able to talk about it on-air because it was so scandalous.
She went on to say that shows about prisons, such as 'Locked Up' and 'Orange Is the New Black,' are "so true" and actually a PG-13 version of what really happens in womens' prisons. Describing prison as "pure hell," Amber also revealed that she took a lot of guff from both other inmates and the correctional officers for being famous and putting herself in prison.
6. Amber got played by Gary while she was in prison.
Amber revealed that, while she was in prison, her baby-daddy Gary was promising that they'd resume their relationship and move in together upon her release. When she got out of prison, however, Amber learned that Gary had actually had a girlfriend the entire time he was telling her all of this. While Amber admitted that she isn't bothered by the fact that Gary is still with this girl, she did seem upset that he played her, and hinted that we will see it all go down on Season 5. "They deserve each other," Amber said of Gary and his new girlfriend. "You'll see."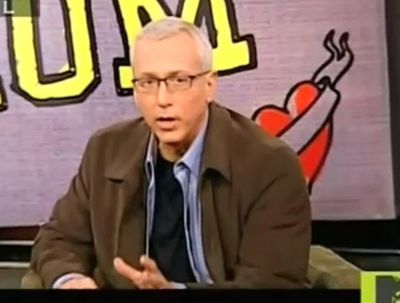 7. Nessa from 'Girl Code' makes for an awkward host.
Although The Ashley loves Nessa on 'Girl Code,' she felt that she was a bit too casual and awkward to host this panel. Her phrasing of questions made her seem almost younger than the 'Teen Mom' girls. Next time, either bring back Dr. Drew or let our gal, Barbara host the specials! (I can hear it now: "Well Chelsea, I see ya wif Adam!")
UPDATE: For all of The Ashley's Canadian readers, the "Ask the Moms" special is set to air in your neck of the woods on Oct. 29 at 9e/6p!
(Photos: MTV, VH-1)