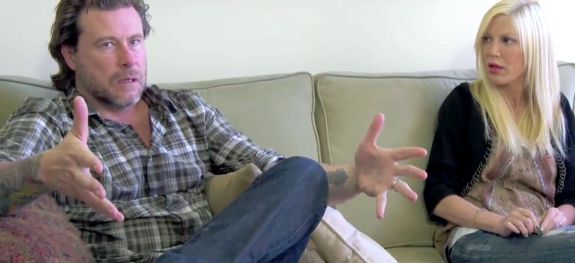 Dean McDermott dropped a bombshell on his wife, Tori Spelling, today during a live interview with Access Hollywood! Dean, whose affair and substance abuse problems have been milked for ratings during this season of True Tori, decided to announce that he will no longer participate in the filming of the show.
"I'm not going to continue with the show," Dean said during his interview on Wednesday. "We have five more shows left… I can't do this anymore. I can't keep opening a vein, opening my soul and sharing my feelings and thoughts and demons with the world."
Dean admitted that he no longer watches his own show.
"I don't watch it, I can't. It's really difficult… I can't do it any more, for my soul," he said.
Either that or he, like everyone else on the planet, is tired of watching 40 minutes of Tori crying every week.
Dean said that he's "hopeful" that his marriage to Tori will survive. (It's doubtful, being that Tori has basically used every storyline she possibly can regarding Dean on her show already.)
Tori has yet to speak out about Dean's proclamation; however Lifetime, the network that airs 'True Tori,' did make a statement regarding Dean quitting the show.
"You will see Dean on the last five episodes of the season," a network spokesperson told TheWrap. "He is fulfilling his commitment to Season 2."
'True Tori' isn't the only thing Dean quit recently. On October 28, he informed his Twitter followers that he would no longer be using his account.
"I'm done with this social media s**t," he tweeted. "To all my fans, you're the best. Love you guys. Always will. To all the haters, you know how I feel."
In his interview with Access Hollywood, Dean said he is hoping to break free of reality TV and go back to what he was doing before he got involved with Tori: acting.
"I see myself on a scripted show," he said. "I'm getting back to my roots, I'm getting back to acting."
(Photo: Lifetime)