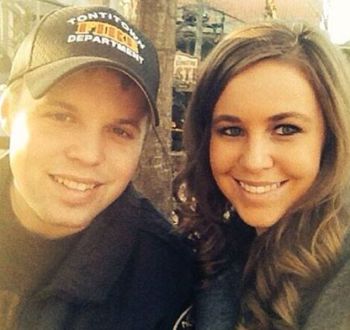 Ever since her sisters began courting and getting married, 19 Kids & Counting star Jana Duggar has been plagued with questions as to when she will be the one walking down the aisle. Jana, who, at 24 is older than her already-married sisters Jill and Jessa, has most likely read all of the cruel stories about her being "forever alone" and "forced" to stay single so that she could take care of all of her parents' many children.
However, Jana, as well as her twin brother John David, have never responded to the stories. The twins are not on social media and seem to prefer to stay out of the spotlight as much as possible. In a new interview with People, however, both twins address why they are still single.
"We've always gotten different ones asking, 'When is it going to be your turn? When is it your time?'" Jana said."I just think for me I am just waiting and we'll see. When God brings that one along it will be his timing."
In a clip from an episode featuring preparation for Jill's wedding, Jana looked uncomfortable when she was asked by a hairstylist why she was still single. Her dad, Jim Bob, told People that Jana is certainly not destined to be forever alone. He said that he has been approached by many men that are interested in his oldest daughter.
"Jana is one of the prettiest girls in the world and one of the sweetest girls," he said. "There have been a lot of guys who have been interested in her. I have gone to her about each one, and so far she hasn't felt that is the way the Lord is leading."
Jana's twin brother, John David, also has his fair share of marriage prospects–mostly from TLC viewers! The number of lady callers increased after John David joked during the episode featuring Jill's wedding rehearsal that he was accepting applications for a wife.
"It was a joke," he said. "But I hear that we started receiving applications like crazy. I don't know how many have come in and I haven't looked at any, but I hear there are a lot."
Jinger, the Duggar's spirited 20-year-old daughter, also has plenty of marriage prospects, should she decide she wants to start courting.
"Jinger is just a dynamic girl that a lot of guys have been interested in," Jim Bob said. "But so far, she has not been interested in the guys."
Jim Bob also told People (which is generally the only media outlet the Duggars will give exclusives to) that, despite what fans think, he does not arrange marriages for his daughters.
"I do not choose who my children marry," Jim-Bob said. "Over the years, I have suggested guys to my daughters or we have had a lot of guys that approach us and are interested in this girl or that girl, but each of our girls have chosen their spouse on their own."
The Ashley's money is still on Jinger to run away, ditch the courtship stuff and go be a swingin' single in New York City! Also, she thinks that, at least in the case of Jana, she may be waiting until the family ends the reality show to start a courtship. She seems very shy, unlike Jill and Jessa, who loved the attention that their courtships and weddings got. She doesn't appear to enjoy the spotlight and would probably hate having her personal relationship splashed across the TV.
Just for the record, People readers voted Jana as the Duggar child most likely to enter into a courtship next.
(Photo: Facebook)