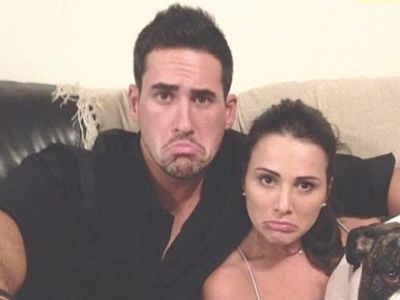 What a difference a few days can make!
On Monday, Bachelorette couple Andi Dorfman stood on the red carpet of The Bachelor premiere, smiling and cuddling with her made-for-TV fiance, Josh Murray. The couple talked to host Chris Harrison about their future and eventual wedding, never letting on that their relationship was basically over.
This afternoon, TMZ broke the story that Andi and Josh have split! The out-of-left-field news will surely shock fans, who saw nothing but a happy engaged couple on Monday.
A rep for Andi and Josh issued a statement on behalf of the couple:
"After several months of being engaged and working on our relationship, we have decided that it's best for both of us to go our separate ways," the statement read. "We are very sad that it has come to this point, but this is what's best for both of us individually."
'Bachelorette' viewers were somewhat surprised when Andi chose sporty Josh over sensitive Nick at the end of her season, and many said that Andi and Josh's relationship wouldn't last for more than a few months. Unfortunately, these fans were right–Andi and Josh only made it about six months!
They have been putting on a happy face since 2015 began. The couple celebrated New Year's Eve together, and traveled to 'The Bachelor' premiere together, giving fans no indication that a split was coming.
That leaves Desiree Hartsock and Chris Siegfried, Trista and Ryan Sutter, Ashley Hebert and JP Rosenbaum, Sean and Catherine Lowe, and Jason and Molly Mesnick as the only couples from 'Bachelor' or 'Bachelorette' that are still together. (Obviously, there have been a few others that are still together from spin-off shows, or from just being part of 'Bachelor Nation.')
Andi and her best pal, Nikki Ferrell, can start hitting 'da club' as single ladies now, since Nikki recently split with her beau, Juan Pablo Galavis! Get it, girls!