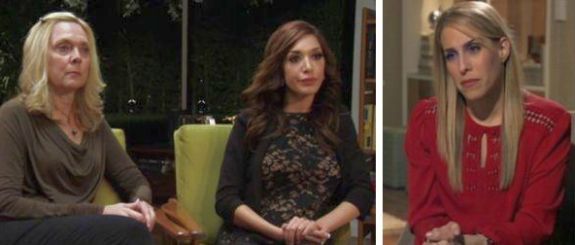 Dr. Jenn Mann will be dishing out a family-sized portion of counseling for the next season of Couples Therapy.
A source tells The Ashley that two new seasons of the VH1 show are in the works, and both have already been filmed. The first will be 'Couples Therapy: Family Edition,' which will air before the next regular season of 'Couples Therapy.' (The following season, which will feature couples in crisis, is going to be good. The Ashley will post more about that cast very soon!)
Anyway, as Starcasm recently pointed out, a casting notice was put out last summer by Irwin Entertainment (the company that produces 'Couples Therapy') looking for mothers and daughters who want to claw each other's eyes out. It did not specifically mention 'Couples Therapy' in its text, though.
However, The Ashley can confirm, that this is, indeed, what Farrah and her mother, Debra Danielsen, were going to Los Angeles to film during a recent episode of 'Teen Mom OG.'"Casting mother-daughter rehab reality show focusing on mother daughter duos who have had a major falling out and are interested in reconciling with help from a therapist in a group setting," the casting notice read, according to Starcasm. "The bigger the disagreement the better; daughter should be in her 20's; attractive."
Debra and Farrah, who have been somewhat estranged since we first met them back on Farrah's 16 and Pregnant episode, will sit down will sit down with Dr. Jenn and attempt to straighten out their relationship. Farrah previously appeared solo on a regular season of 'Couples Therapy', but had her mother come in for several counseling sessions during the season.
As of right now, The Ashley doesn't have many details on 'Couples Therapy: Family Edition.' She is not sure if it will be a full season, or just a few shows, and it is not yet known how many mother/daughter pairs will be participating alongside Farrah and Deb. The Ashley's source tells her that 'Family Edition' was shot very quickly, however, which seems to point to it being a short season.
Farrah and Dr. Jenn even hinted on Twitter  in mid-January (around the time that the 'Teen Mom OG' episode mentioning the new reality show was filmed) that Farrah would be coming back to get more therapy.
"@drjennmann look forward to seeing you soon. I need my #Farrapy from only the best of the best #Therapy," Farrah tweeted.
Dr. Jenn replied, "Looking forward to it too!"
Farrah's father, Michael Abraham, hinted around that time that he was filming something with Deb and Farrah, but couldn't provide all the details. He told his Facebook fans that he and his family were filming two shows, which would be aired around Spring 2015. One of these shows, obviously, ended up being 'Teen Mom OG.' The other is this 'Couples Therapy' family show, The Ashley can reveal.
Stay tuned for more details on this show, as well as the cast of 'Couples Therapy' Season 6!  The next regular season of 'Couple Therapy' is set to air this fall. The Ashley will be posting more details on the cast of that show very soon!
(Photos: VH1)