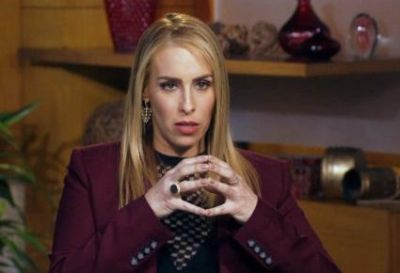 By Holly Rasmussen
The new cast of VH1's Couples Therapy has been released…and it's underwhelming to say the least.
This season will feature a variety of couples from all corners of the entertainment world. First up, we have Big Ang, who is famous for her role on the show Mob Wives. Big Ang grew up with ties to the mob and has had her fair share of run-ins with the law. She and her husband, Neil Murphy, will meet with Dr. Jenn Mann for three weeks of intensive therapy/maximum camera exposure.
Season 6 will also feature Love & Hip Hop: New York stars Joe Budden and Kaylin Garcia. In case you're like us and have no idea who these people are because you don't watch the show: Joe is a member of the hip hop group Slaughterhouse.
Don't worry; we have no clue who Slaughterhouse is, either.
Anyway, the "world's first supermodel" Janice Dickinson and her older fiancé Dr. Robert "Rocky" Gerner will also be there. You may remember Janice from America's Next Top Model and Surreal Life, and you may remember Dr. Gerner if…well, you happen to know a lot about psychopharmacology. (The fact that you care about 'Couples Therapy' probably means that you don't.)
Creed frontman Scott Stapp and his wife, Jaclyn, are also on board for the therapy program. Jacyln reportedly filed for divorce from Scott in December, so it will be interesting to see if Dr. Jenn can reunite the couple.
Rounding out the group is Carmen Carrera from RuPaul's Drag Race and her husband Adrian Torres. Carmen competed on the third season of the show and identified back then as a male, but now identifies as a transgender female.
The official premiere date for this yawnfest has not been released; however VH1 has indicated that it will air this fall.
As The Ashley previously told you, they will be doing a special family edition of 'Couples Therapy' that will feature the Teen Mom that everyone loves to hate, Farrah Abraham, and her mother Debra Danielson. (It is not yet known whether or not other mother/daughter celebrities pairs will participate.) Hopefully, Deb will once again call Farrah out on her "antichrist attitude."
(Photo: VH1)