UPDATE: The Duggars just announced on their Facebook page that Jill and Jessa Duggar will "tell their story" in an interview with FOX News on Friday! It does not appear that Josh, nor the other victims, will be participating.
FOX News' Megyn Kelly scored the first post-sex-abuse-scandal interview with Jim Bob and Michelle Duggar and, while many fans are skeptical that the interview, which airs tonight, will be little more than a pre-rehearsed apology from the Duggars, Megyn is promising that she didn't give the Duggars a free pass.
"When I spoke with the Duggar family, I said, 'I am going to ask you the tough questions,'" Megyn, host of The Kelly File, said in an interview with The Wrap. "'But I will be fair, and you will be permitted to answer and offer context. And it will not be a 'gotcha' or an attempt to bring down the Duggars … That is not my role."
Megyn managed to score the first interview that the 19 Kids and Counting stars have done since news broke earlier this month that oldest Duggar son Josh admitted to molesting at least five young girls, including some of his sisters, while in his teens.
Many news media outlets were clambering for the first sit-down with the Duggars, but Megyn got it because, as she claims, she didn't pull any punches with the famous family.
"I reached out to them and made the case I was the best for the job," Megyn told Deadline. "I specifically told their representative, 'You know my reputation. I've never been accused of giving anyone a pass, and I'm not going to give them a pass. If you want a soft place to fall, I'm not your person… I think it's a service to you to have me ask tough questions.'"
She also assured the Duggars that their words wouldn't be subjected to a bloodbath in the editing room.
"I have final say on the ultimate broadcast — and no one but me," she told The Wrap.
Fans of the show have come down hard on the Duggar parents for not reporting their son's crimes or seeking  professional help or actual counseling for him for years. (It is still not determined that Josh actually received real counseling; the police report states that Michelle admitted that she and Jim Bob sent Josh away for a period of time for counseling, but he actually went to a family friend's property to help remodel a house.)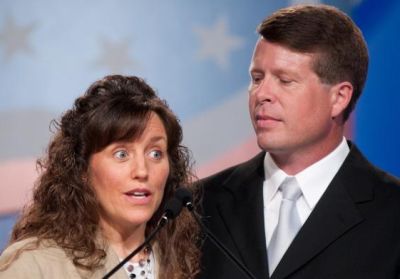 A new police report from a neighboring town surfaced today that showed the Duggar parents failed to do anything about Josh's molestation problem for at least sixteen months after Josh first confessed to fondling his sisters. The molestations continued during that time, according to the police reports. Josh's last victim was his then-five-year-old sister.
Their inability to react, alert authorities and get Josh removed from the home (and allowed to get help), could have landed the Duggar parents behind bars for permitting abuse of a minor, had the statue of limitations not already passed by the time the crimes surfaced.
Last week, Jim Bob and Michelle issued a statement about the interview.
"We will sit down with Megyn Kelly on Fox News to share our hearts with you about the pain that we walked through as a family twelve years ago, the tears we all shed and the forgiveness that was given," they posted on their official website and social media accounts. "We appreciate the outpouring of love and prayers for our family at this time."
Megyn acknowledged that the Duggars know there is a lot riding on what Jim Bob and Michelle say during this interview. After all, TLC has pulled all '19 Kids and Counting' reruns from the air, removed much of the show's presence from the network's website and had many advertisers pull their advertising campaigns from the show in light of the scandal. The network has not, however, officially cancelled the show yet.
"I think this is the Duggars' effort to try to get out from under that pressure cooker," Megyn said. "They very much understand their show and reputation are on the line. "[The show] has a chance still. It's not totally done."
Other details of the interview are scarce, but it has been reported that much of the sit-down took place in the Duggar's Arkansas hometown. There has been no indication that Josh will participate in the interview.
Megyn's interview with the Duggar parents airs tonight on FOX News' The Kelly File at 9 p.m. ET. A one-hour special containing more interview clips will air on Friday.
To read all of The Ashley's coverage of the Josh Duggar sex abuse scandal, click here.
UPDATE: Watch a sneak peek clip of the interview here!