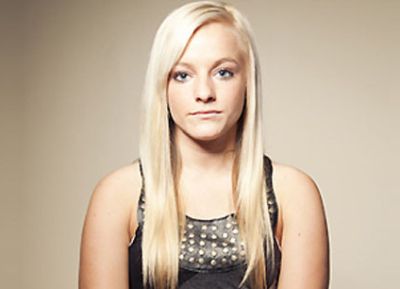 News broke last week that adult entertainment company Vivid recently obtained a sex tape that featured Teen Mom 3 star Mackenzie McKee. As The Ashley told you earlier this week, Vivid has confirmed that it is interested in working with Mackenzie and releasing the tape, but Mackenzie has stayed quiet on the topic…until now.
The Ashley can reveal that Mackenzie is currently in Los Angeles. (Vivid's offices are in Los Angeles, by the way). In fact, she was interviewed by Splash News as she came off the plane in Los Angeles on Tuesday, and she finally discussed the topic of her sex tape. (The video of the interview was posted to a foreign p0rn site that The Ashley cannot link to here, unfortunately.)
Mackenzie denied that she made a sex tape; however, she confirms there is a tape. (Got all that?)
"I would never make a sex tape," Mackenzie said, before explaining how a tape got into Vivid's offices. "My phone was stolen and looked through and there is personal videos and photos on there that are for mine and my husband's eyes to see…My phone was taken and I got it back but they were looking through trying to find someone to call [and found the tapes]."
She claims that the videos feature her and her husband Josh McKee, and they were never meant to be released to the public.
So, to recap…someone stole Mackenzie's phone (which was conveniently unlocked), saw that there were sexy time videos of her and recognized that she was a famous person, sent the tapes to Vivid and then gave Mackenzie her phone back.
As.You.Do.
In the interview, Mackenzie confirmed that she had a meeting with Vivid scheduled, and that the tapes were shot last month. (It is not know whether or not the tapes were shot before or after Mackenzie got her boob job last month.)
Anyway, as The Ashley told you in a previous story, there is no way Vivid can legally release the tape if Mackenzie and whoever is in it with her do not sign off on it.
"[Mackenzie is] 100% in bed with Vivid," Celebrity Sex Tape Guru Kevin Blatt told The Ashley last week, explaining that Vivid can't leak the tape at will. "You must have USC 2257 Paperwork to accompany any tape (this includes releases) as well as identification."
When asked yesterday before her meeting with Vivid, Mackenzie denied that she wanted the tape released.
"No amount of money [can make me release it]," she said. "I'm not going to change my morals. I'm not like that. I will never do p0rn and I never have."
Clearly, Mackenzie is trying to use the "victim angle," reminiscent of the great Farrah Abraham. However, there is no reason for Mackenzie to release her tape if she doesn't want it out there. She would simply refuse to sign the paperwork and it would be a done deal.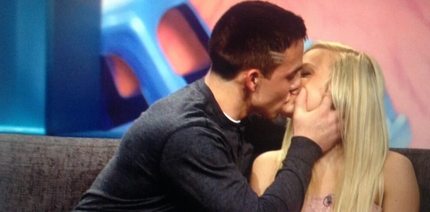 One person who does not seem to be thrilled about the tape's release is Mackenzie's husband, Josh. Mackenzie tweeted this morning that he had left after her trip to Los Angeles.
"Horribly exhausting trip. There goes Josh. Over false information," she wrote.
Mackenzie's mom, Angie Douthit, responded to tweets about Mackenzie's sex tape.
"It's simply not true," she tweeted to a fan. "There isn't a tape and there never has been…it's a ridiculous made-up lie."
But there is a tape; it just wasn't made in a p0rno studio.
The Ashley will keep you posted on the latest news.
(Photo: MTV)