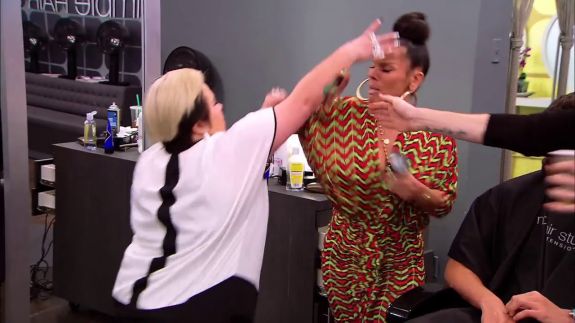 Get ready for more catfights, craziness and, of course, hair cutting! The fourth season of the drama-filled WEtv series L.A. Hair premieres this Thursday. The show has become increasingly more dramatic since it premiered back in 2012, and Season 4 is set to have some of the show's craziest episodes yet.
You know The Ashley loves her some catfighting!
While it was hard to narrow down the best, weirdest and craziest moments from the show so far, here are The Ashley's picks from Seasons 1-3!
When Naja and Lisa got in a full-on catfight because Naja said Lisa looked like a guy. (Season 3)
Two 'L.A. Hair' stylists quickly went doing hair to pullin' hair after Lisa grew tired of hearing that her fellow stylist, Naja, was telling people that Lisa resembled a man. After Lisa confronted Naja for her "she's a man" comments, it got downright nasty, with Lisa screaming, "Can you see my Adam's Apple now?!" before basically attacking Naja.
The "ladies" punched, kicked and pulled hair in what could be considered the show's craziest catfight. (Wanna watch the brawl? Of course you do!)
When Kim fired Angela. (Season 2)
No one expected Kim to actually fire Angela, even after Angela dashed off to a job in Thailand without giving her employer any notice. Although Kim and Angela had clashed almost since day one, the other stylists (and fans) were still surprised when Kim actually gave Angela the ax for her irresponsible behavior.
When China wet the wig (Season 2)
China clashed big time with celebrity client Vivica A. Fox and, after she dared to bring the actress synthetic wigs instead of human hair wigs (the horror!) China was banished from a magazine shoot. Angry and looking to get even at Vivica and the stylists, whom she felt weren't giving her enough credit, China got her hands on one of the replacement wigs and wet it! Oh hellll no!
When Naja set a weird world record (Season 3)
Naja put her usual 'tude aside in hopes of breaking the Guinness World Record for most manicures done in an eight-hour period. (Seriously, who knew the Guinness people even cared about crap like this?) Naja is intent on becoming "Guinness-famous," (it's kind of like "Instagram famous" only… not as exciting). She manages to break the record–she does 19 more than she even had to!–and of course, makes sure to endlessly brag about her new recordbreaker status.
When Kim & Leah fought about ugly bonnets & shower caps (Season 2)
You can say a lot of things to Kim—but don't you dare call her new shower caps and bonnets ugly! Her sister Leah learned that the hard way after she insulted Kim's new line of caps. The fight ends with Kim kicking her sister out of the salon. (To be fair, those shower caps were kind of ugly, though…)
The fourth season of 'L.A. Hair' premieres Thursday, July 30 at 10 p.m. on WeTV!
(Photo: WeTV)