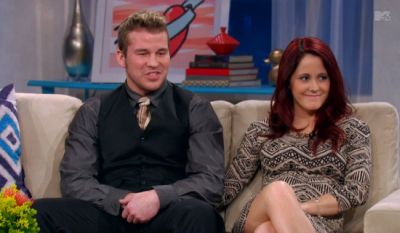 By Holly Rasmussen & The Ashley
UPDATE: The Ashley needs to clarify that the wedding dress photos of Jenelle were actually taken months ago, but not posted until this week. This is most likely due to it being an officially MTV-approved story and the magazine was likely required to wait until after the engagement episode aired to run them. (If they girls are quoted in the mag directly, you can be about 90% sure that the interview was set up/approved by MTV. In almost all but the rarest cases, the girl doesn't receive payment for these interviews.) 
Unfortunately, but the time they did, it appears that Jenelle and Nathan's relationship had changed once again! 
Just days ago, Jenelle Evans from MTV's Teen Mom 2 was was seemingly preparing for her wedding, trying on wedding dresses at David Tutera's famous bridal shop (and letting the paparazzi capture it all, naturally). The mom of two told OK! magazine she couldn't wait to spend the rest of her life with fiancé Nathan Griffith, and that the couple was planning to get married next summer.
Prepare to be shocked: It appears that there's trouble in paradise for the engaged um, lovebirds. This morning, Jenelle took to her Twitter to inform her fans that she's been having nightmares and panic attacks. When asked by a fan if these episodes had anything to do with her hubby-to-be Nathan, Jenelle informed the fan that she and Nathan are no longer living together!
While it doesn't appear that Jenelle actually purchased a dress yet, let's hope she keeps any and all receipts. After all, she and Nathan have broken up and gotten back together more times than anyone can even count.
While Jenelle is still following David Tutera and several other wedding-related Twitter accounts, she's no longer following her "fiance" Nathan. It appears that they have also defriended each other on Facebook.
MTV cameras have been there to capture the whole sad saga of Jenelle and Nathan's relationship—from when they first met (on a dating app) to their first date (while she was still legally married to Courtland "Cold Sore" Rogers).
MTV filmed the beginning of their relationship last season which led up to the birth of their son, Kaiser, and their engagement this season. It hasn't all been a bed of roses, however. MTV was also there to capture the fight that almost called the whole wedding off (the first time).
We will have to wait until later in the season to see it, but cameras were rolling when Jenelle had Nathan arrested for domestic violence. (Who else is counting the days until the episode in which Nate is screaming "Jeeeeenellle!!" from the back of the police car?!)
Just days before this latest breakup, Jenelle was telling OK! that her rocky patch with Nathan is in the past.
"I'm really excited to start planning the wedding," Jenelle told the magazine. "I'm wearing my ring again and happily showing it off still."
Jenelle claims their one-year-old son, Kaiser, was the driving force that brought them back together.
"We wanted to work things out with our family. And we are back to being best friends like we used to be," she said.
Jenelle had said that the wedding would most likely be on the beach with a "backyard reception." What? No Olive Garden?
Jenelle said her mother, Barbara, will be in attendance. Hopefully she can make it through the whole ceremony without referring to Jenelle as her "bitch of a daughta."
While rumors flew earlier this year that her fiancé was cheating on her, Jenelle claims that is no longer an issue.
"We've moved past it. We are completely honest and open with everything having to do with our relationship," she said.
Stay tuned: The relationship status for these two changes more often than Chelsea Houska's hair color!