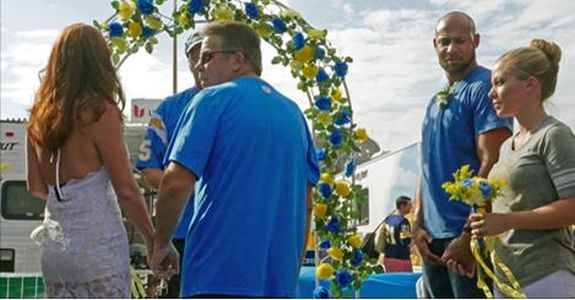 By Holly Rasmussen
We've made it to the season finale of Kendra on Top! Somehow we've managed to wade through the fake fights, numerous ugly cry sessions and Kendra's attempts to act like she's having an affair, and have arrived at the finish line of this crap pile of a season. Let's see what kind of drama they can manufacture for this event!
We pick up where we left off last episode, with Kendra following Hank on his business trip to Seattle. She wants to apologize to him for staying out all night and making him miss his flight. Hank isn't thrilled to see her (and her camera crew) show up at his meeting, and his business partners look annoyed. Kendra tells Hank that she flew up to see him because she feels like he wants to divorce her.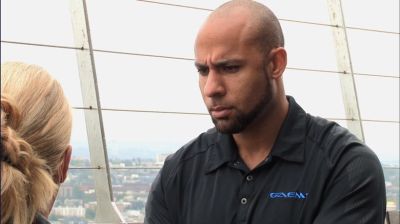 "You have zero respect for me," Hank says. (Finally, he sees what we've all been seeing for two seasons!)
"I feel like I'm just now realizing what I'm doing to Hank," Kendra says.
The couple decides to visit the Space Needle, which is where Hank proposed (on camera, of course) to Kendra years ago.
"I'll never forget the way I felt that day. Other than giving to birth to Hank and Allijah, that was the closest feeling to heaven," Kendra says. (Did a production assistant have to help Kendra remember the kids' names?)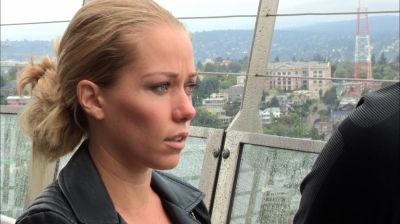 "All I've been waiting for is for you to say what you just did," Hank says. "I've been through hell for a whole year. I've just got a lot to think about and I've got to get back to that meeting." (Wait…were Hank's business partners just sitting in the meeting room, awaiting his return while this was all going on!?)
He then gets her cab and leaves to go back to the office.
So…they didn't resolve anything? What was the point of this trip?
Even though Hank and Kendra are still flailing around trying to decide if they want to be married, Hank decides he will still be the best man in the wedding of Kendra's dad, GrandDude, and his drunk fiancé Amy.
Back at home, Kendra and her trusty pal Jessica discuss what happened. Jessica asks Kendra how Seattle went.
"Seattle was a piece of s**t," Kendra tells her. "Seattle was the Space Needle up my ass like a colonic."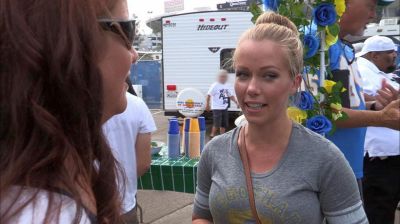 After giving us that lovely mental image, the girls prepare to help GrandDude celebrate his nuptials (which will take place during a tailgate party at a football game, naturally).
Kendra decides she's going to surprise her dad by bringing his sister, Kris, to the party. GrandDude and Aunt Kris haven't spoken in years because of an argument over their late mother. Aunt Kris is an accomplished musician, so Kendra is making her work for her supper and play her violin at the wedding.
Kendra heads into the wedding with the following mantra: "Let's hope Hank forgives, let's hope the Chargers win, and let's hope Amy stays sober."
They get dressed in their wedding finery (Chargers t-shirts) and go get Aunt Kris for the big reveal. GrandDude is either happy to see his sister or is doing a good job pretending to be happy for the cameras and his WEtv paycheck. Kendra picks up some random old guy who plays the harmonica and brings him on the bus.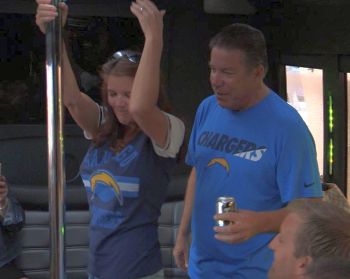 Meanwhile, Amy is pole dancing, people are chugging beers, and the wedding cake has two naked Barbie dolls on it because the bride and groom met at a nudist resort. The bride is wearing a skin-tight halter dress made for someone 20 years younger. So, essentially, it's a white trash horror show.
The couple recites their vows under a canopy of plastic flowers in a parking lot. As trashy as the wedding is, it is probably the only real storyline of the whole season. The writers couldn't even make this up.
Hank arrives and starts tearing up during the vows. He's either really emotional over the wedding, or had some bad ranch dip beforehand. Possibly both.
As Hank blubbers, he embraces Kendra during the vows and reconcile.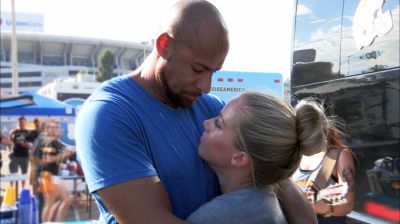 "Now I know that marriage is 100 percent what I want and Hank is exactly the man of my dreams," Kendra says.
That's a wrap! Now that Kendra and Hank have exhausted the affair storylines, how will they manufacture drama for next season? Hank will mostly likely have to knock Kendra up a third time to keep the show afloat.
To read recaps of the rest of the 'Kendra On Top' Season 4 episodes, click here!
(Photos: WEtv)