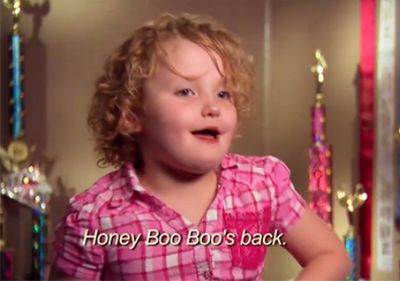 The "Boo Boo" clan is coming back to reality TV. Mama June Shannon, one of the stars of the cancelled TLC reality show Here Comes Honey Boo Boo, made a big announcement on Halloween night to let the show's fans know that she and the rest of her family had scored a new TV show.
In the announcement (which was posted in June's typical rambling form on Facebook), June stated that, although her family would be back on TV in December, they would not be returning to TLC.
"Ok for everyone it was asked if we are going to be back on TV the answer is yes and it will be very soon it will not be was TLC network," June wrote. (The Ashley is leaving the statement just as it was written, run-on sentences and all!)
It appears that People was to have the exclusive announcement rights to the new 'Boo Boo' show, and had planned to announce the news tomorrow, but June apparently couldn't wait. (The magazine is probably not thrilled that she did this.)
"It will be announced as we were told with People on Tuesday I will be able to get out more details soon," June wrote. "We are excited as it will air starting in December."
The new show will feature June, her daughters Alana "Honey Boo Boo" Thompson, Lauryn "Pumpkin" Shannon, and possibly other family members. (It's not yet known if June's daughter, Anna "Chickadee" Cardwell will appear on the new show. She's been estranged from her mother, off and on, for over a year.)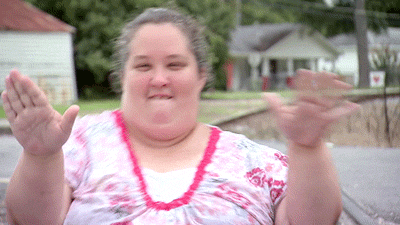 Although it will have the same cast as 'Here Comes Honey Boo Boo,' which was canceled in 2014 by TLC, June told fans that it would be a totally different show.
"It will not be here comes honey boo boo kind of thing but it will be reality TV and it will be real and unscripted like we have always ever been," June wrote. "That's only kind of TV we believe in and we want you all to see the true side of all of us…we want to say thanks to our fans that have stuck by us and continue to support us through the thick and thin we love you all and we appreciate each and every one of yall."
The network that the new show will air on has not yet been released (but The Ashley is placing her bets that it will air on VH1).
If you can't wait until December to see more 'Boo Boo,' click here to watch Alana's  rap "music" video. It's quite the horror show.
The Ashley will update this story when more information on the new show is released.
(Photos: TLC)