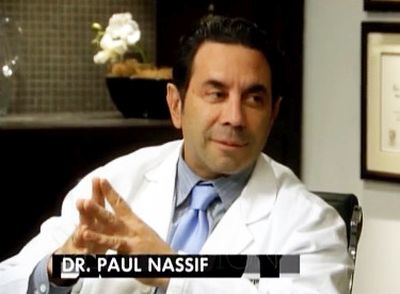 Dr. Paul Nassif has made a career out of fixing bad plastic surgery on his E! reality show, Botched, but one of his former patients is saying that the Good Doctor gave him a really bad nose job– and then allegedly tried to cover up the botched job in an effort to save his reputation!
Dr. Nassif's former patient, Eric Klein, filed a medical malpractice lawsuit in Los Angeles Superior Court yesterday against the 'Botched' star and two other doctors. (Neither of these other doctors are Dr. Nassif's 'Botched' co-star Dr. Terry Dubrow, by the way, according to the court docs that The Ashley pulled.)
Eric claims that Dr. Nassif performed a nose job and septoplasty on him in September 2014 because he was having trouble breathing. According to the lawsuit, Eric began to experience a strange "pulling sensation" and pain in his face. He claims the surgery allegedly left him with a right eye that won't properly close.
According to The Wrap's reporting of the lawsuit, Eric went back to Dr. Nassif to report his ailments.
"Klein claims that he was told that the condition was probably due to swelling, but when his faulty eyelid only grew worse, Nassif referred him to colleagues who said it was likely due to past trauma," The Wrap reports. "In reality, Klein claims, the eyelid condition was due to the displacement of a tendon under his eye that occurred when his nasal bone was broken during the procedure."
The lawsuit also states that Eric believes Dr. Nassif told his colleagues (presumably the other two doctors who are named as co-defendents in the lawsuit) to tell Eric that his condition was caused by a pre-existing trauma  "in an effort to protect Dr. Nassif's reputation."
From what The Ashley can tell, Eric's surgery was not filmed or covered on Dr. Nassif's show 'Botched.'
Neither Dr. Nassif nor the E! channel have responded publicly to the lawsuit…yet,
(Photo: E!)